New York City is Harry's House – A Love on Tour Review
As the latest musical chart-topper, Harry Styles has spent this last summer on the climb to icon status. His name decorates all media, from the radio, to magazine covers, to his residency shows and newly announced European leg of Love on Tour, to two upcoming movies, and so much more. The multi-hyphenate is currently finishing out a 15 (?!?!?) night residency at Madison Square Garden in New York City, following with a combined 30+ dates in Texas, Chicago, and California for the rest of 2022. In the height of being engulfed online by all things Harry Styles, the concoction of FOMO, delusion, and 3 pm adrenaline led me to buy my own tickets hours before doors opened one Sunday afternoon. Wearing my church best and coming from a brunch with my grandparents, I drove up to the city for the night ahead.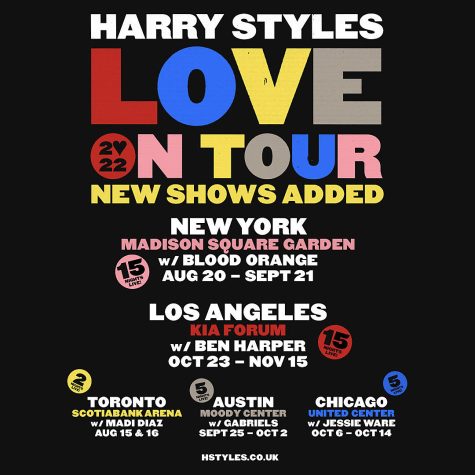 Personally, I've been a big Harry fan since One Direction, following his career later into his solo period. From a rock homage self-titled debut and the release of his second album, the pop-centric Fine Line, his third album, Harry's House, finds itself as the most vulnerable. Blaring with synths, a horn ensemble, and remnants of 1980s funk, has been on repeat since its May 2022 release, and I was ecstatic to finally hear it live. 
Madison Square Garden was decked in vibrant colors and lights, bedded by a sea of boas and teenage girls dragging their dads to see Styles. Personally, instead of my dad, I dragged along my unsuspecting sister, who has never been to a concert, and my mom, who would need a certain beverage or two to get through the night. We made our way through the venue, and eventually to our newly upgraded seats in the lower bowl. With overpriced popcorn in hand, a wallet with $80 less because of my spending at the outside merchandise booth, and the widest smile known to man, I was ready for the night ahead. 
It is safe to say that Harry Styles has effectively changed concert culture, as many concertgoers went all out with sparkly, DIY outfits that are comparable to an amateur  Met Gala. In addition, many of the people who were stood in the pit waited overnight in the New York streets, tents and all, in hopes of getting a barricade view on the round-a-bout stage. Some people online also boast about how many shows they're going to, and some even end up right at the front for multiple nights of this 15-show residency. This ambitious endeavor would also entail never leaving the line to ensure one's spot, meaning they also went long periods without showering, eating, or drinking water. I'm not one to judge, but respectfully, rest in peace to your bank account for the foreseeable future. And to your personal hygiene, too.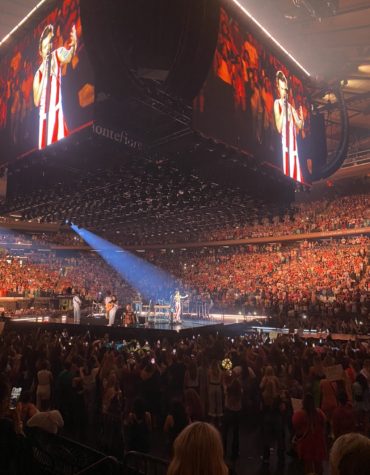 9 pm hits, and the pre-show music goes to a gradual softness, efficiently replaced by the screams of 20,000 people. Once Styles' band takes the stage, the roar is amplified tenfold, and even ten times more when he rises from the bottom of the stage to the center. Guitar in hand and looking like a candy cane, he opens with a song from his newest album, "Daydreaming". I won't recount every song he sings, mainly because it all felt like a fever dream, but there were plenty of stand-out moments. 
One of his more slow songs, "Matilda", is a bare ballad that highlights the trials and tribulations of chosen family. As a band member plucked at an acoustic guitar and he sung at a stand-still, I noticed a group of girls at the back of the pit crowd. Draped in colors and a pride flag, they hug, sway, and sing along to the chorus. Many resonated with his lyrics "You can throw a party full of everyone you know / You can start a family who will always show you love / You don't have to be sorry for doing it on your own," with heartbreak covering the entire crowd. Moments like this highlights how Styles has been able to bring people together through music, a powerful and moving catalyst. In a change of mood later in the setlist, he dances around the 360° stage to his high-energy rock song "Kiwi". Dancing with his band mates, wearing boas and sunglasses thrown onto stage, and even throwing water into the crowd, he was feeding on the crowd's electricity. If you were at a stand-still, you could genuinely feel the floor of MSG shake. Through a mid-show introduction to a whole brass ensemble and his biggest hits like Watermelon Sugar, As It Was, and What Makes You Beautiful, the night felt like one big sing along with thousands of your closest friends. For some, this was their first concert, and whether you've seen this set one time or fifty times, it truly is timeless in its charm. 
I left the venue with a lazy grin and a lost voice, so I took the time to take the whole night in. Reminiscing through my camera roll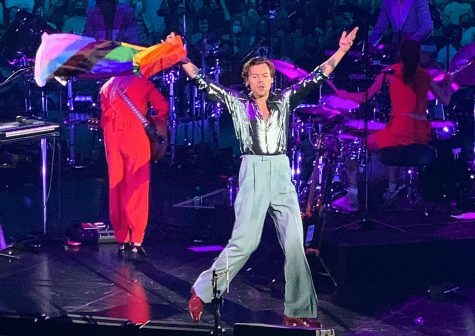 weeks later, I can vividly remember the infectious energy of the room. I'm an avid lover of all forms of live music and performance, but the level of adrenaline, love, and energy that night was unmatched. Styles has proved himself as the ultimate performer, with charisma, fan interactions, and empowering messaging to his audiences. The show began with Styles saying that "My job for the next hour and a half is to entertain you and I'm gonna do my very best. Your job is to sing, dance, do whatever it is that makes you happiest in the world. Please feel free to be whoever you want to be in this room," and that sentiment reigns through every show. 
If I were in the tax bracket that could afford buying multiple of Love on Tour tickets, you bet I would be there dressed to the nines every night. But alas, I am an unemployed high school student, so I will happily follow along with Harry's House on repeat for the rest of my life. Unlike me, if you find yourself near the city and financially able to, I implore you to see Harry Styles own the stage before he packs up on September 21st. And oh, bring me!