Senior Spotlight: Anisa Siddiqi
Despite the challenges faced due to the unprecedented times of the pandemic that struck the class of 2022 in the middle of their high school career, many left a long-lasting legacy at Freehold Township High School. Due to the accomplishments of many seniors, we believe it is necessary to highlight the achievements and experiences of Anisa Siddiqi, a global studies student and a co-founder of the club One World Many Faiths.
Read the full interview below:
Sara Frasson: What is your favorite show or movie to binge over the summer?
Anisa Siddiqi: Stranger Things.
SF: I have not watched Stranger Things yet but I heard another season came out and everyone heard so many spoilers since everyone is watching it.
AS: At first, I started watching the show in the summer of 2019, when season three came out, and that was when I watched all of the seasons for the first time. Now, every summer, I love watching Stranger Things since it reminds me of summer and is why I binge it over the summer.
SF: I totally understand that feeling, the show I relate it to is Outer Banks since I usually watch it over the summer and the setting just feels like summer vacation!
AS: Yes! That definitely would have been my second choice!
SF: Both of the shows' plots revolve around teenagers unraveling mysteries during summer vacation. Speaking of out-of-school mysteries and adventures, what has been one of your favorite memories outside of school?
AS: Probably from this year at a Tame Impala concert I went to since it was one of the best nights ever and was so cool. So, it was my second concert ever and the experience, vibe, and production were immaculate.
SF: That sounds amazing, I know on TikTok there was a really cool opening to the concert?
AS: Actually, the opening was really weird and is now a big inside joke but the whole experience was 12/10, and would love to relive it. The cool thing about Tame Impala concerts is that there is not only live music, but also a show! There is a light show and everyone is just happy and dressed cool, so it was definitely one of my favorite memories.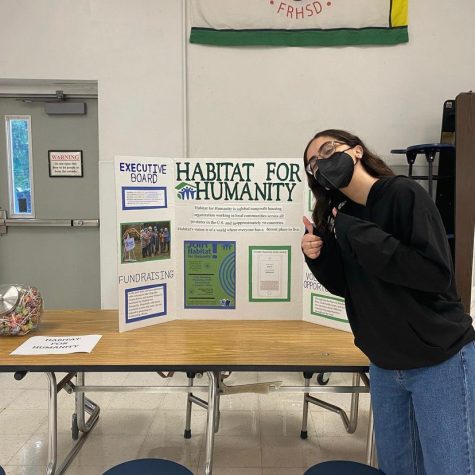 SF: Wow, I wish I would have bought tickets, it sounds like a core memory! Other than memories shaping you as a person, who has been your role model shaping you into the person you are today?
AS: I can not think of a singular person, but I would say my parents and grandparents since they have all influenced me. All of them, my parents, my father's parents, and my mother's parents have done so much and worked so hard in life. They raised me with all the values I still live by today and made me into the person I am today. They all taught me how to carry myself and be a functioning member of society which no other person could have given to me.
SF: What about their journeys' inspires you?
AS: Well for my grandparents, they were immigrants to the United States in the 70s, and faced racism along with my father who grew up in America facing the same discrimination. Despite all the odds, my grandparents and my dad worked really hard and built a life not only for themselves but their children too. Also, both my parents' jobs required strenuous schooling and dedication since they are physicians, which I hope to follow in their footsteps. They had to go through a lot of school, heartache, and pain to graduate to be where they are now which inspires me to work hard to accomplish my goals in life.
SF: Definitely a great legacy to follow! You mentioned how you wanted to follow in your parent's footsteps in college, what are you choosing to study in college? and why?
AS: I am going to Rutgers University and right now I am planning to major in psychology on a pre-med track. Although, I am interested in public health since it fits well with my interests. I want to go to med school to become a doctor but I am also very interested in epidemiology and how health effects and functions in society. Something I am looking to do in the future is doctors without borders which is where physicians go to other countries and provide service to people in disadvantaged areas. Currently, I am also very interested in psychology which is also why I am taking psychology in college.
SF: Even though you are going down the science path, you do have that global studies aspect to what you want to do in the future which is fascinating since many people do not mix law and humanities with the sciences! It honestly is cool to see what you learned in global studies and apply it to your own interests! Talking about global studies, how did you feel the global studies program shaped you into becoming who you are today?
AS: In several different ways being in the program influenced and helped me a lot. On an academic level, it was definitely rigorous, taught me how to manage my time better, and showed me how to work well with others since we are such a tight-knit group. The program requires us to work together and figure out difficult material on our own which taught me the importance of collaboration on a common goal. There were also a lot of assignments I definitely could have done better if I managed my time well which taught me not to procrastinate my work. Socially, I definitely came out of my shell a lot more since when I first entered high school, I was completely a different person and changed a lot, in a good way. I used to be shy and did not talk to strangers, now I talk to everybody, which was very unlikely in the past. Even if people are not giving the same energy back, it does not bother me the way it did in the past.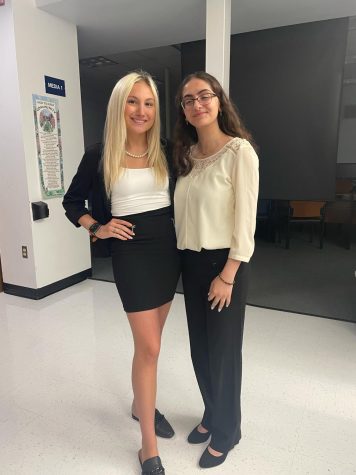 SF: Definitely, the program sets you up to lead conversations instead of just responding carelessly which makes it easier to communicate with a broader amount of people. And in the way, sets you up very well in college!
AS: Exactly, that reminds me of another point. Now, I am not afraid to say how I feel since there has been a lot of times when people disagree with my opinions on issues. In my classes there is a large spectrum of opinions and, more often than not, some people do not agree with what I am saying or vice versa. However, we are able to discuss issues in a mature manner which is something that is necessary for life and preparation for the real world.
SF: Earlier in the conversation, you were talking before about how global studies taught you how to approach some obstacles like time management. With that being said, what were some of the more difficult aspects of high school and what advice would you give to underclassmen?
AS: I think high school has been definitely stressful, there is always work to be done and something to do. Even now, I have one week left of high school and I am still stressed doing work. I think that finding a support group is important, obviously focus on your own grades and goals, but finding people who are facing the same difficulties as you or even good at certain subjects you might not be in can be very helpful. Some of my friends will help me in certain subjects and give me "unofficial tutoring" and, in return, I would help them with whatever class they might be struggling in. Almost like a trade-off. Everyone is in the same boat, so do not be afraid to ask your peers for help, and especially do not be afraid to go to your teachers if you are struggling. They will appreciate guiding you since they will recognize you are trying and it will help you in the long run, and will help you build better relationships with your teachers.
SF: That is really good advice and something I have seen first hand too. Definitely going into high school taught me it is a community, and having that community is necessary to strive in school.
AS: People around you are valuable resources, and a lot of times people push that aspect to the side. Many will just believe they can do everything on their own and it will work out better that way; however, if you are allowed to, it is definitely better to ask for help and collaborate.
SF: On the topic of working towards goals through collaboration, you and Raisa Deotale are co-presidents and founders of the club One World Many Faiths. Despite last year being fully virtual, you and Raisa created a successful club. What were the obstacles you faced and how did you overcome them together?
AS: Communication was probably the largest issue. We were not able to see anyone in person, so it was very difficult to advertise and give out information to people in the school. Communication on every level was difficult, from the lowest level between me and Raisa to the broader student body at Township. It was very easy to get ignored or forgotten about due to the fact we could not see people face to face. Raisa and I also had to go through many steps which took awhile, especially being virtual, including finding an advisor, planning everything around our schedules, officiating the club with Mr. Brusotti, and then finally getting the word out to the students. Every time we got past one obstacle, there was another one in terms of getting through and communicating with people.
SF: It does seem very difficult, especially during a virtual year when many students were unmotivated and did not really want to join clubs or branch out.
AS: There was a huge lack of motivation and even for us too, we were very stressed out. However, the club did do a lot better this year and it was fulfilling to see the club in fruition with all the work we put in.
SF: I know the pandemic and virtual learning struck during your junior year, how did you combat any struggle associated with that, especially with many saying junior year is the most difficult year of high school.
AS: If I am being honest, junior year being virtual was not horrible for me. From a social standpoint, it was difficult since I was not seeing or talking to many people due to the nature of the situation. However, academically it was fine since it was easier to get work done at home and with shorter days, but I did have difficulty focusing. I was also taking difficult classes between AP and honors, so there was less workload which, in return, was less stressful. I am glad that if we were going to have to be virtual for the pandemic, it happened at the time it did but it still happened which was never part of the plan, so we did miss out on a lot of good opportunities. It feels weird since I do not feel eighteen and graduating next week, but I am also ready to move on. I think we all still feel stuck in where we were since we missed some of the experiences that come while we are growing up. Even though a lot of us feel mature and ready to move on, we all just missed out on lessons that are gained through childhood.
SF: In the spirit of a full-circle moment with the flashbacks from junior year, one of my teachers calls this time "the final stretch," after four years, what is your favorite memory in high school and why?
AS: I can not think of a specific moment since there were so many, but, in general, all of global studies. Despite all the obstacles of the pandemic, I'm grateful since I had a good high school experience. I found my friends, a good group of people I am close and happy with, and found myself a lot more. I am way more confident and set myself up in a good place for college. Even with the ups and downs, I would not trade being in the program for anything. It gave the thirty-two people in my class a unique experience that no one else had. Although I am not close with every single person in my global studies class, I am comfortable enough to not be intimidated by them. For better or for worst, we are a family, and the whole experience of being in global studies, whether it be the students or teachers, all makes the experience worth it. One of my favorite classes with the best memories of high school is Mr.Torres' class in junior year since we all just clicked and were a perfect combination.
SF: How would you describe your high school experience in one word or phrase, and explain why?
AS: Honestly, the first thing that comes to mind is fever dream. There were so many great memories this year but all of it went by so incredibly fast, especially prom. Usually, in the moment I know I will forget it in the future, so I try to enjoy everything in the moment as much as I can.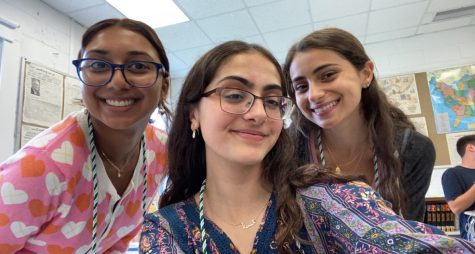 SF: What was a moment when you realized that you were almost done with the big chapter of your life being high school?
AS: In global studies, we have Mr. Mopsick during freshman year and then again during the second semester in senior year. So when we walked into the classroom on our first day of the second semester, he said "welcome home," and it was so upsetting. It was not only an indication of the full circle that we were right back to where we started, but also an indication of how much we have grown since our first day walking into that classroom freshman year. It really hit us all that this was the "final stretch."
SF: To finish, is there any advice that a teacher gave you that you now follow?
AS: The first thing that comes to mind is from Mr.Torres who always told me to "speak your truth" and never be afraid to say what I need to say. As you know, I am Muslim and there were a lot of times when I had to ask and fight for things to be done on my own since it was not given to us. I am glad that we were able to make a good change, however, it does require constantly fighting against the odds. Mr.Torres was also a big help in changing things to accommodate everyone at Township.
SF: Was there anything in particular?
AS: Yeah, we created Ramadan lunch where we were able to have a classroom for students observing Ramadan which would not have been possible without speaking up and requiring change.
SF: That sounds amazing, you definitely left an amazing influence and impression at Freehold Township High School. Thank you for a great interview!