Grace Bakes: Blondies
Hi everyone! I cannot believe I am writing my last article of the school year! Time has really flown by, and I am so glad I decided to take on this new column! I have enjoyed my time this year sharing desserts and sweet treats with you guys and am already so excited to continue writing in my upcoming years here at FTHS. 
Now, for this month's recipe, I'm straying away from cookies to teach you guys how to make blondies! If you haven't heard of blondies, think of it as a vanilla version of a brownie with white chocolate chips. They look something like this: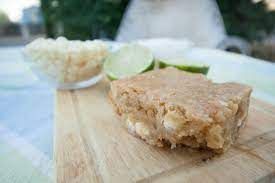 I decided to make these for a last minute barbeque I went to a few weeks ago, and, to be completely honest, I wasn't sure how I or my family and friends would like them! However, I was pleasantly surprised by the amazing texture and classic vanilla flavor they had that we all know and love. 
I was thinking it would be a sweetness overload with the white chocolate chips along with the vanilla extract and other sweet ingredients in the batter, but this was not the case. In fact, the whole tray went, so they must have been pretty good! 
These blondies are super simple and a great dessert to make, especially as a light treat for the summer! You can also make the blondies using cupcake tin/liners so that they are easy to hold and transport if you are bringing them somewhere (bonus points for a cute presentation!). In my case, I used a brownie pan that had individual square molds, and then cut the large squares into smaller ones so that they were bite sized.
Without further ado, let's gather our ingredients, measuring cups/spoons, and get baking!
For the blondies, you will need: 
-1 1/4 cups of flour
-3/4 teaspoon of baking powder 
-1/4 teaspoon of salt
-1 cup of packed brown sugar (you can pack the brown sugar by spooning it with a tablespoon into the measuring cup, and then pressing down each scoop with the back of the spoon!)
-1/2 cup (one stick) of melted butter
-2 eggs
-1 tablespoon of vanilla extract
-1/2 cup of white chocolate chips (if you aren't the biggest fan of white chips and want to spice it up, you can add any types of chocolate chips you'd like!)
Are you ready? Here's how to make these yummy blondie bars!: 
-First, preheat your oven to 350 degrees Fahrenheit. If you decide to use a cupcake tin, line it with cupcake liners and set it aside. If you decide to use a standard brownie tin, spray it with cooking spray and set it aside. Any shape of a pan will work! 
-In a medium bowl and using a whisk, combine flour, baking powder, and salt. 
-In a large bowl and using a spatula, combine brown sugar and melted butter until smooth. 
-Add eggs and vanilla to the brown sugar mixture and combine, using a whisk, until smooth.
-Add the flour mixture to the brown sugar mixture, and, using a spatula, stir gently until combined. Do no overmix! 
-Stir in the white chocolate chips (or whatever chocolate chips of your choice!). 
-If using a cupcake tin, fill each cupcake liner about halfway. My tip is to use a tablespoon for more precise and even measurements of batter into each liner! Also, this method leaves the counter much less of a mess. If using a brownie tin, pour the batter into the tin and spread into an even layer. My tip for using a brownie tin is to spray both the bottom and the sides so that it is easier to cut and take out the brownie squares once they are cooled!
-Put the blondies in the oven and bake for about 12 to 16 minutes, or until they are golden brown. 
-Once the blondies are cooked (I stick a toothpick in the center; if it comes out clean, you are good to go!), let them cool for about 15 to 20 minutes. Especially if you are using a brownie tin, it is very important to allow them to cool so that they don't crumble apart when trying to slice them! (cutting warm brownies has always been a challenge of mine!). 
-Once brownies are sliced and/or removed from the cupcake tin, allow them to cool for about 10 more minutes and serve. Enjoy! 
Delicious, right? I just loved how simple and yummy these blondies were and had to share! I was really pleasantly surprised by the buttery, sweet flavor they had, as it wasn't too overpowering, and liked that I made them bite-sized pieces for all guests to share. If you wanted to get fancy, you could add a cup of rainbow sprinkles to the blondie batter to make them festive — maybe for someone's birthday, or just any fun event you're attending! 
I hope when you guys bake these blondies, possibly for your next summer barbeque like I did, that you get nothing but positive reviews from your guests! Have an amazing summer everyone! I will be sure to share tons of recipes I make over vacation when September comes around.