FTHS' Record-Breaking All-State and All-Shore Jazz Year
All State Band 2022: 
All State Band is an elite and competitive ensemble consisting of the most musically talented High School students in New Jersey run by the New Jersey Music Educators Association, dedicated to giving musically inclined students of all ages enriching opportunities to advance their talents. Within the band, there are two groups that students can be accepted into: Wind Ensemble and Symphonic Band. For Wind Ensemble, Deb Kinsely is the manager and Ray E. Crammer is the conductor and for Symphonic Band, Joshua Oldham and Pamela Ferrali are managers and Jay Gephart is the conductor. 
The process of being a part of it is extremely competitive and requires auditionees to display exquisite musical talent, devotion, and respect. It is important to note that the applicant pool is the best of the best of the state and before even tying out, students must qualify first by winning their audition for the CJMEA Region II Band
On Saturday, January 22, 2022, three FTHS instrumentalists were sent to All State Band and Orchestra Auditions and as a new school record for students accepted in one year in at least 20 years, all three became acceptees. The following students received this honor: 
– Jessica Hakanson (Senior, Flute, Wind Ensemble) 
3rd chair (#3 in the State) 

3rd in NJ on Piccolo
– Justin Morgan (Junior, Principal Soprano Saxophone, Symphonic Band)
4th in NJ on Tenor Saxophone
– Jason Feldman (Senior, Tuba, Symphonic Band)
Congratulations to these three students on this impeccable acclaim! Go support them at the concert at 3:00 pm on Saturday, February 26th, held at NJPAC in Newark. Tickets can only be purchased through NJPAC only at 1-800-GO-NJPAC or njpac.org!
---
All Shore Jazz 2021:
All Shore Jazz is an organization designed to showcase the musical talents of students from all over the Shore Area, Monmouth and Ocean Counties, providing them with an educational and fulfilling experience. In order to have the honor of being in this prestigious ensemble, students must display ample musicality, determination, and passion. By being a part of the ensemble, participants learn valuable lessons and artistic techniques to further their career and general understanding of musicianship.

On Tuesday, January 18, 2022, several FTHS students were sent to Holmdel HS to attend auditions for the All Shore Jazz Band and the following students were accepted:
– Victoria Harper (#1 Baritone Saxophone in the Shore and Scored 2nd on Bass)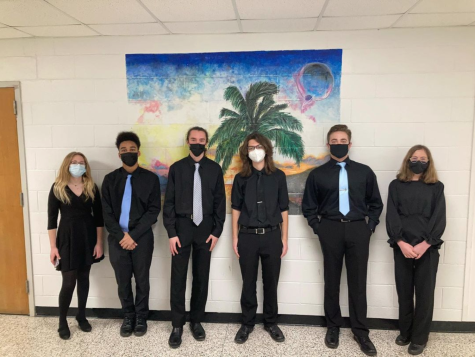 – Justin Morgan (#1 Tenor Saxophone in the Shore and Scored 2nd on Bari Sax and 3rd on Alto)
– Douglas Luke (#2 Trombone in the Shore)
– Brian Yaniro (Trumpet)
– Jacob Goetke (Trombone)
– Annabelle Fredericks (Trombone)
On Saturday, February 5 at 3:00 PM, these students performed at Manalapan High School with poise and professionalism that shined through their impeccable technique. Victoria, Justin, and Jacob all performed featured solos that utilized their gift to move audience members. The FTHS community is so proud of our outstanding acceptees and value the organization's opportunity for these students.
Congratulations to Mr. Manuez of Manalapan High School and Mr. Lopez of Christian Brothers Academy for a wonderful performance with the kids, and to the FRHSD All Shore participants for their immense talent and dedication to the arts!