A Lazy Scout's 2022 NFL Mock Draft No. 1: The Top 18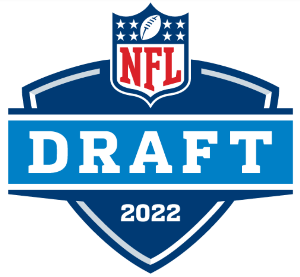 As a football fan, one of the things I look forward to each year, especially following the conclusion of the regular season, is the draft. The one time a year where each NFL team enlists young, budding collegiate athletes not only to upgrade their squad, but build their future. It is a golden opportunity for franchises to find some really talented players. There is no shortage of talent in this year's draft class. Now that the final top 18-the sad, sad group of teams eliminated from the playoffs-is set, we can look at their potential plans for this long offseason.
There are several storylines that go along with this draft. Who's going to be the first quarterback off the board, and where? Which pass rusher will go first overall, and if not a pass rusher, who? Many questions are yet to be answered but will be over the next three months. This initial mock draft will mean nothing by April – all the playoffs teams are missing for a reason. But, it is always nice to take a quick glance at the class and team needs. 
As a lazy scout, all I do is read. Information on prospects is courtesy of Pro Football Network and the Draft Network, as well as NFL.com's Daniel Jeremiah. Any stats are courtesy of ESPN.
1. The Jacksonville Jaguars select Kayvon Thibodeaux, DE, Oregon
A tumultuous season ended well for the Jags, with a victory that knocked divisional rival Indianapolis out of the playoffs. The best thing to do here is to take the best player available, and I expect the Jags to take the same approach the Browns did five years ago: edge rusher first. In Kayvon Thibodeaux, the Jaguars are getting a talent as generational as Trevor Lawrence was coming out of Clemson last year. Having Thibodeaux, an uber-talented and explosive pass rusher with massive upside who adds to a front seven with loads of talent already (Josh Allen, Myles Jack, et al), will equate to a bright future in Duval County.
2. The Detroit Lions select Aidan Hutchinson, DE, Michigan
Dan Campbell said he was going to break some kneecaps as Lions coach. He needs a player with true talent, though. Luckily, there's one waiting in the wings less than fifty miles away. Aidan Hutchinson, a defensive end touted by some to go first overall ahead of Thibodeaux, also has a lot of potential. A relentless pass rusher with an arsenal of moves already in his repertoire, he is certainly going to break some kneecaps. In other words, he is perfect for a coach like Campbell.
3. The Houston Texans select Derek Stingley Jr. CB, LSU
Derek Stingley has been hurt with injuries for the past two years, but the one season he was able to play was one where he picked off six passes and helped lead LSU to a national title. With the perfect size and exceptional hands, ball-tracking skills, and athleticism for his position, Stingley could fit on any NFL team, like the Texans, who have one of the league's weakest rosters, one in dire need of a star player on defense.
4. The New York Jets select Kyle Hamilton, S, Notre Dame
Safety is not the most valuable position in the world, but overall upside is valuable, too. Kyle Hamilton has an abundance of that. Hamilton is a freak of an athlete coming through a football institution that has produced some talented defensive players over the past decade (Harrison Smith chief among them). Hamilton also has great instincts, football IQ, and awareness of down/distance (he will know when it is 1st and 10, or 3rd and 1, or 4th and 4, etc, and will act upon the situation). He also is great at stuffing screens. If Robert Saleh wants a good defense, he needs a really good player in the secondary, and, if Hamilton is not the answer here, then what is?
5. The New York Giants select Evan Neal, OT, Alabama
In the worst way possible, the Giants need offensive line help, and that need is dire. Enter Evan Neal, a 6-foot-7, 360-pound specimen who is very quick for a guy so big. He uses his height and frame very successfully in run blocking and can wear defenders down using his weight. He is always a major obstacle for every pass rusher that is tasked with beating him. He has excelled at both tackle positions, especially left tackle. The Giants have to draft him in this scenario and move Andrew Thomas to right tackle to instantly improve their torrid offensive line.
6. The Carolina Panthers select Matt Corral, QB, Ole Miss
The Panthers may have gone 5-12 this season, but they do not actually seem too far away from competing. They just need a quarterback for their future, and Sam Darnold ain't it. The Panthers have their choice at QB between Matt Corral and Heisman finalist Kenny Pickett, and they choose Corral here. He has a very powerful arm, and thus has high power and velocity on his passes, where he can fit the ball into tight windows. He also is great as a runner, as he is agile in evading pressure in the pocket and is dangerous in space once he exits that pocket. There are some kinks that need to be fixed, but he has huge upside that the Panthers' general manager, Scott Fitterer, will have a hard time ignoring.
7. The New York Giants select David Ojabo, OLB, Michigan
The Giants' other glaring need? A second pass rusher off the edge. The two best ones are off the board, but there's more. There are a lot of decently athletic edge guys in this class. Then there's David Ojabo. Despite starting football in only his junior year of high school in New Jersey, Ojabo has become a great prospect in his own right. With absolutely exceptional athleticism and speed off the edge, his ceiling may be as high as anyone else in his class, and Ojabo, a Nigerian-born Scotsman who moved to America as a teenager, can slip right into the Giants' defensive front. 
8. The Atlanta Falcons select George Karlaftis, DE, Purdue
The Falcons' defense is in need of retooling, especially in the front seven. Dante Fowler is a big release candidate because of his contract and underperformance this season, so a pass rusher is imperative. Thankfully, this is the draft class to get a pass rusher. George Karlaftis is a versatile athlete. May I mention he played water polo for the Greek national team? That does not matter as much as his great motor and strength.
9. The Denver select Ikem Ekwonu, OT, NC State
Listing Ikem Ekwonu at one position does not do him any justice. He has excelled at both tackle and guard, and I mean it when I say he has excelled. A consistently solid pass protector and mauler in the run game, Ekwonu can help maximize the talents of Javonte Williams and whoever the quarterback may be. I find Ekwonu too talented to pass on here, and I can see George Paton feeling the same way. Especially when you have the draft capital to trade up later. For now, you can take a guy who can fill two positions of need: guard and tackle.
10. The New York Jets select Kenyon Green, G, Texas A&M
In a similar way to Ekwonu, listing Kenyon Green at one position does not do him much justice. He can excel at any position other than center, as has been proven at the collegiate level. He has paved the way for fellow prospect Isaiah Spiller in the run game and his quarterback, using quickness to dominate in pass protection. The Jets have several positions of need on the offensive line, and Kenyon Green could fill them.
11. The Washington Football Team select Kenny Pickett, QB, Pittsburgh
Washington is in an interesting spot. Taylor Heinicke was surprisingly good, but he is 28. Washington should find their new, future franchise quarterback. The best they can do in this scenario is select Kenny Pickett. The Oakhurst, New Jersey native is coming off arguably the best quarterback season in the history of the Atlantic Coast Conference (ACC), and possesses a lot of good traits, such as passing accuracy, mobility, poise, toughness, leadership. He also has a high IQ, as demonstrated by his fake slide in the ACC title game (it was so 1,000 IQ that the NCAA banned it quickly).
12. The Minnesota Vikings select Ahmad Gardner, CB, Cincinnati
Nicknamed "Sauce", Ahmad Gardner has been quietly producing for Cincy. He has the requisite athleticism and explosiveness NFL teams want out of cornerbacks nowadays, but he also has good awareness, work ethic, and instincts. He can defend the run well, and defends the pass even better. The Minnesota Vikings need someone young to enter the secondary after the failure of Jeff Gladney. Cam Dantzler cannot do it all by himself. In Sauce Gardner, Minny will be getting a lockdown corner who can hold it down for a long time and help them regain their success from pre-pandemic days.
13. The Cleveland Browns select Treylon Burks, WR, Arkansas
As a Seahawks fan, DK Metcalf is my favorite receiver. His size, athleticism, speed, and contested catch wins are the traits that make Metcalf the type of player he is. Same goes for Treylon Burks. Burks was Arkansas' number-one threat in the pass game, with similar traits to Metcalf. He wins 50/50 balls. He is 6-foot-3, an inch shorter than Metcalf, and weighs 225 pounds, a bit less than the Ole Miss product's 235.
14. The Baltimore Ravens select Tyler Linderbaum, C, Iowa
The Ravens need some offensive line help, and luckily, due to teams valuing size more than they should, they get to have Tyler Linderbaum. Linderbaum is undersized, but the tape seen by scouts does not show any glaring problems caused by his height. He is powerful and athletic, which can be explained by the fact he wrestled in high school for a time. He is also technically refined, and has the potential to be an immediate starter on a team like the Ravens, one in need of a good lineman.
15. The Philadelphia Eagles select Garrett Wilson, WR, Ohio State
The Eagles acquired this pick in the 3-team trade that allowed the 49ers to get Trey Lance 3rd overall in the last draft. The Eagles used their new first-round pick in 2021 to get Devonta Smith, and now they are going to pick up a complement to the 2020 Heisman winner. Wilson has really good hands and his run-after-catch ability is one that will be craved by any NFL team. He will likely be a beast in the slot, and he will likely be a nice commodity to an Eagles offense looking to compete next year.
16. The Philadelphia select Andrew Booth Jr., CB, Clemson
On the other side of the ball, the Eagles need another boundary corner with the potential loss of Steven Nelson to free agency. They need someone young and cheap, especially since their cap situation does not look great. Andrew Booth is a nice boundary corner elite speed, great ball skills, quick feet, and competitive toughness. He is also an aggressive tackler, though his skill in that department needs some work. Still, pass coverage is the main purpose of a corner, and that is something the Eagles will get from Andrew Booth Jr. 
17. The Los Angeles Chargers select DeMarvin Leal, DT, Texas A&M
The front seven for the Chargers seemed like it had run out of power this season. Their run defense was one of the worst in the league, and that is partially why they are in this mock draft in the first place. The need for a fresh, young defensive tackle on this roster cannot be understated. DeMarvin Leal is a very versatile player who can partner up with Linval Joseph and improve the pass rush and the run defense instantly. He has rare size, athleticism, and strength, as well as the ability to collapse the pocket around the opposition's quarterback. That extra dynamo will likely push the Chargers over the line.
18. The New Orleans Saints select Jameson Williams, WR, Alabama
In a season riddled with bad luck, the Saints had no extraordinary receiver. There were Michael Thomas and Marquez Callaway on the roster, but no reliable deep threat. Jameson Williams is the man for that job. When starter John Metchie got hurt, Williams took over the lead role in Alabama's passing game. He is a dynamic vertical threat who can win at all three levels of the field with smooth route running, and his blistering speed and lightning-quick acceleration certainly helped. Teams may also value his seamless transition into the Bama offense after transferring from Ohio State. And he will easily slip into the Saints' offense.
These are just some prospects to keep an eye on over the next three months. This includes prospects in the Senior Bowl, which will take place on February 3rd. It is just one part of the fascinating draft process.