Amazing Aesthetics: Warmcore
Welcome to Amazing Aesthetics, a biweekly column talking about all sorts of aesthetics, their origins, and more!
Before I continue with today's article, I would like to apologize for the distance between this article and the previous article being four weeks instead of two weeks; I wanted to write during winter break, but ultimately was unable to. But good news, you still get the article! It's just later than usual.
Our third article is on Warmcore, the perfect aesthetic for those who wish they could still go outside without a down jacket and gloves.
Have any favorite aesthetics you want to see an article about? Please send them at the link below!
https://forms.gle/WZs6GER1eyYX8AFMA
Now, with that out of the way, let's get into today's aesthetic!
Warmcore is a visual aesthetic largely focusing on summer themes, blurry photos, and warm lighting, with a small hint of nostalgia. 
Unfortunately, all we know about Warmcore's origins is that it was created some time in the 2010s.
It is a subtype of Cottagecore, an aesthetic that caught the fancy of people worldwide as we dealt with the pandemic. I will be covering Cottagecore and its subtypes in a future article, when I'm able to research more about it.
It's also related to the Bloomcore, Ethereal, Dreamy, Heatwave, and Naturecore aesthetics according to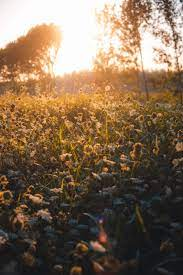 the Aesthetics Wiki, so it might be worth a shot to check those aesthetics out independently if you're liking the sound of Warmcore.
Just because Warmcore isn't technically listed as a fashion aesthetic doesn't mean you can't dress to fit the aesthetic. You can dress to fit just about every aesthetic. In fact, if the aesthetic suits you, I'd encourage you to do so!
If you want to start saving up for a more Warmcore-themed wardrobe, flowy dresses can never go wrong, regardless of your gender. 
They're pretty, they suit the aesthetic, and if you're bored, you can just spin around in the dress for hours on end and watch it twirl around you! I love flowy dresses, and they're such a flexible piece of fabric aesthetics-wise.
For Warmcore specifically, I also recommend floral prints, loose clothing, and generally anything you'd wear in the summertime.
If you don't have the weather or money to encapsulate the Warmcore aesthetic, but you'd like to imagine that you do, Kylie Koch on Spotify created a playlist filled with songs that fit the happy and nostalgic vibes of Warmcore for you to daydream to! Just hit the play button, and you're sure to find a song in there that you love.
In conclusion, Warmcore is a simplistic yet beautiful aesthetic that literally anyone can dress like, no matter your budget. You may want to wait a few months before you go out flaunting your new dresses, though; it's still snowing, after all.