Lin-Manuel Miranda's Directing Debut: tick, tick … BOOM!
If you've been on practically any social media the past month or so, you might have heard the lyrics of a man lamenting his 30th birthday in song form. If you have no idea what I'm talking about, you just might not be getting the right exposure. But if you do, you'll know this showtune belongs to "30/90", a song from Netflix's newest hit movie tick, tick … BOOM!, released on November 12, 2021. Not only is it a spectacular watch, but it also acts as the directing debut of well-renowned musician Lin-Manuel Miranda, and can give insight into where his future in the movie industry is headed.
Starring Andrew Garfield and Vanessa Hudgens, tick, tick … BOOM! details the life and times of the late Jonathan Larson, creator of Rent. It highlights Larson's struggles as a hopeful Broadway writer as he yearns for support for his musical, Superbia, that he had been working on for 8 years prior. The movie details his struggles writing a musical through a midlife crisis, and it has its fair share of joys and sorrows that can leave you mesmerized. I would heavily recommend this movie for anyone who has an appreciation for musicals or even just looking for something engaging to watch. The cinematography is absolutely stunning, the characters are well-written and three dimensional, and the story is easy to follow. 
There was one issue, though, when it came to production: Andrew Garfield couldn't sing. Despite this, Miranda saw potential in the Spiderman actor, and he began to work with him. "I felt so lucky and happy to just see where I could go," Garfield said while being interviewed. "I was given the time and the resources with vocal coach Liz Caplan, Lin and his whole musical direction team…peeling away the onion to find whatever voice lived inside of me. I got given the best in the business and all the time that I needed to get to that place."
After a whole helping of coaching and practice, Garfield was able to effectively honor Jonathan Larson with a spectacular performance. From the boisterous opening of "30/90" and the heart-wrenching chords of "Why" to the Broadway spectacular of "Sunday" and the gut wrench of "Louder Than Words", every single song on the soundtrack is a spectacular listen. Even if you don't own a Netflix subscription, giving the whole album a run through is worth it as you embark on the emotional rollercoaster of Larson's writing struggles.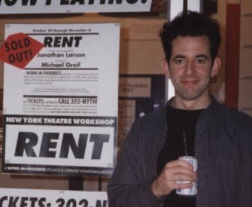 Not only does the movie honor the legacy of Jonathan Larson, but it also highlights the life of Broadway legend Stephen Sondheim. The composer was the genius behind countless well-known Broadway musicals, like West Side Story, Sweeney Todd: The Demon Barber of Fleet Street, and Into the Woods. It is clear that Sondheim was something of a role model to Larson, with a simple phrase from Sondheim encouraging Larson to continue writing for another two full years. Sondheim passed away on November 26, 2021, and his legacy is undeniable.
Not only does this movie honor Larson and give Garfield another spotlight, it sees the debut of Lin-Manuel Miranda as a director. Miranda is the lyricist behind Hamilton: An American Musical and worked on various Disney productions, like Moana and Encanto. Although he was the creative mind responsible for these works, tick, tick … BOOM! is Miranda's first attempt at directing a movie—and what a success that was. Miranda has been praised beyond belief for his work on the movie, and it proves his immeasurable talent as a filmmaker. Miranda's future in the industry is undeniably a bright one, and he might live up to have the same success and fame as Jonathan Larson himself.
So my final statement would be to give tick, tick … BOOM! a shot. It's a 2 hour gallivant through the story of an amazing figure in the musical industry, honoring his legacy in a marvelous way. Andrew Garfield has earned his time in the spotlight, along with his—other—recent performances, bringing new recognition to a brilliant actor. Lin-Manuel Miranda proved himself yet again to be an incredible genius of musical theater. And tick, tick … BOOM! is a movie for the ages.