The FTHS Music Department Presents The Annual Holiday Concert!
On Thursday, December 16th at 6:00pm, the Freehold Township Music Department held their annual holiday concert! For the first in-person concert in two years, the night was special for everyone there. At 5:45, just 15 minutes before the concert, the auditorium was filling up with masked proud families, staff, and students, all eager to see all the hard work the Symphonic Band, Select Ensemble and Concert Choir put into making this concert happen. Although admission was free, attendees were still strongly encouraged to bring non-perishable items. At the doors, there was a table full of these items that were going to be donated to the Freehold Area Open Door Foundation. Outside the auditorium, snacks, Freehold Township apparel, and holiday merchandise also were sold. There was even a 50/50 raffle, with the winner being announced later in the night.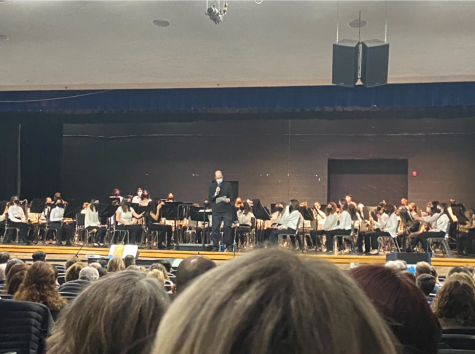 The concert opened up with a performance from the Symphonic Band being led by Mr. Gattsek. Their first song, "Midnight Sleighride", featured members of the Color Guard. Additionally, a huge congratulations should be given to Kayla Easton and Jessica Hakanson for being soloists in the number. Some other songs played by the band consisted of a Nutcracker arrangement ("March", "Dance of the Sugar Plum Fairy", "Chinese Dance", "Waltz of the Flowers") and "Three Ships". The band played all songs extremely well, even through the advanced difficulty, and there is no doubt the crowd was absolutely impressed and full of enjoyment listening to such talented musicians. 
Next was the Select Ensemble, led by Mrs. Conners. The ensemble, dressed in vibrant colors, clearly impressed the audience with their excellent harmonies and professional attitudes. The talented students sang songs such as "Celebrate, It's Hanukkah", "Winter Sleigh Ride" and "Have Yourself a Merry Little Christmas". Ensemble member Grace Lorenzo says, "It was such a fun experience to bring all our hard work to stage. Performing in front of my friends and family always makes me so happy and I am so grateful I was able to do it alongside such amazing and talented friends." 
After this, there was a brief intermission for those to get snacks, stretch their legs and try to say a quick good luck to those they were there supporting.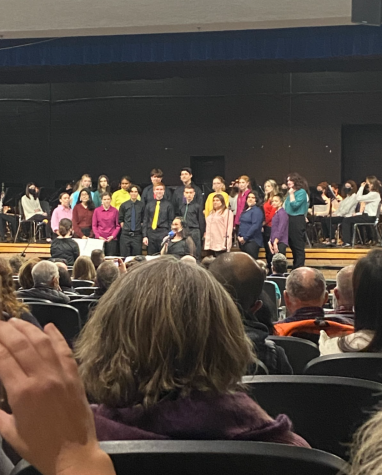 Soon enough, the second half of the show started and those in the crowd were just as excited as they were from the start. The Concert Choir opened up the second half, singing "Let it Snow! Let it Snow! Let it Snow!", "The Candles of Hanukkah", "Brighten My Soul with Sunshine", "Do You Hear What I Hear?" (with Jessica Reed on the piano and John Hayward and Margaret St. Germaine on percussion), "Winter Wolf" and a senior favorite, "Bidi Bom". Following the choir, the symphonic band came back for one more song entitled, "Fantasy on Mo'oz Tzur." 
To end the concert on an amazing note, the band and choir worked together for the last song, a classic, entitled "Winter Wonderland" where members of the crowd and alumni were invited to come up and sing along. Many students came up and sang along happily, as those who remained in the crowd quietly sang along as well. It was no doubt everyone was having an absolutely fantastic time, both on and off stage.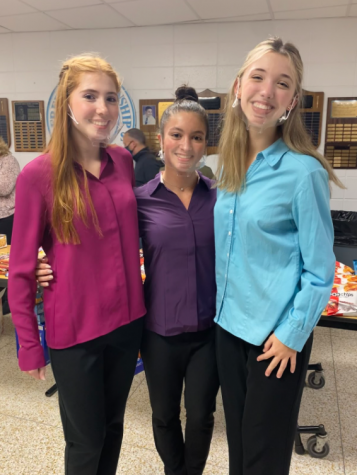 Additionally, it can not be neglected to mention that All Shore Chorus and CJMEA Region II members were recognized and applauded. It is absolutely amazing to see such new faces joining the All Shore Chorus for their first year, and it is even better to see so many returning members. It is such a great achievement to be part of these groups, and all musicians should be extremely proud! 
It is no doubt the Holiday concert was a great way to get into the holiday spirit and support such hardworking, gifted students. To end off, select ensemble member Grace Lorenzo says "The concert was a huge success. Between. concerts and new opportunities, I, along with many others, are so excited to see what the future holds! Thank you everyone!"