FTHS FFA at the Farmers Against Hunger Apple Picking Event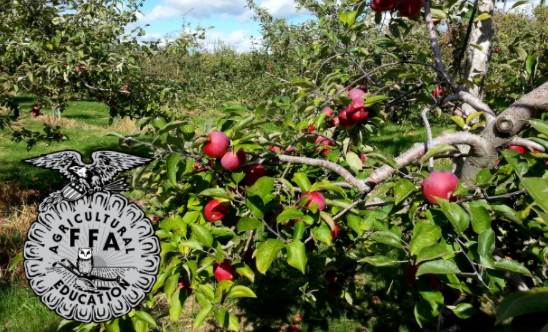 FTHS' Senior FFA team recently visited an orchard with one main goal – to collect dozens of apples in hope of providing to those in need. This event is called FFA Farmers Against Hunger. The inquired purpose is to collect fair or perfectly conditioned apples and send them in to be donated to food banks. As an end result, our seniors collected thousands of apples, feeding tons of families in need. It is hoped that the success of this event will encourage new FFA members to participate in future events to help grow their personal experience levels! Congratulations to our respectful and responsible FFA team for participating in a highly successful charity event. 
I recently got the opportunity to speak with two active members on FTHS' FFA team. Cathy Morales Cerna and Katie Weiss are two seniors who recently had the privilege to partake in this event. These students worked hour to hour collecting every apple they could find! Now, these are only two of the many students that donated their time to this charity. It's without a doubt that the continual hard work and dedication of these students was a highly contributing element to the successful progression of this event!
Here's a look at my interview with Cathy and Katie:
---
Brianna: What is the main goal of this event? 
Cathy and Katie: To donate food to people in need by collecting apples off of the ground in the orchard. 
BP: What are some activities that take place during this event? 
CM and KW: We walked around the orchard searching for apples that were in good condition on the ground. We picked these apples and placed them in baskets that would then go in an even larger bin to be sent off to charities. 
BP: What did your responsibilities include in the partaking of this charity? 
CM and KW: Collecting large quantities of apples that were still in good condition to eat.
BP: Did you experience any challenges as a participant in this activity? 
CM and KW: Carrying the apples, finding ones that were in good condition, and checking for imperfections… some apples were more likely to be in better condition depending on the type… green apples were the ones in best condition
BP: What are some necessities in order to grow the success of this charity?
CM and KW: Promote and publicize this charity to gain more recognition, support, and participation
BP: Do you think the end result of this was a success? Please explain why? 
CM and KW: Yes it was. We collected thousands of pounds of apples that were then shipped off to various charities to feed those in need. 
BP: Are there any improvements that could be made for next year's event? 
CM and KW: Promote the charity more. This includes online and outside of the location of the event. With more advertisement the charity will be more well known since neither of us have heard of this event before participating.
---
After speaking with these lovely students, it was clearly established that the event was a total success. The only contrary would be the lack of advertisements. In order for this event to beneficially grow, it is essential that the word is spread, even when there isn't an event currently. Aside from the minor defects withstanding the social aspect of the event, FTHS gathered senior students rose to the occasion and  came forward with such a highly important achievement! Congratulations to the success of our FFA team! Freehold Township is lucky to have such outstanding role models!