Kal Penn: His Significance and Relevance to FTHS
Kal Penn, a Freehold Township High School alumnus, has certainly made a name for himself.
Having graduated from FTHS in 1995 and UCLA in 2000, Penn has become a renowned actor as well as politician. Some of his most famous appearances are in House and Harold & Kumar, as well as series like How I Met Your Mother and Designated Survivor.
In 2007, Penn was an advocate for Barack Obama's campaign, and in 2009 was offered the role of Associate Director of the White House Office of Public Engagement and Intergovernmental Affairs. Following this, he was in an out of the White House for the next few years, often leaving to pursue acting and returning between projects as Obama's reelection campaign co-chair and a member of the President's Committee on the Arts and Humanities.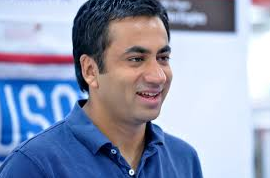 In addition to his previous wonderful contributions to society, Penn has several projects in the works. Recently, he has announced that he will be going on tour to promote his new book, titled, "You Can't Be Serious". During this time, he will be hosting both virtual and in-person events. A summary by Google Books states that, "In this refreshingly candid memoir, Kal Penn recounts why he rejected the advice of his aunties and guidance counselors and, instead of becoming a doctor or 'something practical,' embarked on a surprising journey that has included acting, writing, working as a farmhand, teaching Ivy League University courses, and smoking fake weed with a fake President of the United States, before serving the country and advising a real one." The image below was taken from Penn's official Twitter account, @kalpenn. It holds all of the information necessary regarding his upcoming tour.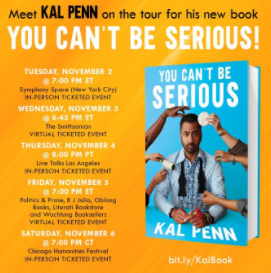 On October 31st, 2021, CBS Sunday Morning will be running a story on Kal Penn, who recently came back to his roots to pay homage to Freehold Township High School. Be sure to tune in!
https://twitter.com/i/status/1446195599469072385
Sources:
https://books.google.com/books/about/You_Can_t_Be_Serious.html?id=xeAYEAAAQBAJ&source=kp_book_description