September Athlete of the Month: Natalie Moradian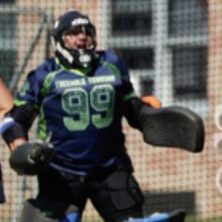 September Athlete of the Month Natalie Moradian sat down with us to talk about herself and her time at Freehold Township.
_________________________________________________________________________________
What position do you play in field hockey?
– I play goalie. 
What are some advantages and disadvantages of playing that position?
– I think that a lot of the time you can't always win and score as the goalie, but I wouldn't give it up for anything. The team relies on me and I need to put my best foot out there. 
What is your favorite memory while playing for Township?
– In a preseason game, I made 23 saves against Shore. It was a tight game during halftime, and although we ended up losing, the team really meshed together. The chemistry we had worked really well. 
Who is your favorite professional player/inspiration?
– A lot of my inspiration comes from my mom. My mom really pushes me to keep doing well. I feel that without her, I wouldn't be playing sports. 
What is your favorite aspect of the sport?
– Being a part of the family. The sport is very underrated and we connect in a great way. We are a family with no hate. 
Do you have a favorite sport besides field hockey?
– Lacrosse. I am also the varsity lacrosse goalie. 
Do you have any involvement in school besides sports? (Clubs, activities, etc)
– Yes, I am a 4 year member of choir and drama club. I am also in NHS, All-Shore choir, and the National Thespian Society. 
Where's your ideal vacation spot? 
Mexico – I love it there. 
What are your favorite sources of entertainment? Movies, books, music, bands, etc.
I love and listen to a lot of Broadway. 
What is your favorite food?
Definitely shrimp. 
How do you help your teammates improve?
By giving them the support they need: constructive criticism. Positive feedback is what really helps them. I really couldn't do it without my defenders, Taylor Stern, Avery Cirillo, and Faith Kopec. 
Do you have any advice for those looking to try out?
I think the most important thing is heart. If you have a lot of heart for the sport, then field hockey is for you. With field hockey, you don't really need to know how to play. You just need passion, dedication, and determination. 
_________________________________________________________________________________
Here were Natalie's accomplishments from September:
Recorded 7 shutouts 

Recorded 81 saves during the month

30 saves in one game (away at Middletown South)

Recognized as one of top goalies in NJ by NJ.com and as one of the Top 100 Senior players by NJ.com
Here's what Coach Latz had to say about Natalie:
"Natalie has been the reason we have kept games close, although some have ended in losses. In games where we score, she has recorded shutouts each time. She is the driving force for our success."