Olivia Cappello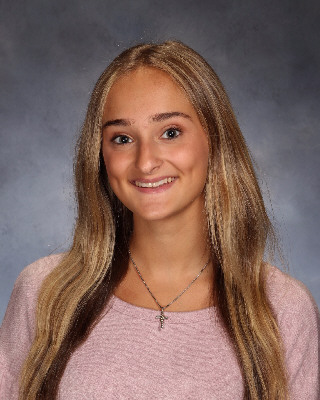 Olivia Cappello, a 2021 senior, is the epitome of an inspiring mentor, a dedicated student, and a positive role model. Her contributions to Patriot Productions through her excellent leadership and willingness to help in any way she can makes her deserving of being one of the May Students of the Month. Throughout her interview, she explains how she first got into drama, why she took on a leadership role in the club, and how she will utilize the skills learned through her drama experiences in the future.  

Read full transcript below: 
Emily Landolfi: My first question is what first got you into drama and dance at township? 
Olivia Cappello: I did a lot of theatre before high school and dancing as well outside of the school with competition. My freshman year I didn't do anything music related, and I did Dance Team just because I thought I would continue to dance. And then I really got upset at the end of my freshman year because I felt like I missed out on choir and stuff like that, so I definitely wanted to be a little bit more involved in music. And then since my sophomore year, I started to do a lot more of the Patriot Productions and choir and stuff like that, so that's how I got into it. 
EL: Cool! What made you step into a leadership, mentor-like role especially this year?
OC: I think that because I knew I wanted to study music in college, I definitely had to take a little bit more responsibility since this is going to be something that I will be doing, hopefully, for the rest of my life in some way. I just enjoy it, so I think that I can show other people my passion for it by, you know, being a leader in that way then I guess I'm doing something good!
EL: That's awesome! That's really cool. What are some important lessons that you have learned through this experience? 
OC: I definitely learned to work on time-management and just being very organized. Especially because I had a lot of things going on with the Dance Team, outside-school dance, voice lessons, inside-school voice, and just everything at once so I had to become very organized and really independent with my schedule. I also learned to really be myself, like you don't really get to do that in any club but with Drama and the Arts in the school, you can really focus on who you are and not really worry about what other people are thinking. 
EL: I definitely get that. How will you incorporate those types of lessons into your own life as you move forward into college and adulthood?
OC: Yeah, I will definitely use those in college. I think that because I got so much practice in high school with time-management and just really being organized, I feel a lot more confident going into school next year knowing that okay, I was able to manage it with a lot on my plate and so I feel really prepared. I think that it's going to be hard, you know, going into a new school with a whole new group of people and I have to remind myself, "No it's okay! It's okay to be yourself and you don't have to be afraid because you were accepted here, so you will be accepted in college!"
EL: My last question is if you could give some advice to people wanting to join a club while taking on a leadership role, what would it be? 
OC: I would say don't be scared and be yourself. You obviously want to do whatever you are going to do, so you'll be passionate about it. Just have confidence, definitely. Like I would say, you know, you might be a little scared at first but confidence is everything and just believe in yourself because it's definitely possible and so many great things can happen. So, I would say that!