April Athlete of the Month: Jamie Polonet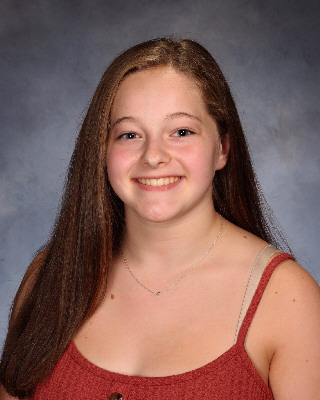 The Patriot Press congratulates gymnastics star Jamie Polonet on winning the FTHS April Athlete of the Month award!
---
What event do you prefer?
– Beam is definitely my favorite event.
Why do you like that event and what is the most challenging aspect of that event?
– I like that event because I feel the most confident and steady on that event. The most challenging aspect is definitely staying on the beam, because even if you are just a little crooked, or slightly off on a jump or turn, that could be the difference of 5 tenths; in other words, the difference between winning and losing.
What do you like best about gymnastics?
– While I do like the competitive side of gymnastics, and trying to up myself in every meet, I love the sportsmanship. Although it is technically an individual sport, my teammates and I always cheer each other on, hoping that we compete as well as we can.
What is one of your most memorable gymnastics moments?
– I'd love to say that it was winning Shore Conference or states, but it was honestly the fails that are the most memorable part of gymnastics. In 2019, my team was doing a "mock meet" where our coach, Coach Montgomery, was judging us before our first meet, to see how we would do. We were on beam, and I went for a skill and completely missed both of my feet, splitting the beam. But, the best part was that my teammate, Jenelle Cloud, went right after me and, on the same exact skill as me, split the beam, too. It was simultaneously the funniest and most painful memory I have of high school gymnastics.
Do you have a favorite memory or game while competing for Township?
– My favorite memory of a meet was when we were at Middletown South for a meet in 2018. It was the most competitive meet of the year because MiddSouth had great gymnasts competing for them. My teammates and I went all out, showcasing our skills to the best of our abilities, and it paid off. When it was announced that we had not only won but gained a new team record in Freehold Township gymnastics, a 113.75, the team went crazy. We had been anxious the whole time, worrying that we would have our first loss that year, and instead, our hard work was rewarded.
Who was your personal and professional inspiration to start gymnastics?
– I personally didn't have an inspiration to start gymnastics, because I started when I was 2 years old, just doing mommy-and-me classes.
What do you like to do in the offseason?
-There is no offseason. It is all year round, even during the summer, but we do have two weeks off for summer vacation.
What is something interesting that people don't know about you?
– I love watching cheesy shows in different languages, like telenovelas or k-dramas.
Do you have any pre-match rituals or superstitions?
– I don't have any of my own rituals or superstitions, but for high school gymnastics we have a team huddle where we have an uplifting conversation and chant.
What is your favorite school subject and why?
– Yeah that's a hard one. Probably psych with Mr. Torres because he makes it enjoyable.
What is your favorite type of music and who is your favorite musician?
– I don't really have a favorite type of music, just whatever I'm in the mood for. Mac Miller is probably my favorite artist.
What is your favorite pregame snack or meal?
– Apples. Honey crisp apples, specifically.
Do you have a favorite hobby outside of gymnastics?
– I love playing piano, reading, eating, and hanging out with friends.
If you could live anywhere in the world, where would it be and why?
– Iceland, because it has beautiful scenery, and it also ranked the safest country in the world according to many different news sources. I hear their jails are also very nice.
---
Here are some of Jamie's accomplishments from April:
Set 2 school records (9.775 on Bars and 38.45 All-Around)

Scored at least a 9.4 on every event (9.4 on Vault, 9.675 on Floor, 9.7 on Beam, and 9.775 on Bars)

Led team to highest team scoring average in the state this season.

Team Captain
Here's what Coach Montgomery had to say about Jamie:
"Jamie has had stellar performances on all events to lead this team to its 4th consecutive A-North Championship and undefeated season (45-0 in her 4 seasons). She is consistent on all events and has stepped up in certain events to help the team succeed."