5 MLB Players that Stood out the Most in April
Major League Baseball has completed its first month of the season, and there were many surprises! There have been teams who have underperformed and overperformed the expectations of mine and many others. However, I wanted to take a look at the players who made their presence known in April. With that being said, it's time to see who has made their mark on the young season. 
---
1. Byron Buxton
The Twins' center fielder ranks number one overall on this list not just because of his bat, but his defense as well. After just 18 games, Buxton has .426 batting average, a .446 on base percentage, 8 home runs, and 14 runs batted in. Those numbers alone made him the obvious choice as the player who has stood out from the rest. He has gotten 2.3 wins above replacement, which ranks highest for a non-pitcher in all of baseball. He owns a + 2 outs above average and continues to reaffirm his place as one of the best in baseball right now with both the glove and bat. Buxton has always had crazy potential, but injuries have stopped him his whole career. Perhaps this is the season where we see what he can really do.
2. Jacob deGrom
Everyone in baseball is finally starting to see the kind of pitcher Jacob deGrom is the way Mets fans have been seeing him since 2014. Ever since his first Cy Young season in 2018, deGrom has established himself as the best pitcher in all of baseball. This season, he is continuing to do that with historic numbers. He has pitched to an MLB best 0.51 ERA, along with 59 strikeouts, and a 0.57 WHIP in 35 innings of work. In his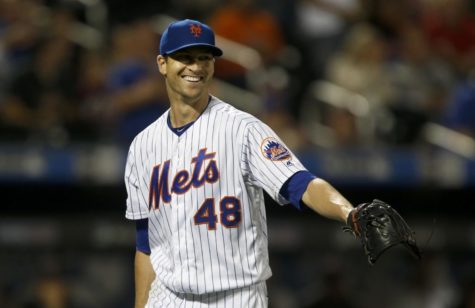 first 4 starts, deGrom struck out 50 batters, passing Shane Beiber and Nolan Ryan for the most strikeouts ever through a pitcher's first 4 starts. In his last outing of the month, deGrom tied Nolan Ryan for the most strikeouts ever through 5 starts with his current 59. He also owns the best wins above replacement in the majors with 2.5. He has been on a whole new level and is doing things that haven't been seen in a very long time. As Mets play-by-play announcer Gary Cohen likes to put it, "The master at the top of his craft".
3. Ronald Acuña Jr
One of the greatest talents that MLB has to offer is Ronald Acuña Jr. Ever since his emergence in 2018, this young man has been among the best in the game. He has a .341 batting average and a .443 on base percentage, with 8 home runs and 18 runs batted in. On top of all that, he also has a + 1 outs above average in the outfield. Acuña has been electrifying to watch as a sports fan and has helped grow the game with his extraordinary talent. Whenever he takes the field, he becomes one of the few players that can change the game with his glove, bat, power, and speed. 
4. Vladimir Guerrero Jr. 
Once the best prospect in baseball, Vladimir Guerrero Jr. has finally looked like he was worth all the hype. When he came up in 2019, it was one of the most advertised debuts that I can remember. He didn't look like the player that everyone thought he was going to be in both 2019 and 2020, but he has put that to rest. He has a .350 batting average and a .490 on base percentage, with 7 home runs and 20 runs batted in. With 1.8 wins above replacement, tied for 5th in all of baseball, Guerrero Jr. has certainly stood out. It remains to be seen if he can keep his early success going throughout the year, but if you are a Blue Jays fan you have to be excited from what you are seeing so far.
5. Mike Trout
Coming in at number 5 is the best player in baseball himself, Mike Trout. When trying to decide who could scratch their way into the top 5, Mike Trout has the advantage. Anytime he is playing in a game, everyone has to stop and watch what he is doing. That is how spe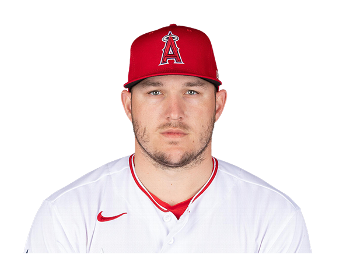 cial a player of his caliber is. Trout has a .425 batting average and a .523 on base percentage, with 6 home runs and 14 runs batted in. The 3 time MVP is somehow getting better every year and it's inconceivable as to how he is able to keep doing it. His defense is still great, owning a + 1 outs above average and there is no reason to believe that he can't win his 4th MVP this year.
Honorable Mentions: 
J.D. Martinez: .351 batting average, .430 on base percentage, 9 home runs and 25 runs batted in.
Corbin Burnes: 1.53 earned runs average, 49 strikeouts (with no walks!!), 0.55 WHIP, and a 1.8 wins above replacement.
Gerrit Cole: 1.43 earned runs average, 62 strikeouts, 0.72 WHIP, and a 2.4 wins above replacement.  
Kris Bryant: .322 batting average, .412 on base percentage, 7 home runs, and 19 runs batted in.