March Athlete of the Month: Brianna Kirsch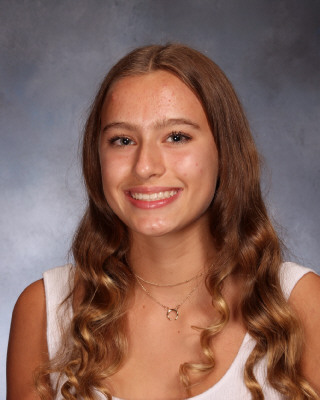 Following her being named as one of FTHS' March Athletes of the Month, the Patriot Press interviewed track star Brianna Kirsch.
---
What event do you run?
– The 800 m.
Why do you like that event and what is the most challenging aspect of running that event?
– The 800m is one of the most challenging track events in general because it is a mix of distance and sprinting. I like the event because it is an exciting and powerful event in track.
What do you like best about track?
– Being with my friends and celebrating good races with my friends after.
What is one of your most memorable track moments?
– There are truly so many memories but my favorite is after our A-North track race in spring track of my freshman year where our team took first place and we were all so happy.
Do you have a favorite memory while running for Township?
– I loved traveling to New York to race with my 4x800m relay team (Abby, Molly, and Tess) and running a great time all together. It was a great experience.
Who was your personal and professional inspiration to start running?
– My mom and my elementary school gym teacher.
What do you like to do in the offseason?
– In running, there really isn't an offseason. I'm pretty much running all year round!
What is something interesting that people don't know about you?
– I have a twin sister, Christiana.
Do you have any pre-meet rituals or superstitions?
– My superstition is actually to not be too prepared. Whenever I worry too much or do too much in my pre-meet routine, I do not race as well.
What is your favorite school subject and why?
– Science because I've always done well and had great people in my classes.
What is your favorite type of music and who is your favorite musician?
– It varies and also depends on how I feel! I like all types of music.
What is your favorite pre-meet snack or meal?
– Definitely a panini because it has always been my go-to before racing. I also love Chipotle.
Do you have a favorite hobby outside of running?
– I like to volunteer at my dog shelter every weekend if I can.
If you could live anywhere in the world, where would it be and why?
– A Caribbean island or a beach because I can enjoy it every day with my friends and I love the summer atmosphere.
---
Here are some of Brianna's accomplishments from March:
Won the 800 Meter race in her "pod" (division) race.

Won the 800 Meter race at the Howell dual meet.

Finished as the runner-up in the 800 Meter race at the Shore Track Coaches Association's Championship Meet.

2

nd

Team All-Shore

Brianna's hard work and dedication resulted in her advancing to the STCA Championship Meet where she finished second in her event; the best showing of any girl in the program this season.
Once again, the Patriot Press congratulates Brianna on her amazing accomplishments! Best of luck for the rest of the season!