February Athlete of the Month: Joe Dominguez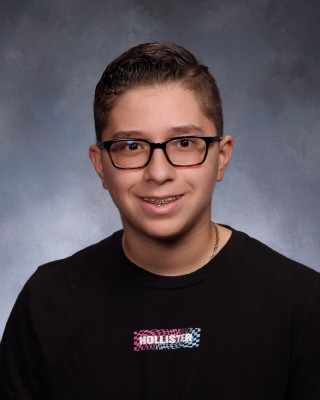 Freshmen bowling sensation Joe Dominguez was named as one of the FTHS February Athletes of the Month! Congrats, Joe!
---
What position do you play?
– I am the anchor bowler for the bowling team.
Why do you like that position and what is the most challenging aspect of playing that position?
– I like to be the anchor because it shows that your team trusts you and that they believe in you. It's like in basketball; who do you want to take the buzzer-beating shot? It's all about being able to clear your head and about having that clutch factor.
What do you like best about bowling?
– The part that I like the most about bowling would have to be the competition. Many times throughout the year, I travel across the country to different tournaments which have some of the best youth bowlers in the country. I've been able to make countless friends and I've also been able to better myself in the process.
What is one of your most memorable bowling moments?
– My most memorable bowling moment would have to be winning the Junior Gold tournament in 2018. Junior Gold is a tournament that only a select few are able to bowl in each year with conditions that are like the ones that professional bowlers face. In my past two years of bowling this tournament, I had placed 140th and 81st. In 2018, I stepped up my game and, as the underdog from the start, I climbed the ladder and won. The best part about it was that the finals were broadcast on CBS Sports.
Do you have a favorite memory or game while playing for Township?
– Since I started bowling for Township, my favorite memory would have to be our match against Colts Neck. It was our first win of the season and just seeing everybody come together and trying their hardest is something I will never forget.
Who was your personal or professional inspiration to start bowling?
– I started to bowl when my parents first took me when I was three. They loved to bowl and when I took an interest, there was no looking back.
What do you like to do in the offseason?
– In the offseason, I like to better my game and continue to practice, so I never get rusty.
What is something interesting that people don't know about you?
– What some people don't know about me is that I have a black belt in Tae Kwon Do.
Do you have any pregame rituals or superstitions?
– I personally don't have any pregame rituals or superstitions whenever I bowl.
What is your favorite school subject and why?
– My favorite subject in school is anything but language arts, but if I had to choose one it would have to be history because I enjoy learning about past wars and things like that.
What is your favorite type of music and who is your favorite musician?
– I usually listen to anything other than country, but I've really been getting into music by Led Zeppelin recently.
What is your favorite pregame snack or meal?
– My favorite pregame snack would probably be a bag of Doritos.
Do you have a favorite hobby outside of bowling?
– Outside of bowling I usually play video games with my friends.
If you could live anywhere in the world, where would it be and why?
– If I could live anywhere in the world, I would want to live in St. Lucia. It's a really nice island and I would want to live in a nice and tropical place.
---
Here are some of Joe's accomplishments from February:
Qualified for the Individual Shore Conference Tournament with a 212 season average.

Highest team score in each match this season.

High game of 256; High Series of 683

Bowled 7,600-series and two games of 250 or more pins.
Here's what Coach Mehl had to say about Joe:
"The unquestioned leader on the team; upbeat, positive, and very competitive. Joey was the first up on the lanes to congratulate and encourage his teammates. His talent spoke for itself and will continue to do so over the next three years. But, what I was most impressed with is his care for his teammates."
Congratulations, Joe! Best of luck going forward! We are rooting for you!