Patriot Productions Presents- Love: Quarantine Style
A year ago today, the cast and crew of Patriot Productions were hard at work rehearsing for their spring musical, How to Succeed in Business Without Really Trying. Of course, needless to say, a spring musical unfortunately could not happen this year. But, the FTHS Patriot Productions team are still putting in hard work this year with the release of their most recent endeavor- Love: Quarantine Style!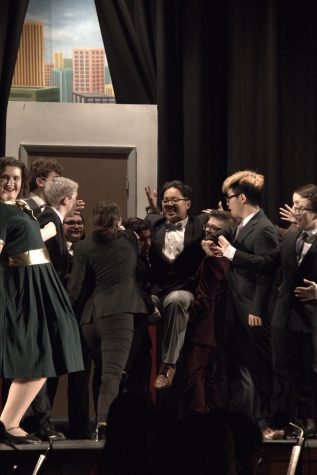 Love: Quarantine Style is a collection of four love-themed short scenes written, performed, and edited by Patriot Productions members! The scenes were all filmed safely and separately over Google Meets or through individual video clips. I may be biased, since I acted in and edited one of the scenes- but I can guarantee that these scenes are highly entertaining and will surely get a laugh out of you!
Under the guidance and assistance of co-directors Mrs. Richardson and Ms. Robbins, performers created amazing scenes from scratch! You can view Love: Quarantine Style through the website https://patriotproductions.anywhereseat.com/channel.php . Simply click the "access button", and then click the "get ticket" button. After entering your name and email address, you will receive a FREE ticket code and be able to view the show! Donations are also enabled while you're watching, if you're feeling generous! Love: Quarantine Style is only available until March 15th, so watch while you can!
The show contains the following scenes:
The Bachelor – written and performed by Kiersten Buckley, Jaka Doherty, Piper Doherty, Conner Keough, Emily Landolfi, Abhi Menon, and Paige Wehner and edited by Kiersten Buckley
The Nightmare Before Valentine's – written and performed by Lila Bacon, Philip Glenn, Sophia Photis, and AJ Tedeschi
Love to Me Is. . . – written and performed by Emma Cardillo, Kelly Larkin, Andrew Parisi, Amanda Storm, and Noah Zalika and edited by Saige Lupinacci
For Bob, Destroyer of Worlds – written and performed by Ava Dohan, Grace Harrivan, and Jeremy LaTerra