Tommy Lucas on "Coping", COVID, and Creativity
It's no secret that COVID-19 and the resulting quarantine have had less-than-stellar effects on students' mental health, forcing them to balance academics, athletics, and jobs with the stress of a pandemic. But Tommy Lucas, a senior at FTHS, has found a healthy way to express his emotions: songwriting.
His single "Coping", which was released on Valentine's Day, has gained 1,622 streams on Spotify and more across other platforms. With 449 monthly Spotify listeners, 18.3k Instagram followers, and 708.2k TikTok followers, Tommy has certainly found a willing audience for his art.
"Coping" is a four and a half minute piano ballad, full of emotional angst and depth. "I remember what it feels like to be lost in those honey sweet eyes," Tommy laments of a past relationship. "They see me smiling, but inside I'm dying, looking for any escape," goes the pre-chorus, the piano accompaniment grieving along in the background.
"Quarantine affected me a lot," he admits, growing serious after some light-hearted banter. "During quarantine there's nothing else to do but think, which can get…" he gestures for the right word. "…dangerous. It took me to a dark place, and then a break up on top of that…" For Tommy, writing "Coping" was a form of coping itself. "It was a healthy outlet for those feelings."
"Those feelings" being heightened on Valentine's Day, Tommy saw February 14th as the perfect date to release the song. "Valentine's Day is obviously associated with love and relationships, so I wanted to lean into the sadness of maybe being alone or going through a breakup." To capitalize off the loneliness? I ask. "To make the most of it," he replies.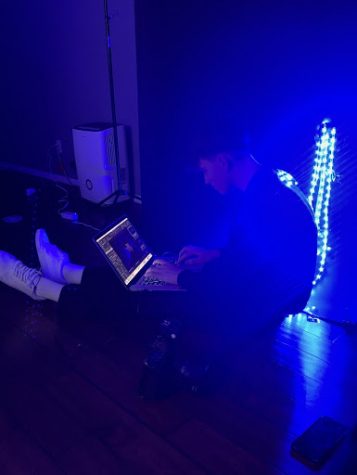 He lights up when I ask about his songwriting process, showing off the recording equipment he has set up in his basement. "This is kind of being used as a table right now," he laughs, pushing aside various school supplies, "but this is where I record." His microphone is as Australian as his producer, Adam, who got in contact with him through Instagram and works with him day and night (night more often, due to the time difference). "People always ask if I write lyrics or music first, and I write lyrics first. I have a note in my phone with 30-40 different lyrics that I'm working on." His lyricism has certainly improved over the years, he notes, as he explains his experience with songwriting as a child. "I wrote songs when I was five, but they were, you know, songs a five year old would write."
Tommy even records his vocals before the accompaniment, inspired by one of his favorite artists, Bon Iver. "[Bon Iver] uses his voice as an instrument, which is really hard, but it's something I try to do too." He doesn't want his message to be hidden by extraneous instruments, or anything that would take away from the purity of the song. 
Billie Eilish is another one of his favorites, inspiring the cover art for "Coping": one black tear leaking from Tommy's eye as he looks forlornly off screen. In Billie Eilish's music video for "when the party's over", the 19 year old singer-songwriter also cries black tears, rubbing the ink all over her face. "I wanted to show there was some sadness in me," he says, "that was leaking out in the song." Laughing, he turns the camera to a table dyed black. "That's from the photoshoot. We tried a bunch of different combinations of paint and soap, but the actual tear was made of water and activated charcoal." Even once he found the right combination, the picture itself took ages to get right. "My friend would squeeze the tear right near my eye [with a dropper] and then sprint out of frame so we could get the shot. I must have, like, 1,000 pictures on my phone that didn't turn out right." His Instagram profile picture is from the first concept for the cover art, blue LED lights backlighting him.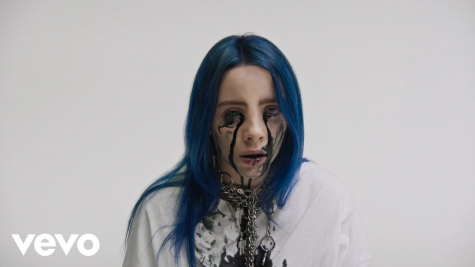 There's a 45 second video on his Instagram and TikTok of Tommy singing "Coping" live, wearing the same outfit as he is in the cover art. He says he plans on making a full music video "if the song takes off, which we're hoping for. Instagram and Tiktok definitely help with that. It's good to have a social media backbone."
As for the future? Tommy Lucas isn't done yet.
"I've started working with Sony Music… I have three or four songs in the works right now," he says. His most recent TikTok video shows him recording his next song, "Special", with his producer Adam. "All the nights we were apart, did you give away your heart to somebody else?" He sings, knocking his fist on the table in front of him in time with the music, more uptempo and musically layered but just as lyrically deep as "Coping". "That's the one!" Adam exclaims through FaceTime in joy.
Tommy is looking forward to putting out more songs, and his love for music is as catchy as his choruses. His songwriting is genuine and personal, something that lacks in the cookie-cutter pop music genre of today. With his senior year at FTHS coming to a close, Tommy is starting the new chapter of his life with a bang.
There are worse ways of coping.