January Athlete of the Month: Hannah Orloff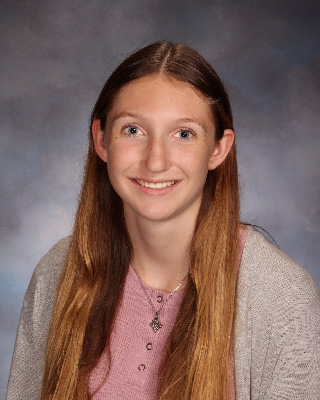 The Patriot Press interviewed basketball star Hannah Orloff after she was named one of FTHS' January Athletes of the Month. Congrats, Hannah!
---
What position do you play?
– I play center
Why do you like that position and what is the most challenging aspect of playing that position?
– I enjoy working around the rim through different post moves and being able to snag rebounds out of the air, but it can sometimes be challenging when you have to go up against multiple players under the rim for other points or rebounds.
What do you like best about basketball?
– What I love the most about basketball is that there is room for mistakes. In other sports, making one mistake could cost a game or severely affect the outcome. That can happen too in basketball, but it's different. If you make a mistake on offense you can run back on defense and make up for it by playing good D. As much as you will try and fail on the court you will also succeed and finish, and the opportunity to be able to right the wrongs makes the sport worth playing. We are human, and mistakes are bound to happen, but the pressure of one mistake can be resolved by a good defensive block or steal. You get a chance in basketball to be the scorer, the rebounder, the defender, you get to play all roles and keep trying till you succeed. It's a game where hard work and dedication show over luck or skill, and it will forever be my favorite to play because of that.
What is one of your most memorable moments playing basketball?
– Scoring my 1,000th point last year was definitely my most memorable moment. It was a milestone I was hoping to one day be able to reach and being able to accomplish it is something I will always remember.
Do you have a favorite memory or game while playing for Township?
– Beating Middletown South my sophomore year was a victory I will always remember and cherish because it was a game that the entire team stepped up and we were able to accomplish the seemingly impossible in defeating that team.
Who was your personal and professional inspiration to start playing basketball?
– I've been playing basketball since I was old enough to do so, and because of that, I've always played the game. I wouldn't say I have any professional inspiration to play the sport but rather personal encouragement from my parents to participate and my friends.
What do you like to do in the offseason?
– Basketball goes on for me year-round, but in the offseason from school ball I'm typically still working out in a basketball gym or a regular gym. Either way, I enjoy working to get stronger and developing to be a better player.
What is something interesting that people don't know about you?
– I've never been skiing before because my parents were so afraid of injury, but for the first time ever we are going in a couple of weeks.
Do you have any pregame rituals or superstitions?
– No pre-game rituals for me. I don't really believe in luck but rather that I have control over how I perform so therefore it doesn't matter what I wear or do but rather that I'm dialed in and ready to play the best I can.
What is your favorite school subject and why?
– My favorite subject is definitely biology because I've always had an interest in learning about how organisms exist within themselves and their environment, and studying biology has given me the ability to learn more about it.
What is your favorite type of music and who is your favorite musician?
– I'm a big fan of country music, although I have many other favorite songs in other genres. I'd have to say my favorite country artist is either Morgan Wallen or Riley Green.
What is your favorite pregame snack or meal?
– I eat a lot of snacks and Gatorade before my games, but every evening before the big games I'll have a nice, large plate of pasta with salad and bread to carb up for the next day. Especially when it's penne vodka, which is my favorite dinner, I enjoy my pregame carb loads either at pasta parties or at home.
Do you have a favorite hobby outside of basketball?
– I spent a lot of time playing basketball and training for it, but after sports, I enjoy spending time with my friends. I watch a good amount of Netflix shows too, and especially now since we have to keep our groups of friends small, but otherwise, those are some of my favorite things to do.
If you could live anywhere in the world, where would it be and why?
– Unlike most people my age, I don't want to live in Greece or somewhere across the world, but would like to live in the midwest in the mountains because of how peaceful and calm things are out there. I'd enjoy waking up every day to such beautiful scenery and quietness.
Here are some of Hannah's accomplishments from January:
Averaged 17.5 points and 13 rebounds for the first week of the season.
Nominated for Player of the Week by the Asbury Park Press.
Hannah was the team's leading scorer and rebounder. She has also committed to continuing her basketball career at Christopher Newport University next year.
Congrats, Hannah!