An Interview With Caleb Zettell, Member of the 2021 All-Eastern Honor Ensemble
Freehold Township Senior Caleb Zetell was selected to be a performer of the 270-singer All-Eastern Honors Ensemble, with members representing eleven states on the east coast. As a member of the school choir, Patriot Players, soccer team, and a number of clubs, he has garnered quite the repertoire over his time at Township. I had the pleasure of speaking with him about All-Eastern, the experiences he's had over the past four years, and what music taught him about life. 
Read the full interview below:
Leona Gagalac: To begin, theater wise, do you have a dream role in any show? 
Caleb Zettell: A dream role in a show… you know, I'd say I don't have one but I'd say it would be Frank Abagnale Jr. in Catch Me If You Can because I saw it with Aaron Tivet and I thought he was really good. Also, it's a tenor, so I'd really like it. 
LG: Do you have a specific song that you always have in your back pocket for auditions, cabarets, or other performance opportunities? 
CZ: You know, that one's hard. I'd have to say that my favorite one to perform would actually be "Goodbye" from Catch Me If You Can.
LG: I love that song!
CZ: Yeah, I love it.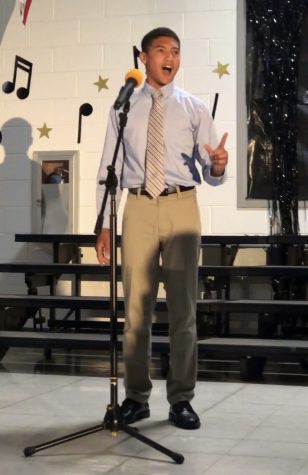 LG: In addition to being part of the school's choir and drama department, obvious with your success, but what other activities are you involved in either in school or outside?
CZ: Well obviously, I love to be part of the choir, select choir, and drama. Outside of theater and music, I really like to play soccer. I've also been on the track team, and I participate in a few clubs. I'm part of the Patriot Warrior Club, I'm in Project Lundy, and I'm also involved in NHS.
LG: That's quite the list! So, with all of those experiences, how do you feel that any of them prepared you for auditioning, and then now performing with All-Eastern?
CZ: Well actually, funny enough, my audition for All-Eastern was actually my All-State audition, and they used a ranking to decide that for All-Eastern. But for the other activities I do, I think they all have a lot to do with success and music because they train me to keep working hard. You know, I started playing soccer in middle school because that's what a lot of my friend's played and I had just moved in, so I wanted to learn soccer and make new friends. That kind of "never quitting" mentality keeps me going in auditions. Keep practicing, keep rehearsing, make everything as good as you can be. Because it took me so many hours and so many countless days to get ready playing soccer, I think I kept that in high school and with music. I feel that I'm always prepared. 
LG: I agree, that passion keeps you going, makes you want to achieve more, and then finally attaining what you set out to do after all of that pays off in the end. 
CZ: Especially with shows when you have to memorize, definitely.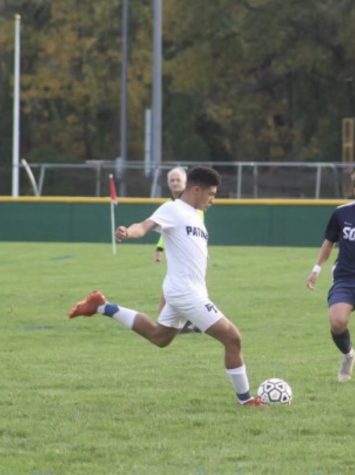 LG: Back to auditioning, how similar or different was it compared to past experiences, especially with COVID?
CZ: Well, it's really interesting because obviously I had before my end of junior, beginning of senior year, auditioned for the All-Shore chorus three times, physically and not virtually, and the All-State chorus twice, where it was regular, in person auditions. And then we switched over to the virtual ones. The first audition, I think, that I did virtually was for All-State because we kind of auditioned the year before, and that's actually the audition that they would've used to determine if I was or was not in All-Eastern. I want to say that it's not frustrating that it's all online, but I would say that it's easier to audition virtually because you are not directly in front of a judge and you can do it more than once. It's kind of different, in a sense, because you don't get that rush of adrenaline or the nerves that might edge you to do better, so I think of it in almost a mixed way. You know, I'm upset that everything is virtual and I'd obviously rather everything be physical, including the auditions, but I'm still grateful that we still get to do it. I'm grateful that I was able to audition for All-Shore and All-State, which eventually led to me being in All-Eastern virtually because otherwise, we'd have nothing.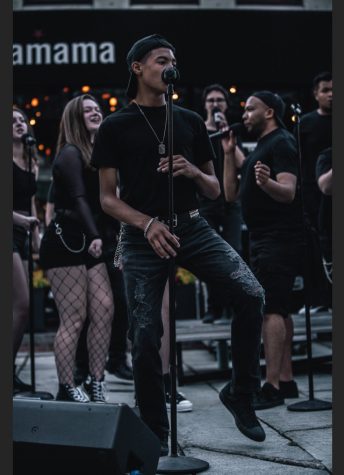 LG: Given that whole virtual aspect, your participation entails a weekend of activities and a virtual performance, so with all of that in mind, what are you looking forward to the most?
CZ: There's a lot because I know we have activities with professionals, stuff like that. Working with people who are in the music industry is obviously exciting and I'm over the moon, but the one thing I've always looked forward to since freshman year, when I learned that this choir existed, was just listening to the sounds. Participating in the concert choir at Township, we create such a great, full sound because we have so many prepared and ready voices with so much talent. As you keep moving up the ladder in the difficulty of being accepted into these choirs, you get involved within these larger, different groups of people. But, I'm the most excited to listen, to listen to the beautiful sound of all of these different people. It's a unique experience, something you can't describe. 
LG: That sounds exciting!
CZ: I know, that's why I'm so excited for it!
LG: Yeah, because I know that not many people in Township's history have been able to attain the title of being a member of an All-Eastern ensemble, so how does it feel being one of the few?
CZ: It's an interesting feeling, especially when there's a lot of people who don't go to Township anymore when I was an underclassmen. I met so many people, specifically Riley Martin, and she's just this incredibly talented person. She knows everything there is to know about music, and she has this voice where if you sing something to her, she can sing it right back to you, maybe even better. Just seeing how talented these people are and that they were also part of these kinds of groups is almost like a torch being passed down. I feel a lot of pressure to participate in it and report back how it was because I know a lot of people can't relate and aren't able to receive these types of opportunities, so I just feel grateful. Obviously, it's a lot hearing congratulations from people and it makes me happy and proud of our school and of the people that helped me along the way, but I think I'm just excited. I'm bubbly. I'm excited to participate in something so unique and special, and it does feel cool knowing that there weren't a lot of people who've gotten this chance. At the same time, I'm worried about what March holds for me while maintaining that excitement to be part of it.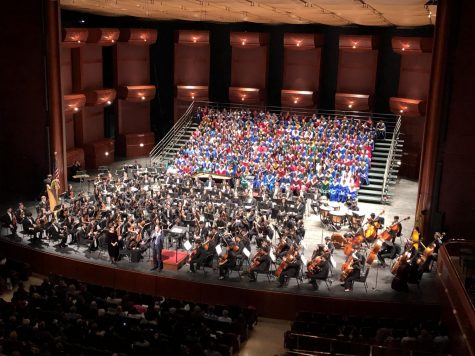 LG: Riley's fantastic! In a way like her, are there any other mentors that you would attest your success to? 
CZ: Absolutely. Of course, the first name that comes to mind when I hear about crediting success would go to Mrs. Conners. She has done an overwhelming amount for me and the entire chorus. I remember last year, her daughters had dance and she was having trouble because you need your high-school's director to participate in the choirs in order for you to do it. She wasn't going to have many people there for All-State other than myself, Olivia Cappello, and some others, and without more people, it wouldn't be worth her time. But yet, she did it. It just shows how we were able to make it this far, through how incredible and how hard she has worked over the past few years. Every single thing I know about music has come from Mrs. Conners because she has done so much. Her door has always been open for me and anyone in choir, and she's so inviting and wanting for everyone to do well. I'm just so grateful for her. I also wanted to say Danny Scerbo. He was a senior when I was a freshman, and I remember being so nervous about not having anyone to sit with at All-Shore rehearsals, but he was always a friend. He was always a shoulder to lean on, and he was a lot older than me so he knew more about music and was already on the All-Shore scene. So, he taught me how to get along with everyone, how to feel the music of the choir, to work hard, and to stay in chorus. He was a great friend and showed me the camaraderie that comes with choir.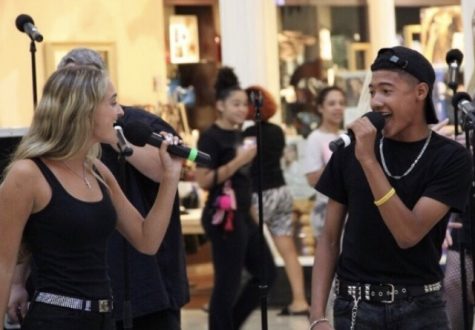 LG: From what you've said, a lot of your high school experience is attributed to the people you meet along the way. You end up interacting with so many people, so you take a little bit from each relationship and it changes how you live your life moving forward. What do you think the community at Freehold Township and our town as a whole has given you over the last four years of high school?
CZ: The first thing I think about for that question is remembering being a freshman. Whether it might be chorus, drama, and even soccer, you'd hear everyone talk about the community at Township. You don't understand what that means until you might be in my shoes, a senior in chorus, and you're the one telling the freshman about this great community and to continue expanding it. You know, I really do, I really credit everything to the best friends that I've made. I was in chorus today and Mrs. Conners and many of the leaders of our chorus class were all talking to the underclassmen, but really everyone, about staying in chorus. Virtual school is so hard and draining, and it almost feels like kids might not want to continue doing the same things in their schedule now because they don't realize how different chorus is virtually versus in-person. I keep thinking about what kept me going through high school, and it wasn't just music or just an activity, it's the people you meet doing those activities. I'm excited to go to chorus because I love music, but also excited because I get to hang out with these great friends. The people you meet at Township, the way we learn and the teachers, it shapes us into these outgoing people. No matter who you're talking to in chorus, you're going to find a friend in them. It makes it almost addicting to go, meet new people, have friends, and end up making these great relationships with these people. Some of my best friends, people I'd die for, are people I met sophomore and junior year in the shows at Township. It just goes to show how we have such a great atmosphere, especially in the music program. It really shaped me as a person and I'm grateful for a community with great people. It's just exciting to be a part of something like FTHS.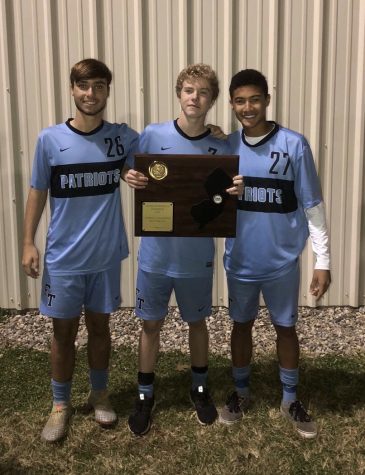 LG: Going to this idea of conclusiveness and looking back to who you were versus who you are now, what advice would you give your freshman-self about your time at FTHS?
CZ: I'd say to hold on. Keep going. So many times when I've been rehearsing for things, I remember my first All-State audition. It was so, so stressful and you're reading this music that is unlike any music you've ever read because it's so difficult. There were times where I would want to quit and throw the sheet music on the ground because it was so difficult to learn and memorize, but I wouldn't trade a second of high school for anything. It has just been such a great experience in music. I'd tell myself to keep going because it pays off. I think the best way to think about it is with the musical, more specifically, last year's musical. This goes across to music in general, but in the musical, there is so much to memorize. So often, I wanted to throw down my script because there was so much to learn. No matter what your part was, there were so many dances and songs to learn, because How to Succeed in Business Without Really Trying was such a long show. If you keep going, the ends justify the means. I think that's definitely a good way to describe it, regardless of what activity you do, but especially in music. The beginning isn't the fun part. At the end, once I finally memorize the line, or when I was so excited to get into All-State, the feeling of success or the experience if you don't succeed outweigh any negatives. So if I could go back and tell myself one thing, it would be to keep working. Get through the hard parts because the reward at the end of the road is just great.