Fernando Tatis Jr.'s Monster Deal: What Does it Mean for the Rest of MLB?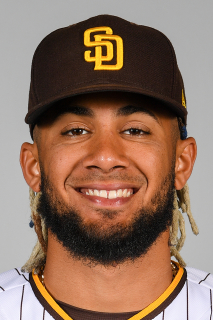 The Major League Baseball season is almost here, and what better way to get into Spring Training than for one of the brightest stars in MLB to get locked up for 14 years. Fernando Tatis Jr., the shortstop for the San Diego Padres, got himself a whopping 14 year, $340 million deal. It is not only the lengthiest contract in MLB history, but also the third most expensive. I don't know what's wilder: the fact that a 22-year-old is getting guaranteed money until he's 36 years old, or the fact that Bobby Bonilla will still be getting paid by the New York Mets through the entire length of that ludicrous contract. Now on paper, this just looks like a huge contract being given to a really good ballplayer. However, the deal has many ramifications for a substantial number of players and teams in MLB, so let's take a look at the ripple effect this contract has caused.
We have to begin with the San Diego Padres. This is a team that legitimately became a contender this offseason with some of the moves they've made. In just the past few months, they've acquired Joe Musgrove, Ha-Seong Kim, Blake Snell, and Yu Darvish. That's not even including the players already on their roster such as Manny Machado, Drew Pomeranz, and, of course, Fernando Tatis Jr. The Padres know winning their division is going to be a difficult task with the best team in baseball, the Los Angeles Dodgers, also in the N.L. West. But, with the offseason moves they've made thus far, it's safe to say, barring any injury complications, that this team has locked up a Wild Card spot and could even have a shot at the division if they have some players who break out during the season. Let's also talk about the fact that the Padres, who play in an extremely small market, have spent this amount of money. Even though the financial toll the pandemic has taken on a significant number of sports franchises increases, and the fact they have the 26th ranked market in MLB, they have decided to have a monster payroll this season. For that, they should be commended. The final aspect of this deal that needs to be addressed is how smart of a financial decision this is for the Padres. The fact of the matter is in a non-salary capped sport, the price for players is always going up. This deal for Tatis Jr. comes in at around $24 million per year, making it an absolute bargain for one of the future stars of MLB. In about five years, we are going to be looking back at this deal on how undervalued Tatis is. At the end of the day, no one in their right mind is turning down a deal worth over $300 million. And, hopefully, this puts a small market team on the map with a player of this caliber. 
It's safe to say a few players are looking back on the contracts they signed not too long ago and asking themselves; "What were we thinking?" One of those players, in particular, is Ronald Acuna Jr. Not too long ago, Acuna Jr. signed an eight-year, $100 million contract with the Atlanta Braves. Acuna Jr. is another one of the bright, talented, young individuals who was locked up early by their team. And here we are only a couple of years later, looking at this deal and thinking to ourselves how seriously underpaid a man of his ability is. This goes back to my point before. In a sport where there is no salary cap, the prices of these players continue to go up. The worst part about this deal for Acuna Jr. is the fact the contract doesn't end until he is the age of 30, which is an age that many teams begin to feel reluctant to give hefty contracts at. One of the great attributes about Acuna however, is that he knows this and doesn't worry about it all. He's said countless times it's more about playing in Atlanta than the money. This is a huge positive for a team wanting to compete as they can put the money somewhere else, but it's just crazy to think about two players with the same level of talent, being in different ballparks when it comes to their respective contracts. 
The attention for contract extensions now quickly shifts to a man by the name of Juan Soto, a 22-year-old outfielder for the Washington Nationals. After the deal given to Tatis Jr. a couple of days ago, Soto now looks to be the next man up when it comes to getting a mega-deal. Not only is he putting up incredible numbers, but he has about 170 more games of major league experience compared to Tatis Jr. I definitely believe there will be a domino effect here with young players getting big deals. Extension talks have already begun, but with the pandemic hitting mid-conversations, it'll be interesting to see what his contract is going to end up looking like. The Nationals would want to keep a player of his potential on their squad, but for General Manager Mike Rizzo, it's going to be an ambitious task followed by a large fee if they want to get it done. Ultimately, I think it's clear that Juan Soto is sitting at home with a grin on his face knowing a massive payday is inevitable, even if it's not with the Washington Nationals.
Equally as important is the league, which will also be facing repercussions of this deal being signed. These ramifications specifically fall on the poorer side of MLB, and it may not be pretty. The Padres are a small market team who locked up their younger players and have continued to build around them over the last several years. This seems like it should be the perfect blueprint for many of the other small-market teams, but sadly, this won't be the case. The reality is the league is run on only a couple of teams in the larger markets, such as the New York Yankees, New York Mets, Los Angeles Dodgers, and Boston Red Sox. The same can't be said about other leagues in this country, however. Even the least valuable team in the NFL, the Jacksonville Jaguars, who have even been rumored to move to England because of how bad things are in Jacksonville, are still estimated to be worth over a billion dollars. The truth about MLB is there are teams even before the pandemic that were not willing to spend money and put out an enjoyable product for their fanbase, because of the area in which they play. They don't trade for top talent, they don't lock up their players on multi-year contracts, and when they do have talented ballplayers, they are then traded for young inexperienced players because they don't need to be paid for a long time. With there already being no salary cap in place and the Padres as one of the smallest market teams in the entire league spending big money, what is the excuse for others to not spend money? The monster contract that Tatis Jr. signed only makes things more difficult for teams who already can't afford big money contracts. For example, take a look at the Colorado Rockies. This team already traded Nolan Arenado because they could not afford his contract and now probably won't even extend Trevor Story, who they wanted to keep because the price for a player at his position has now skyrocketed. There have already been several complaints from players such as Gerrit Cole, one of the leaders in the MLB Player Association, criticizing some of the small market teams on their low spending. Teams such as the Baltimore Orioles are coming into the season with a $40 million payroll. To put into perspective how low that number is, Gerrit Cole gets paid $36 million alone, and he's only one out of a 40 man roster. The reality is this: Fernando Tatis Jr.'s deal is going to make it extremely difficult for teams in small markets to pay players. We hope teams use the Padres game plan to build their franchises, but it's unlikely, and it's looking like the league will continue to run on their leading market teams.
All in all, many different teams and players will view this deal in a plethora of ways, but ultimately, the winner of this deal being completed is the city of San Diego. It's been a long time since this team has had a bright future and a blossoming star, and with Tatis Jr. locked up long term, we can look forward to seeing a team competing for the World Series for many years to come.