So Long Offseason, Hello Spring Training!
Have you missed the three hours of joy that is a Major League Baseball game? Well, wait no more because Spring Training officially starts in the coming days. Pitchers and catchers report to their team's affiliate camps on Wednesday, February 17. Although fan attendance will be reduced, Major League Baseball and the world are starting to feel a sense of normalcy once again with a 162-game season upon us. There will still be some restrictions for teams based on health and safety protocols that were agreed upon by M.L.B. and the Player's Association. However, this should not take away from the excitement and joy of being able to watch or attend a baseball game. The 2021 season is shaping up to be a good one because of all the signings and trades made this winter. 
The San Diego Padres, New York Mets, Chicago White Sox, and Toronto Blue Jays were all active this winter and made splashes in the free agency and/or trade market to make them all serious division contenders. The Padres traded for not one but two of the game's top pitchers, Blake Snell and Yu Darvish. They have arguably the best rotation in baseball to compete with the reigning World Series champion, Los Angeles Dodgers. Their rivalry this year will be a must-watch and will feature a series of matchups that won't disappoint. Over in the National League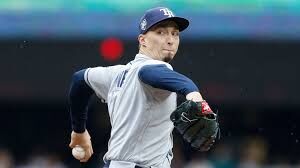 East Division, the New York Mets came into this offseason destined to sign a top free agent, such as Trevor Bauer, George Springer, or JT Realmuto. Or, so we thought, because they didn't sign any of those three players. However, this should not take away from their amazing winter. They traded for one of the best players in M.L.B., Francisco Lindor, along with Carlos Carrasco. They signed a good, quality catcher in James McCann, along with relievers Trevor May and Aaron Loup to bolster
the team's performance from past years. They're part of the best and toughest division in baseball that includes the Atlanta Braves, Washington Nationals, Philadelphia Phillies, and Miami Marlins. This is why eyes will be on the orange and blue as they face off in a division that is stacked from top to bottom. In the American League, the White Sox are another very exciting team to look out for this upcoming season. They traded for Lance Lynn, a high-quality starting pitcher that will help their rotation. They also signed Liam Hendriks, one of the best relief pitchers in all of baseball, to give them a lockdown closer in the ninth inning. Put those two arms together with this young and thrilling team and you have a serious contender for not only the American League Central, but the American League title. The Toronto Blue Jays are an organization to watch as the season progresses. Their ballclub features some of baseball's young stars, namely Vladimir Guerrero Jr., Bo Bichette, and Cavan Biggio. This group, and the free-agent addition George Springer, creates a squad that can disrupt the A.L. East. They will have to get past the New York Yankees and reigning American League champion Tampa Bay Rays to get back to October for the second year in a row.
There is no telling what can happen this season with all the shakeups that took place this winter. Teams from every division are in the hunt to make it back to October and hold that World Series trophy once again. The Dodgers only got better this offseason, so there is no reason to think they won't be in the conversation for back-to-back titles. With that being said, they are going to have to get past a very tough National League first. The 2021 season has a different feeling of excitement from years past because of the endless possibilities of the game that is baseball. I and thousands of others can't wait to hear the words uttered from the mouth of the umpire that we have long desired all winter, "Play Ball!".