EDITORIAL: Chocolate Isn't That Good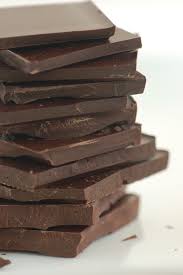 You're at your local ice cream shop, reading through the list of flavors they offer. The flavor chocolate is somewhere on that list, but you've dismissed it completely because, well, who wants plain old chocolate ice cream? When many ice cream shops now offer crazy and unique flavors like pumpkin pie, cinnamon bun, and cherry amaretto truffle (all real flavors served at Ice Cream on 9), why would you settle for something as boring and often too rich as chocolate?
This isn't just the case for ice cream either. Think about it, would you choose an all chocolate croissant, cookie, or donut over another batter flavor? For me and for many others, the answer to that question is almost always no. So why do so many people praise chocolate as if its a gift from god and judge those who don't like the flavor at all if in so many cases it just isn't good? In my opinion, although chocolate can be delicious in numerous deserts if executed correctly, it is still grossly overrated.
Aside from not being many people's first choice of flavor in ice cream and various baked goods, chocolate is frequently overused to a point of utter gluttony. Desserts with titles including "triple chocolate" often are a turn-off for me, as the amount of chocolate is over excessive, making the treat too sweet and rich. In order for a dessert to be tasty, its ingredients must be balanced and not desperately needing to be watered down by some sort of beverage. Whenever I eat an all-chocolate dessert, I find that I need to take a big gulp of milk with every bite, which ruins the experience. I don't see the need for sweets containing a chocolate frosting, chocolate chips, and a chocolate drizzle all at once. It's too much.
When asking an FTHS student about her opinion on chocolate, she had a frighteningly similar consensus as I did. She responded, "When I am given a choice in some instances, for example ice cream or donuts, I typically do not go for the chocolate option. I feel that in some forms chocolate can be bitter or overbearing and sometimes dehydrating, but in other forms it is bliss that cannot be found anywhere else." (FTHS Student 1).
Another FTHS student I asked had a different take on the flavor; "I like it… especially milk chocolate; it literally goes well with cake and everything." (FTHS Student 2).
I will agree with her; chocolate in some forms when done well is absolutely delicious, especially cupcakes. I had chocolate cupcakes for my birthday last year and they were hands the best dessert I've ever had. It's important to note, though, that the cupcake wasn't all chocolate, but was combined with other flavors like peanut butter and vanilla.
In summary, I believe the key to making chocolate work is to use it in moderation. Believe me, I would like to pick chocolate every once in a while over other flavors, but I think the food industry needs to realize that not everyone who hears that chocolate is used 5 ways in one dessert will start drooling. For now, I'll stick with my usual ice cream order of butter pecan in a cone topped with whip cream and maraschino cherries.