"Drivers License" Is More Than a Break-Up Song
Ever since its drop on January 8th, Olivia Rodrigo's debut single soared on the charts and broke the boundaries of Generation Z's impact on the music industry. Her words highlight the idea of heartbreak and self-discovery in a way that sounds universal yet seats listeners at the drivers wheel of her emotions. Even if you've never broken up with the person that taught you how to drive and left you for "that blonde girl," people have resonated with her anthem, proved through quite the praise on social media.
With a sound reminiscent to early-era Taylor Swift, who Rodrigo idolizes and gushes in her comment section, fans and celebrities alike praised the singing and songwriting talents of the up and coming artist. Just to name a few, Taylor Swift, Niall Horan, Halsey, ⅔ of the Jonas Brothers, and so many more made it a point to voice their adoration and support for the hit single. The critical acclaim did not just come from praise, but also translated into streams and views that broke records previously set by industry leaders, like Arianna Grande. On the music streaming service Spotify, it garnered more than 100 million streams in the timespan of eight days, taking the crown of fastest song to reach that number in Spotify history. In addition, she went number one on multiple platforms and in multiple countries, most notably on Apple Music as the first Asian-American woman to reach that spot.
The unconventional rise to the top has been unseen until now, especially to a woman of Olivia Rodrigo's age and unfamiliarity to the music industry. Although her unique sound and lyrics are enough to draw the attention of music listeners, it wouldn't be fair to ignore the negativity surrounding the song. Olivia Rodrigo, previously known for her Disney channel role in Bizaardvark and more recently, Nini in High School Musical, The Musical, The Series, has rumored drama with her love interest on the streaming-service show, Joshua Bassett. Whether their love life is simply imagined up by loose social media "evidence" or if the song is really about him only serves as a shadow over something bigger than high school drama. Yes, speculation had a part in the song's success, but it downplays the true talent and authenticity that "Drivers License" brings to the music scene.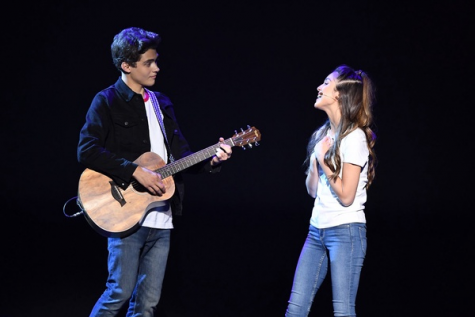 Popularized with the use of TikTok, songs with engagement have a true impact on the charts, reflecting popularity from the app. Songs like "Heather" by Conan Gray can attribute its mainstream popularity to TikTok, and "Drivers License" can say the same thing. It is important to notice the app's ability to shine a light on genres of music usually unable to find conventional success. The sound of "bedroom pop", which is characterized with low-production, simplistic instrumentals, yet genuine emotion, hasn't seen its hay day until social media platforms, like TikTok, found its cultural presence. 
"Drivers License" found itself as the background music to trends on TikTok, most notably one that celebrates self-love. In the song, Rodrigo compares herself to the blonde girl that replaced her in her past relationship, who is "everything [she's] insecure about". Pointing to the idea of not being the stereotypical "it-girl" with Eurocentric features, a topic she made a focal point of her short song on Instagram, "21st Century Girls", it resonated with those who embraced their own beauty through their own videos. 
Instead of the overproduced, and sometimes shallow lyrics that seem to overflow the airwaves today, Olivia provides a sense of fresh air. Her vulnerability and authenticity through storytelling is so refreshing to see, especially with her young age. Plus, the song is an absolute bop. Have you heard that hook? Her instagram account provides more demos of her own original songs, with some of my personal favorites including "Pay Grade" and "21st Century Girls". With her first EP due later this year, it excites us all for her future as a musician.