An Interview With The Recipient of The Support Staff of The Year Award, Mrs. Orgo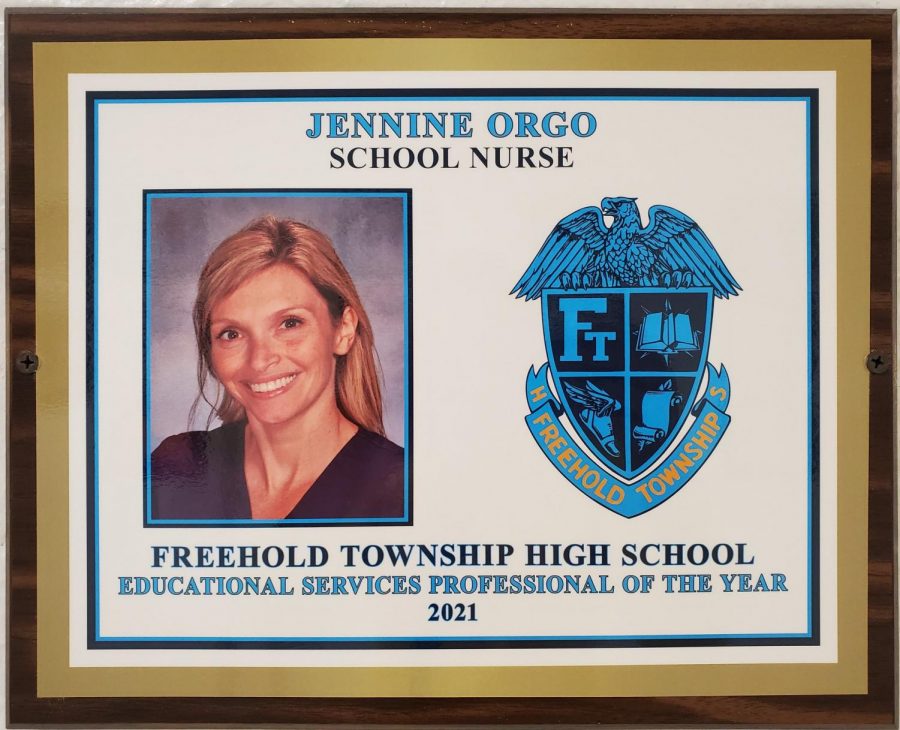 What was your reaction when hearing you won this award?
I was so very humbled and of course very excited! I feel so grateful I was chosen for the award. This year has been difficult for all of us in different ways. I think we all deserve recognition for the hard work and for all the tough sacrifices we each have made. I think every single one of us feels the heaviness of the pandemic and we all need any uplifts we can get. I consider all of the school nurses in our district, along with all of the staff and students recipients of this award with me!
What is your favorite part of being a school nurse?
That is a tough one! I love developing genuine relationships with students and my coworkers. Freehold Township High School has some of the most incredible people who attend our school and who work in our school. There is so much kindness and sweetness in this building! It seems like regardless of what's going on in the world, the staff and students at FTHS are quick to lend a helping hand and I just love being a part of such a wonderful place with such charitable people.
What is the most challenging part of your job?
Oh, good question! When a student is going through a difficult time or a difficult health crisis, I feel the weight of their sadness and struggle. Being a natural helper, it is so hard to watch someone go through something difficult and not be able to "fix" it. That's probably the most challenging part.
How has your job changed since the pandemic?
Oh my goodness, it has changed so much. I miss seeing the students in the health office, the students bring so much life and energy to the building- I miss that a lot! The health office used to help around 80-100 students a day. Now the job has shifted to a lot more phone calls, gathering information and paperwork. I understand its important work that needs to be taken care of during the current time, but I miss helping the students, hearing about how they are and talking about what's going on in their lives. I miss that interaction for sure!
How long have you been working at FTHS and what has your experience been like here?
I have been a proud part of the Patriot Family for five years. I have met so many great people and am happy to say that I love my job! (Disclaimer: It is so important to love what you do and to feel like you are contributing to making the world better in any way that you can! Please focus on that when choosing a career!).  I have had wonderful experiences and interactions with amazing teachers, our principal, assistant principals, SECA,  guidance counselors and guidance secretaries, school psychologists, main office secretaries,  the security guards, our attendance secretary, the custodians, the list goes on…I really feel lucky to work alongside of such fantastic people! This building is full of caring and talented people who have made my experience here so memorable.
When did you realize you wanted to become a school nurse?
As a little girl I was always trying to help others, I guess that's where it all started! Career wise, I worked in the hospital as a psychiatric nurse helping adults and adolescents. Then I became a pediatric nurse helping little ones in the hospital. When I became pregnant with my daughter, I knew I wanted to be at home to raise her as much as possible, all while keeping my career as a nurse, because I love being a nurse but the hospital schedule is twelve hours, weekend and holidays. A very close friend who works for Freehold Boro High School encouraged me to apply for the Freehold Township School Nurse position. It truly is a blessing that I can be on the same school schedule as my children, Olivia Mae and Thomas Wyatt, be home more with my husband Thomas, and have a nursing career I love taking care of students. I am so glad I was led to this field of nursing and our school! It's a great feeling to be given the opportunity as a nurse to help keep FTHS as safe and healthy as possible with two lovely women in the health office, Mrs. Roake RN and Mrs. Schiavone.