How the Georgia Senate Run-Off Election Will Affect the Nation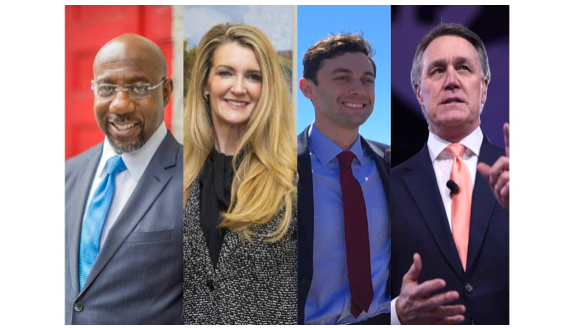 This week in the peach state, early voting started for the Georgia Senate Run-Off elections. Ending on January 5th, 2021, these special races occur when no candidate wins a majority during the general election in November. Even though these are for only two Senate seats in this southern state, the entire country has their eyes on two races: Jon Ossoff vs. David Perdue and Reverend Raphael Warnock vs. Kelly Loeffler. 
Who are the candidates? 
Endorsed by President Trump, Loeffler and Perdue's campaigns are run on policies prioritizing the second amendment, national security pertaining the border wall, pro-life ideals, and more with conservative-leaning views. On the opposition, Ossoff and Warnock are running their campaigns on infrastructure, criminal justice reform, Roe vs. Wade, COVID-19 relief, and more with moderate-leaning views.
In an effort to push out the vote, individuals like Stacey Abrams and thousands nation-wide have participated in phone and text banking, voter registration, and fundraisers to help the democratic nominees get elected in Georgia. In contrast to this more grassroots style of campaigning, the Loeffler and Perdue campaigns have pushed "over $400m on ads… so far in Georgia by the candidates' campaigns, their parties and outside backers" ("Wall Street donates millions to back Republicans in Georgia Senate race," The Guardian). From an outside perspective, it seems overboard for two senate seats, but historically, off-cycle elections have a significantly lower turn-out in comparison to the November general election. The push is starting to see results, with efforts equating to higher turnouts during the early-voting period at levels. In an almost presidential magnitude, "Over 1.1 million people had voted through Thursday, most of them at early voting locations that opened across the state this week" ("Huge turnout in Georgia US Senate runoff approaches presidential levels," Chicago Tribune), further emphasizing the stakes that Georgia voters see in this election.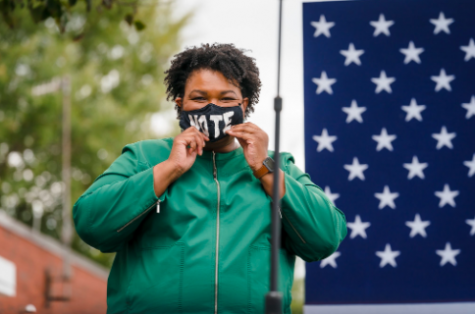 How will this election affect the Senate?
 Not only do these races impact who represents Georgia in Washington, but it is an indicator for how the first two years of the President-Elect Joe Biden's term will go. As of now, the senate is split with 52 republicans, 48 democrats, and 2 independent senators, making up the 100 seats, with the vice president serving as the Senate President. With the two seats up for grabs, Ossoff and Warnock winning each of the respective seats can mean a change in the Senate majority, from Republican to Democrat, with Vice President-Elect Kamala Harris breaking the tie. 
How will this election affect the next presidential administration?
Through a Democrat sweep, it will make Biden's first 100-day goals more attainable in passing through the senate, which includes coronavirus relief, reversing Trump-era policies concerning the US/Mexico Wall, increasing policing and justice reform, and more. If these democratic challengers don't pull through by election's end on January 5th, the republican-majority Senate, led by Mitch McConnell, will make it harder for Biden policies to pass. Amidst the global pandemic in the world, many Georgians and Americans alike are worried about the governmental steps towards rebuilding communities and the economy. The Georgia run-off elections can be a key aspect of how this restoration is to happen in the upcoming months. The hyper-partisanship on both sides of the aisle have made passing a second stimulus bill harder to do, with the recess in October being called without a stimulus deal. Over the next week, there are talks of a $900 million package, giving $600 in aid to every American ("Stimulus checks: Could you get $1,200, $600 or nothing?", CBS).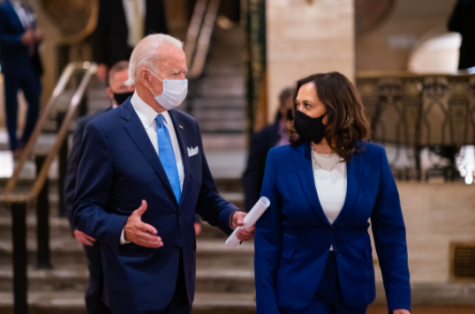 In order to find a compromise, Congress will be in session plausibly until days before Christmas. Although temporary financial aid, the Biden Administration is prioritizing providing economic support to the millions of Americans found in dire financial strain due to the pandemic. A change in the party majority would indicate if, when, and how an additional stimulus package will be brought to the American people in the new year, and what long-term financial aid will be available to help the public build upwards from this economic crisis. 
How will this election affect us locally? 
Albeit hard to indicate any particular laws that will have results that will directly impact Freehold Township and Monmouth county, near-future national legislation is on the ballot, including COVID-19 relief. For more insight from a Patriot's perspective, I asked a few members of the FTHS community about their thoughts on the Georgia election:
Sara Frasson (Freshman): "Even though we might not be citizens of Georgia, it is still so important for Americans to care about who is elected in the Georgia primary. David Perdue and Kelly Loeffler may be the reason that people do not get the stimulus check and will continue to suffer economically with a global pandemic going on. Unemployment rates have been higher than ever and people need all the help they can get. So even though I may not be a citizen of Georgia, I care about other people in America, and that is why I care about who wins the senate."
Mr. Mopsick (Teacher): "If the Senate were to become a 50-50 chamber (with Vice President Harris as the tie breaking vote), it would presumably have significant implications for the agenda of the incoming Biden administration.  How that would play out for us here in central New Jersey, specifically, is difficult to say.  I'm not sure I see any legislation in the near future that would have a unique impact on us here in Monmouth County.  However, with COVID-19 and its effects on the economy, any action taken by the Biden administration in this regard will clearly have an impact on all Americans.   
I think it's quite obvious that the two most pressing issues facing the incoming administration are forming a federal management approach to the COVID-19 pandemic and, simultaneously, dealing with the serious economic challenges that have come with the pandemic.  I would expect a broad stimulus package designed to jumpstart the economy.  If the Senate were to effectively end up controlled by the Democrats (50-50 tie with Harris as tiebreaker), I think the stimulus package would be broader and larger in scope
While most are focused on the Senate races in Georgia (and rightfully so, because they are tremendously important), I think it is important to remember that there are some senators whose tendency to be moderate voices in a time of hyper-partisanship is going to play a very important role in the coming years.  These include Joe Manchin (D – West Virginia), Susan Collins (R – Maine), and Lisa Murkowski (R – Alaska).  (And a few others).   Regardless of what happens in Georgia in a few weeks, votes in the Senate over the next few years are most likely going to be very close much of the time, and these three senators may exert considerable influence."
Although both are tight races at the moment, it will be one to look out for come January 5th, 2021. When the news comes on in your own home, be sure to keep your eyes peeled for Georgia. 
Sources:
Journal-Constitution, Mark Niesse The Atlanta. "Huge Turnout in Georgia US Senate Runoff Approaches Presidential Levels." Chicagotribune.com, Chicago Tribune, 18 Dec. 2020, www.chicagotribune.com/election-2020/ct-georgia-runoff-elections-20201218-45ej76rlvjacnjyy6junr3uilm-story.html.
Picchi, Aimmee. "Stimulus Checks: Could You Get $1,200, $600 or Nothing?" CBS News, CBS Interactive, 19 Dec. 2020, www.cbsnews.com/news/stimulus-check-2-update-2020-12-19/.
Stone, Peter. "Wall Street Donates Millions to Back Republicans in Georgia Senate Race." The Guardian, Guardian News and Media, 15 Dec. 2020, www.theguardian.com/music/2020/dec/15/georgia-senate-race-wall-street-donates-millions-back-republicans.