Reed Books: The Picture of Dorian Gray
The Picture of Dorian Gray by Oscar Wilde is a book about Romance, in every sense of the word. Following the dogma of Aestheticism, the novel preaches of art for art's sake, worshipping Beauty more than anything, and finding it in everything. While preachy at times, Wilde charms the reader into wanting to be preached to. The novel is a dark comedy of sorts, following Dorian Gray, a young man obsessed with his beauty, who sells his soul to stay young forever and let a portrait of himself age in his place. With every sin he commits, the portrait becomes uglier, plaguing him as a physical manifestation of his mistakes.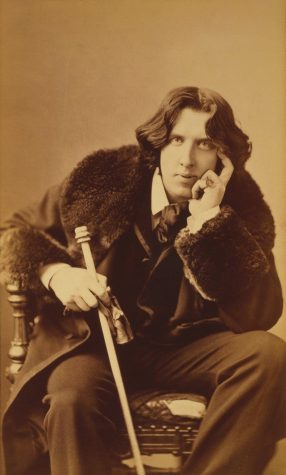 Wilde wastes no time in setting the tone of the novel. The first chapter, mainly the first paragraph, describes a lush, sweeping scene, full of flowers and decadence. He uses romantic word choice, describing flowers as "honey-sweet and honey-colored", scents as "delicate perfumes", and the moving air as a "light summer wind". From the very beginning, Wilde puts his readers at ease. The idea that Beauty is made to be worshipped, above everything else, is repeated throughout the novel, and by the novel itself in this kind of word choice. Even Basil, the mild-mannered painter in love with Dorian, admits that he looks past Dorian's many faults, especially his thoughtlessness and vanity, simply because he is beautiful. 
This acceptance, and even encouragement, of hedonism is especially significant in the historical context of the book. Victorian England was a conservative society, one of strict social niceties, religion, and the like. For Wilde to not only represent but romanticize the "evils" against which English society raged speaks to his individualism (or as some would argue, contrarianism). In his personal life, Wilde was a barely-closeted homosexual socialist, devoted to consuming art and living as lavishly as his characters. Still, he felt the tension between his desire to be himself and to be respected in society; Basil's love for Dorian in The Picture of Dorian Gray is just shy of being explicitly romantic, although Wilde spells it out in every other way he can. This conflict with his public image is mirrored in the novel through Dorian's struggle with his portrait. He is so obsessed with keeping his sins a secret that he stabs the portrait, which then causes his own death, and the portrait turns back into its original form. Dorian loses to his public image just as Oscar Wilde does a few years later, when he is put to jail for sodomy.
The Picture of Dorian Gray is, in short, a love letter to Romance itself. It encourages hedonism, idealizes death, and indulges both the reader and the author in word choice and setting. Mirroring Oscar Wilde's own life and philosophy, the only moral that this book could have is the appreciation of Beauty, no matter how extraneous. As Wilde points out in the preface, "The only excuse for making a useless thing is that one admires it intensely. All art is quite useless."