October Athlete of the Month: Zach Orrico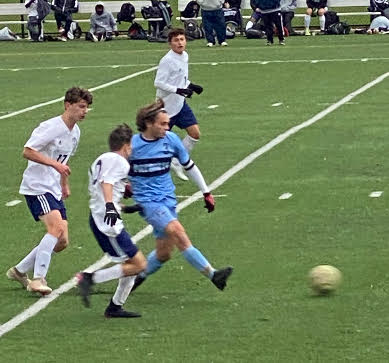 The Patriot Press interviewed soccer star Zach Orrico after he was named one of FTHS' October Athletes of the Month. Congrats, Zach!
What position do you play?
Forward/midfield
Why do you like that position and what is the most challenging aspect of playing that position?
Forward I like the opportunity to score goals, but it can get boring and tough facing many defenders by yourself. In the midfield, I enjoy always being in the middle of the game and having an impact at all times, but it gets difficult because a defender is always near and the pace of play has to be very high.
What do you like best about soccer?
Being able to play with my best friends and win many games.
What is one of your most memorable moments playing soccer?
The Shore Conference Tournament victory last year
Do you have a favorite memory or game while playing for Township?
Scoring twice in last year's championship.
Who was your personal and professional inspiration to start playing soccer?
I did not really have an inspiration to start playing soccer, but I always looked up to Landon Donovan when I was younger.
What is your dream college and why?
Stevens Institute of Technology, because of its location and its academics.
What do you like to do in the offseason?
Play other sports
What is something interesting that people don't know about you?
I really enjoy watching and playing golf
Do you have any pregame rituals or superstitions?
Not really
What are you going to miss the most about FTHS?
All the friends I have made in the past four years
What is your favorite school subject and why?
Probably Latin because of the awesome teachers I have had.
What is your favorite type of music and who is your favorite musician?
I really enjoy all types of music and do not have a specific favorite.
What is your favorite pregame snack or meal? Peanut Butter and Jelly sandwich.
Do you have a favorite hobby outside of your sport?
Not really, I mean I enjoy doing many different things.
What is the key to being a good captain?
I think staying positive is part of it, but also being critical of yourself and others and holding yourself and others accountable for mistakes made, simply so they are not repeated.
How does it feel to be the school's all-time leading scorer?
It is a great honor and I worked hard to get to that point, so it makes me very happy to be in the record books.
Here are some of Zach's accomplishments from his award-winning month:
A-North Player of the Week

Broke the school record for career points scored

3 game-winning goals
Here's what Coach Mehl had to say about Zach:
"Zach's desire and effort are the catalysts for the team's success, he is the motor to our ship. He selflessly has moved into a more holding position in midfield, forgoing potential goals and assists, to make our team more cohesive and dangerous. The reigning Shore Conference Player of the Year is also the most team-first individual I have ever coached."