Roland Garros 2020: Paris in Autumn and a Polish Champion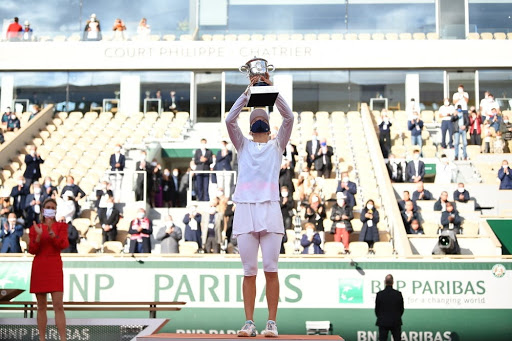 Amber leaves sprinkle the ground, damp from the frigid rain. The gray skies are congested with dreary clouds as Parisians hurry through the streets in somber coats. Obviously, the conditions that tennis players and fans alike dream of. Playing tennis in the crisp autumn weather of France only reinforces the fact of the unexpected nature of the current Covid-19 pandemic. 
Roland Garros, colloquially known as the French Open, was the first Grand Slam tournament to be postponed due to Covid-19. Fans across the globe held their breath, not knowing if they would see their favorite players battle on the terra-cotta clay courts. In the early days of the pandemic when lockdowns were first enforced and paper product shortages became a real problem, people were truly unable to determine if sports would return. To the great joy of many, it was announced that the French Open would begin in late September, concluding in early October. As tennis enthusiasts mourned the loss of witnessing these spectacular displays of athleticism in person, the immense difficulties the players would face were initially overlooked.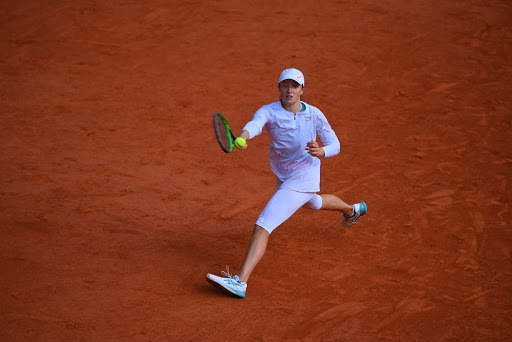 One player in particular rose above the challenges of self-quarantines, constant Covid testing, and a limited team. Polish player, Iga Swiatek has followed the usual path for aspiring professional players, spending a majority of her teenage years competing in junior level tournaments. Yet, her run in the French open can be described as anything but expected. At only nineteen years of age, she has barely participated in any professional tournaments, let alone Grand Slams. Yet, her lack of experience did not hamper her success in any way at her French Open debut. Swiatek was handed an extremely difficult draw, facing the French Open 2019 finalist in her first round match. She breezed through her opening match, setting the tone for her eternity of the tournament. Even though she encountered a formidable opponent in every round, she caught everyone's attention by forcing the number one seed and favorite to win the title, Simona Halep out of the tournament in straight sets. Flying through the singles draw, winning all of her matches without dropping a set, which is widely unheard of, she simultaneously dominated in doubles. Her success in both, only further proves her incredible talent and determination as a player.  
On the second Saturday of October, two young women, hungry to grasp the Suzanne- Lenglen Cup took the stage on Court Philippe Chateir. All that stood between Iga Swiatek and reaching the culmination of her fairytale French Open tournament, was the American, Sofia Kenin, who had won her first Grand Slam a few short months before. The battle commenced with a tight few first games and intense rallies before Swiatek quickly seized control, hardly allowing Kenin to make an impression in the match. 
In a truly remarkable tournament for Iga Swiatek, she not only won every set she played, but also became the first person from Poland to win a Grand Slam. As the Polish national anthem filled the stadium, which is an occurrence that had yet to be seen at the French Open, the magnitude of Swiatek's pride in her country and her relentless will power was evident. As she beamed at her trophy with a mix of pride and astonishment, there was no doubt that Iga Swiatek's unparalleled success will only surge as her career progresses.