NJ Voter Registration Deadline: October 13th!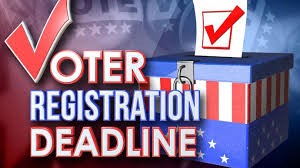 Anyone who attended a history class knows the long process that people went through to get the right to vote. Women received that right in 1920, African Americans in 1869, African American women in 1964, Native Americans got it in 1924, and Asian Americans got it in 1952. The only ones at one point in history that could vote were white, land-owning males. 
It has been a long journey that our ancestors went through to get the right to vote. We need to use our voices and vote, or it betrays the idea of our nation. The United States of America's ideology is electing our government. Remember to vote on November 3rd but also remember to register by October 13. 
Requirements to Vote
You must be a United States Citizen to vote.

 You must be at least 17 years old to register.

MUST BE 18 YEARS OLD TO VOTE

Must be a New Jersey resident for at least 30 days prior to Election Day, which is November 3rd.

In order to vote, you can't be incarcerated or serve parole.
How to Register In The State Of New Jersey? 
You can register by mail, online or in person. The links to the form are at the bottom of the page.
Don't be afraid to ask any teacher, guidance counselor or legal guardian if you need help to register. Do your part and let you voice be heard. 
https://www.state.nj.us/state/elections/assets/pdf/forms-voter-registration/68-voter-registration-english-monmouth.pdf (The link for the registration form PDF, mail).
https://voter.svrs.nj.gov/register/eligibility (The link for online registration).