Reed Books: Notorious RBG
Notorious RBG by Irin Carmon and Shana Knizhknik is a biography of Ruth Bader Ginsburg, Supreme Court Justice. The biography is not a normal one, however; through the use of pictures, anecdotes, and storytelling, Carmon and Knizhnik make the biography interesting and easy to follow.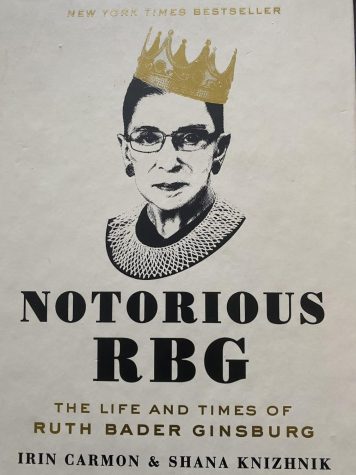 One of the reasons that this biography stands out is that it is (somewhat) written in the first person. The authors deliberately tell the readers about Ginsburg, instead of simply listing facts about her life. They also include a handful of opinions and biases, but with a book title like that, the book is bound to get a little extra political. Something that I think was handled well in the book is the early life of Ginsburg, and the political climate that her and her generation were raised in. Carmon and Knizhnik tackle a lot of stereotypes about Jewish people during the time, but they do so with grace. They explain that it was expected of Ginsburg to settle down with a husband, and, while she was encouraged to succeed in school, she was not supposed to get a career of her own. However, Ginsburg succeeded in law school and worked for years to get to the point of Supreme Court Justice, where she resides now. 
Notorious RBG is a noticeably young book, and hopefully it is a sign to the future of nonfiction books and other biographies. Carmon and Knizhnik do a good job in keeping the reader engaged through unconventional writing tactics.