Club Spotlight: HRC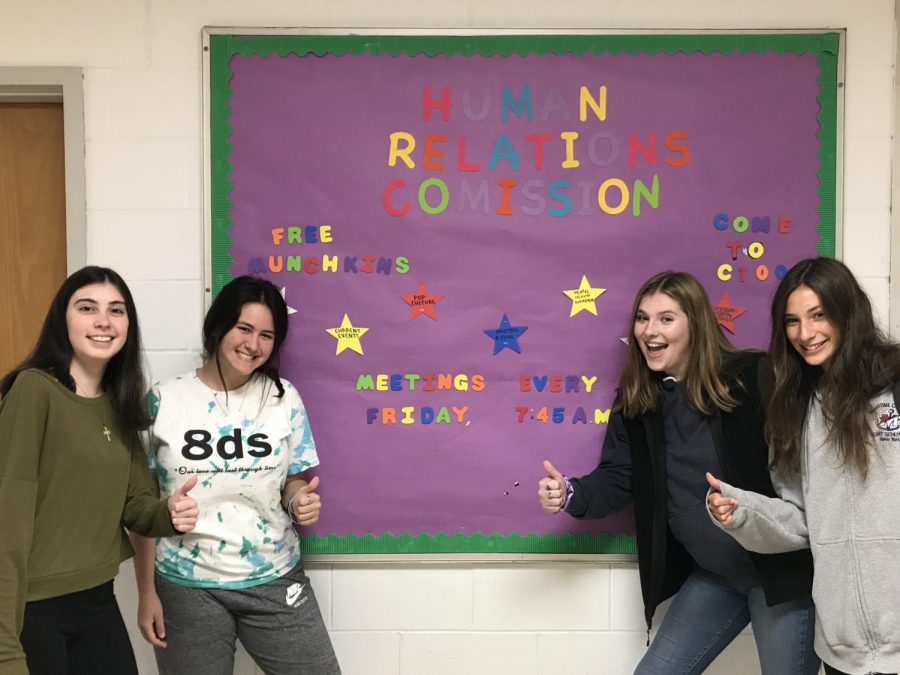 On any Friday morning in C100, you will find a group of students sitting in a circle, passing around a box of Munchkins. Though it may just look like a Dunkin Breakfast Club to the outsider, these students are actually discussing the most pertinent news stories of the week. Under the direction of its excellent advisors, Mrs. Ansley and Mr. Hipsley, HRC (Human Relations Commission) focuses on educating its participants on the world around them in a fun social setting. As if the Munchkins are not tempting enough already, the topics at each meeting– ranging from politics to pop culture– are always contemporary and compelling.
HRC focuses on learning about the world, its issues, and considering possible solutions. It allows each participant to become introduced to new information and perspectives, and is an outlet for debate in a friendly manner. Whether you are someone who is not afraid to strongly voice your opinions or if you are someone who wants to learn about other viewpoints, there is always something each person can contribute. Each meeting offers new opportunities to learn and develop a new sense of civility.
Topics that have been discussed so far this year include:
– Metal straws and the like: do little acts of environmentalism really help?
– The Area 51 Raid
– Recycling and the trade war with China
– Should Columbus Day be celebrated, or replaced by Indigineous Peoples Day?
– Spotify's Google Home giveaway, and all things "Alexa"-y
HRC promotes acceptance through involvement with Respect Week and Pride Week. During Respect Week, students around the school fill out anti-bullying pledges. HRC also runs a rock-painting activity during the lunch periods, where anyone can create a work of art. During Pride week, pledges are given out regarding gender and sexuality acceptance. The Leadership Luncheon allows students to attend a presentation on leadership. Last year, Freehold Mayor Barbara McMarrow spoke about making decisions to better the local community, and taking action instead of being afraid of regret. FTHS Alumna and Frutta Bowls CEO Brooke Gagliano also spoke about entrepreneurship, dedication, and passion. That same week, a presentation was put on for the junior class. Stephen Hill, a six-year-sober former drug addict and author of A Journey to Recovery, spoke on the damage substance abuse had on his young life, and how he was able to turn his life around with treatment. Pride Week is brought to a close with Unity Day.
Unity Day, previously known as Challenge Day, is HRC's biggest event of the year. It has been run by Nicki Francis of the Wellspring Center for Prevention for the past ten years. Francis' mission is to get youth in touch with their feelings, and to make them feel less isolated and insecure because all people have some kind of baggage. Students engage in bonding activities that help them meet and become comfortable with new people. They are invited to talk about their life experiences in small groups, and are met with acceptance and support in times where it might be lacking for some people. It is overall a positive experience that is emotionally-moving for all attendees.
At HRC, students talk about topics that actually matter to an audience that actually listens. It has formed a community that considers problems, ponders solutions, and fights for universal acceptance. Everyone there is welcoming and open to any idea for discussion, because every opinion matters, not only in a school setting, but in the real world. It aims to create innovative and open-minded thinkers and leaders to benefit humanity.
HRC welcomes new members at any time. There are meetings each Friday morning in C100 starting at 7:45a.m. For more information, contact Mrs. Ansley or Mr. Hipsley. You can join the HRC Remind 101 by texting the code @fthshrc to the number 81010 or through the Remind app.
For more information about HRC, you can read our previous articles: 
– Unity Day: https://fthspatpress.com/16755/after-school/2019-hrc-unity-day-a-fun-day-of-support-understanding-and-love/
– 2019 Leadership Luncheon: https://fthspatpress.com/16589/news/2019-hrc-leadership-luncheon-provides-insightful-day-for-fths-students/