Kiersten's Thursday Jams (10/17/19)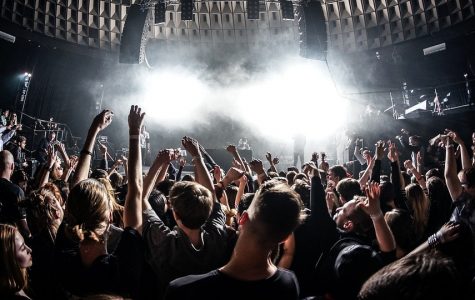 Kiersten's Thursday Jams (10/17/19)
"Vampires in the Daylight"- Miniature Tigers
[wpdevart_youtube]s9zNsxh9bqk[/wpdevart_youtube]
If you've been an avid reader of my "Thursday Jams", then you know that I am obsessed with the music of Miniature Tigers. So, when they released their new album last Friday, I knew that at least one of the tracks had to be included in a "Thursday Jams". The song "Vampires in the Daylight" shares the same name as the album, so the tune had a lot to live up to in my eyes. And, I'd say that the song did just that! The isolated vocals in the beginning of the track fade into whimsical guitar and drum beats, creating an altogether lovely sound. The instrumentals are my favorite part of this tune due to the positive and peaceful sound they create. Overall, you should listen to this song is you like indie music, or prevalent instrumentals.
"Modern Romance"- Animal House
[wpdevart_youtube]sTekxUlwy0U[/wpdevart_youtube] 
Why does everyone on Tinder go to Machu Picchu? This is the question that upcoming indie band Animal House strives to answer in their song "Modern Romance". The lyrics are a satirical take on modern society and the way that people typically act on dating apps. In an interview with "Circuit Sweet", band frontman Will McConchie says, "Why does everyone on tinder go to Machu Picchu? You can now pay a guide to accompany you up the famous mountain to take photos of you whilst you hike the mountain. Wedding photographers in Los Angeles are now getting more bookings for dating profiles than weddings." The lyrics of the single are interesting and makes you think about human nature, whilst the instrumentals are fun and rock-esque. You should listen to this song if you like indie-rock music, or if you like music with fun lyrics.
"The Kind of Woman"- courtship.
[wpdevart_youtube]OyvS3UiVseA[/wpdevart_youtube] 
In this whimsical pop track that feels like it is straight out of a teen coming-of-age movie, courtship. sings of the benefits of love. The lyrics of the song as basic yet sweet, such as "Forever and ever honey, you're my kind of woman; I'll wait for you baby, stand for you baby; I'll never ever ever tell you that you shouldn't". The fun pop instrumentals are sure to be stuck in your head all day. You're welcome! You should listen to this song if you like pop music, or music that makes you want to get up and dance.
"Starfall"- The Symposium
[wpdevart_youtube]Z-sqJ_3LQDA[/wpdevart_youtube] 
Recently, I've been obsessed with The Symposium, and for good reason. Their music exudes a very "lo-fi" sound that blends very well with the leader singer's vocals. This idea is present in their track "Starfall" especially. In addition the this, the lyrics of the tune are also very well-crafted and sound amazing when being sung. For example, "My words aren't what they seem; Although I tend to think; That words don't mean a thing; Instead I get lonely; When you don't talk to me; It's the words that I crave so irrationally". The track is also very catchy, and I'm sure you'll be humming the words " I'll sit down and have a drink; maybe 1 or maybe 7 maybe 3" in to yourself all day. You should listen to this song if you like indie music or catchy music.