Once Upon A Time… In Hollywood: Movie Review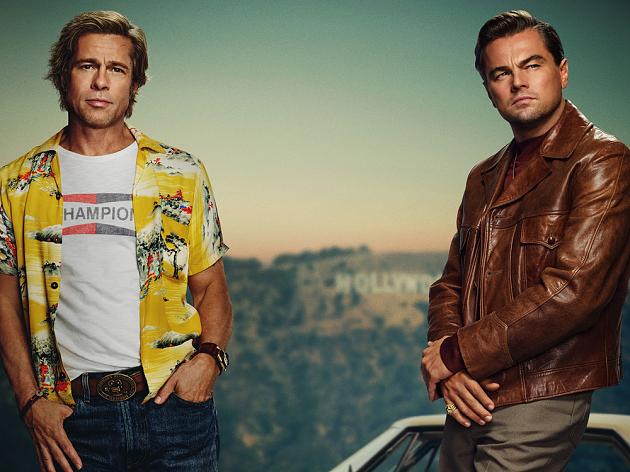 "In this town… everything can change… like that!"
In Quentin Tarantino's recent outing, Once Upon A Time… In Hollywood, there is a sense of nostalgia that is hard to miss. Driving shots that track the expressions of each character as they stroll through town, easter eggs to the director's previous films, and a tribute to the genres that inspired him to become a filmmaker. However, unlike the movies that preceded it, Once Upon A Time…In Hollywood serves as a profound love letter to the world's premier leader in moviemaking, and is a strong homage to those who defined the classic decade of the 60s, both in front of and behind the camera. As it arches over the period that was defined by the waning prominence of spaghetti western classics and the likes of veterans such as Burt Reynolds coming to terms with cinema's new definition of a leading man, the film closely observes the events that surrounded the infamous Manson Murders through the eyes of two unlikely protagonists. 
Rick Dalton (Leonardo DiCaprio) is an actor past his glory days. Having starred in a series of extravagant action films that now fail to connect with the masses, he is most recognizable as the star of the Western series "Bounty Law". Accompanied by his old friend and stunt double, Cliff Booth (Brad Pitt), the pair spend their days in front of a television set and casually reminisce of the days where their work was greater in demand. After a stern discussion with famed talent agent Marvin Schwarz (guest star Al Pacino), Rick spirals down a path of self pity and insecurity, hoping to revitalize his image in the presence of a younger crop of actors. His aspiration to enter films is sparked upon a brief meeting with his next door neighbors, newlyweds Sharon Tate (Margot Robbie) and Roman Polanski, and what follows is what forms the crux of the story.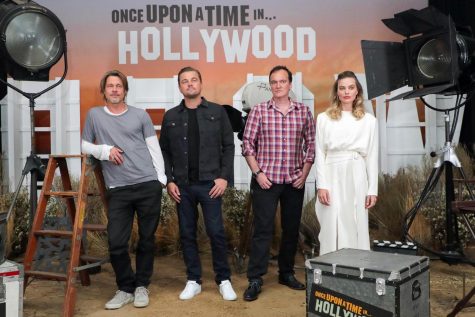 Without much insight into the history of the movie, Once Upon A Time…In Hollywood is mostly an enjoyable watch. Boasting a star studded cast with the likes of DiCaprio and Pitt on screen together for the first time and with Margot Robbie essaying Sharon Tate, Tarantino delivers his greatest moments when the film is centered around the camaraderie of its two leads. It towers upon the shoulders of the two stars, who even without each other's presence, are brilliant in their respective roles. Very few actors can display the complexities and inner turmoil of their characters as DiCaprio can, and Once Upon A Time… In Hollywood is a showcase of why he is one of the finest actors of his time. He seamlessly transitions from self affirming to vulnerable in a heartbeat, and as Rick comes to terms with his uncertain future, he emerges with a different understanding of the nature of his work. The script allows him to extract a deeply personal performance that is both heartwarming and sincere, giving audiences someone they can relate to. 
 Brad Pitt, on an equal footing with DiCaprio, is the perfect foil as Cliff Booth. He's an unwavering friend who is loyal to a fault, and as the movie puts it, he's "more than a buddy, less than a wife." While Rick receives his share of screentime, it's Pitt who steals the show as the camera tracks a day in the life of a stuntman. Most notably, his interactions with industry figures such as Bruce Lee (Mike Moh) and the Manson family are what give the film its most memorable and gripping moments. Without giving much away, Pitt is definitely in line for Best Supporting Actor at this year's awards. 
Even though the film's premise is supposedly centered around Sharon Tate, Margot Robbie has the least to do.  However, when she is in the frame, she leaves a lasting impression. While some characters are minor, audiences aren't likely to connect with every historical figure that comes on screen. The film does tend to get a bit indulgent, which detracts from the film as it slows in the second half, but the performances are what keep you held on for the most part. The trailer promises a constantly engaging and upbeat watch, but Tarantino's style is such that you don't exactly get what you signed up for. It's a slow burn that lets you absorb the world it creates, giving the occasional event that gives its characters something to do. It's best viewed with the mindset of watching some days in the lives of a fictional actor and his stunt double who cross paths with an event that historically changed Hollywood – with a minor spin on the tale. You don't actually meet the perpetrators of the Tate Murders, but you do receive a context of what transpired in the days that led to the fateful night. The unexpected climax is intense and slightly graphic, but is watchable for most audience members. 
Overall, Once Upon A Time… In Hollywood is a slow yet entertaining film that comes from the personal quarters of the director's heart . It is a trip back in time to the dazzling suburbs of 1960s Los Angeles, where trends and conventions changed for better or worse. It requires your time and attention if you're an admirer of Tarantino's work, but even if you aren't the most ardent fan of his films, it's worth a one time watch for the great performances by both DiCaprio and Pitt. The duo is sure to leave you stunned! 
Rating: 3.5 / 5 Stars