Panton (Triple) Jumps into History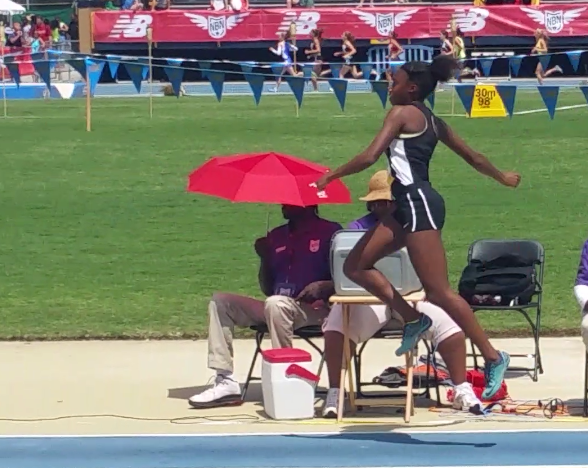 "There is nothing better than proving to others who has what it takes to fight through the pain and win," says Dominique Panton, a senior, of her budding track career.
Panton, a standout jumper for the Freehold Township track team, participates in several events such as the triple jump, long jump, and the distance medley relay. Most recently, Panton competed in the New Balance Games where she truly proved her passion for track is something remarkable.
"Last Saturday, I jumped 40 feet 4 inches which is a high accomplishment for triple jumpers in high school," says Panton of her performance. "I jumped the best jump in the county and broke the shore conference and Monmouth counties all time jump record. I'm at US #2 right now and have the 4th best jump in New Jersey history."
One might think such high achievements would enlarge her ego, but Panton remains humble, and is forever grateful for the opportunities track has provided for her. In the future, Panton plans on maintaining both a track and academic career.
"I plan on continuing track in college," states Panton. "Every school I've looked at is based on a balance of academics and track. My goal is to go pro and also become an occupational therapist."
Despite her incredibly bright future, Panton stresses that she does not want to look too far ahead. Instead, she simply wants to live in the moment and keep on doing what she loves.
"Track has made me who I am today. I have to trust myself and my training in order to do well and it has allowed me to experience myself at my lowest and my highest. It influences me to make better choices and become a better student, athlete, and person."
By following her passion and pushing through obstacles with an astounding amount of perserverance and stamina, Dominique Panton proves that every dream is possible to achieve with the right amount of confidence and determination.