Senior Spotlight: Sarah Schornstein
Hang on for a minute...we're trying to find some more stories you might like.
You're approaching the finish line of your senior year. After four years of township what was your favorite experience that you partook in during all of your years here?
I have had many incredible experiences in FTHS but my favorite experience was this year when I did a year long project in one of my classes about Dramatherapy, or the study of how drama can help people cope with previous traumatic events. Not only was this project a topic I was passionate about and that I believed in, but I also turned it into a way to make an impact. I made bracelets for the audience to constantly remember that they are unique and not to be upset with who they are. Also, in this project I created a social media campaign – #thisisme18 and #youwillbefound18 – for students to be able to express themselves and to be heard.
What was your role in the Patriot Productions, previously known as Patriot Players, during your time at Township?
I was always involved in Crew, more specifically Running and Props Crew of the shows. This means that I would help move set pieces and props around the stage to where they needed to be for a certain part. Although, this year I was fortunate enough to be Running and Props Crew Head this year for both the school play, Boeing Boeing and the musical, The Pajama Game.  
Township has a lot of extra-curricular activities. The clubs range from something light-hearted and mitzva worthy to activities that may put you on a possible career path. Out of the thirty plus activities available, why should freshmen, sophomores, juniors, and even seniors join the drama club (Patriot Productions)?
Patriot Productions provides members with a range of different skills, not just performing. Being in crew I have learned so much, including teamwork, precision and efficiency, trust and so much more. With performing in the show itself, you learn the skill of memorizing and the idea that practice makes perfect. Another major skill I have learned from drama is the idea of hard work gets you success. These skills will definitely help me in the future no matter what I do. Also, you meet so many great people who really care about putting on the best show they can.
Is Set Design a possible career path you are looking into?
Not as much set design as possibly becoming a stage manager but this has always been my "little girl" dream if you will. I hope to find the opportunity to do it one day in the future but it is not going to be my major in college.
Did you have any say on who would supercede you as the crew head? What advice would you give them after your year of being in charge?
I did, I had so many great choices of people to supersede me and I know that the people I chose will be so great in the position. I actually mentored them and let them take charge on a few of the shows. My advice to them was to really do things that way you see fit and to always work towards your strengths because if you know of a different, but more effective way to carry out a task backstage, then why not use it because I said to do it another way.  
Is there any shows that you missed out on or our school never did that you would have liked to work on?
There are a few shows I would have loved to do and maybe do in the future at my college or somewhere else. I would love to do Hairspray, Mamma Mia or Mary Poppins.
Is there any teacher who has impacted you the most that may have swayed your potential future decisions on what you may do in life?
I know this is cliche to say but there are 3 teachers in this school who have pushed me to be who I am today and whom pushed me to really follow my passions, they are Mr. Mehl, Ms. Galinski and Mrs. Lanza. All three of them throughout my four years in high school have non-stop been supporting me in everything I do whether it be writing my college recommendation letter, being someone to come and talk to when I am excited about something that has happened, or even giving me opportunities to be a part of a program they are running. Also, all three of them are so passionate about what they teach and how they teach it which really inspires me as well. Thank you to all three of you, you don't know how much you have impacted my life thus far!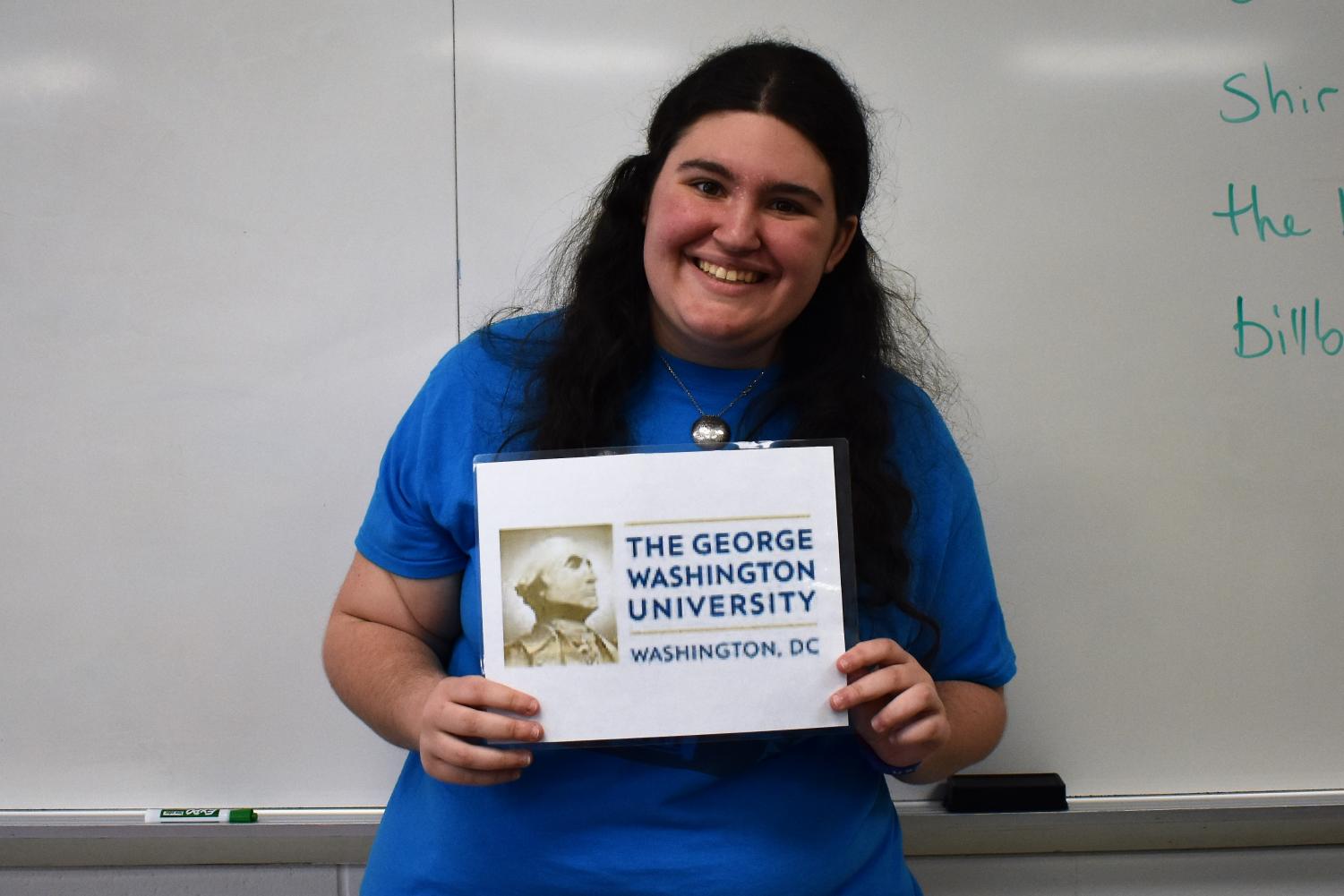 Where are you going to college and what do you plan on majoring in? Will you continue doing some of your clubs there such as drama, assuming they have the program?
I am going to the George Washington University in Washington DC, and I will be studying International Affairs. I am so excited to be able to join clubs at GW, especially choir, Hillel (Jewish Student organizations) and drama productions as well as Community Service Projects in the Washington DC area.
What was your favorite memory from Township?
My favorite memory from Township was this year was when my Peer Leadership class and my best friends came together to "Prompose" to me for this year's senior prom. I was not expecting it and for a long time before that, I was thinking about stress 100 miles minute, so having this surprise for me before school really showed what kind of people are in Freehold Township. And also, the event and the support I received from it reminded what great friends I have and how lucky I am to have them, especially here at Township.
Do you have a quote that you will leave Township with?
"Hope when you take that jump, you don't fear the fall, hope when the water rises, you built a wall. Hope when the crowd screams out, they're screaming your name. Hope if everybody runs, you choose to stay.
Hope that you fall in love And it hurts so bad…And I hope that you don't suffer But take the pain Hope when the moment comes, You'll say:  I, I did it all
I owned every second that this world could give…
Yeah with every broken bone
I swear I lived" (OneRepublic)