Tasty Tuesdays with Gab: Raspberry Chocolate Chip Banana Bread
Hang on for a minute...we're trying to find some more stories you might like.
I'm always looking for something delicious that I can share with my friends and family. I think that food is something that can really bring people together! Last night I decided to make some raspberry chocolate chip banana bread. I think that raspberries go great together.
This bread is pretty simple to make, but it does take a little while to bake. But it's definitely worth the wait!
I started by preheating my oven to 350°. Then I beat together the butter and brown sugar together in my kitchen aid mixer on medium for two minutes. You can use either dark or light brown sugar, I used both! Make sure that you pack it down. Once these sugar and butter were mixed together, I added in the eggs one by one. Lastly for the wet ingredients I mixed in vanilla extract, yogurt and mashed bananas for two minutes on medium.
Mix together the flour, salt, cinnamon and baking soda in a separate bowl. Once you have done this, you can slowly mix it into the wet ingredients. The last thing to do is add in the chocolate chips and raspberries. It's easy for fruit to sink inside of breads so to try and prevent that, mix the raspberries with a tablespoon of flour and then fold them into the batter.
Butter a 9×5 bread loaf pan and bake the bread for 60 minutes. At 30 minutes, put a sheet of aluminum foil over the bread to prevent it from turning too brown. When the bread is done, a toothpick should come out clean! Make sure to let the bread cook before serving.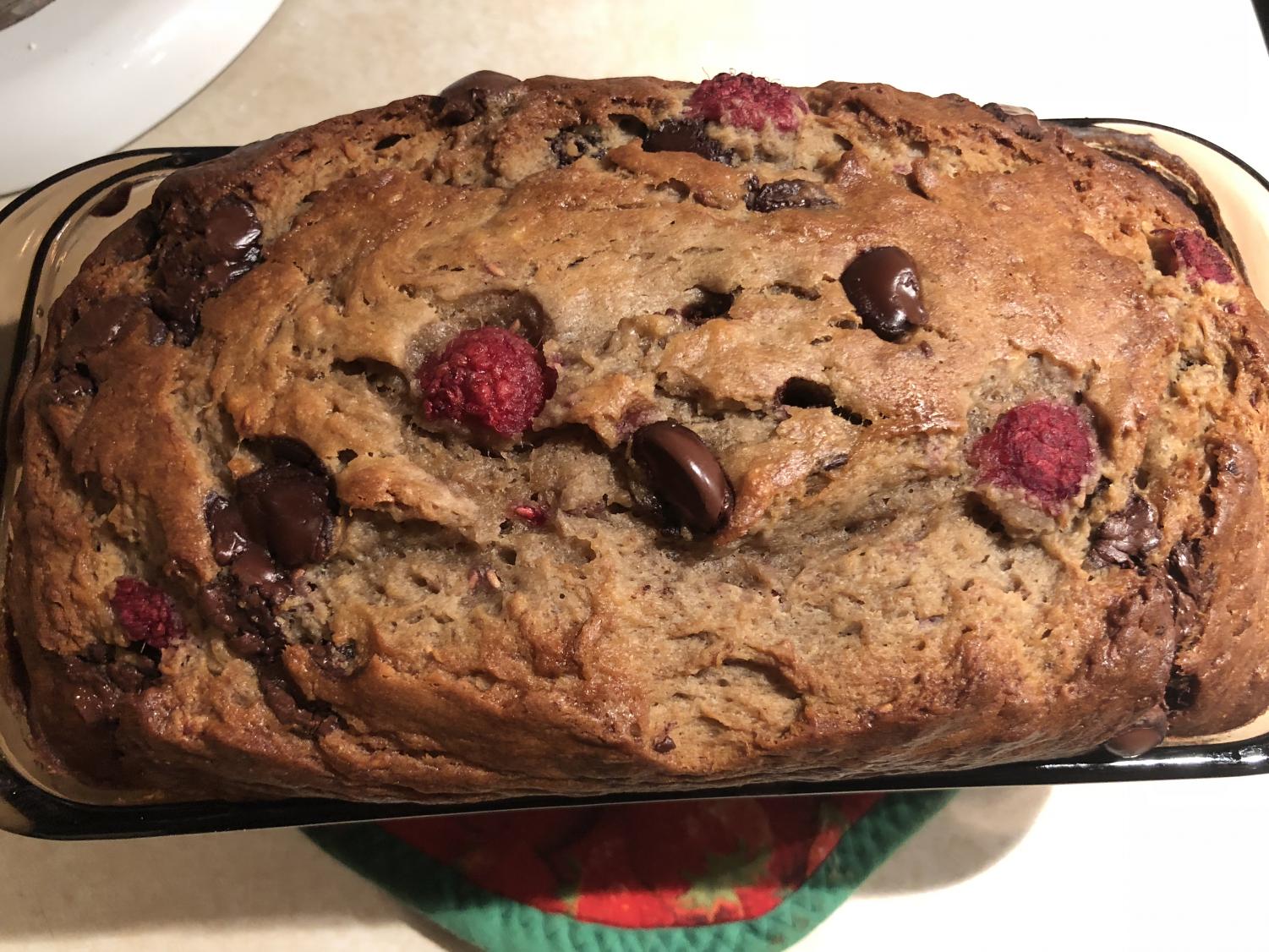 ---
RECIPE:
½ cup softened unsalted butter
¾ packed light or dark brown sugar
2 eggs at room temperature
⅓ cup Greek yogurt
2 cups mashed ripe bananas (about 4 bananas)
1 teaspoon vanilla extract
2 cups all purpose flour
1 teaspoon baking soda
¼ teaspoon salt
½ teaspoon cinnamon
¾ cup chocolate chips
1 cup of raspberries chopped in half
1 tablespoon of flour to roll the raspberries in