Current Events: Royal Wedding, US News (Again), and Tear Gas in Gaza
Hang on for a minute...we're trying to find some more stories you might like.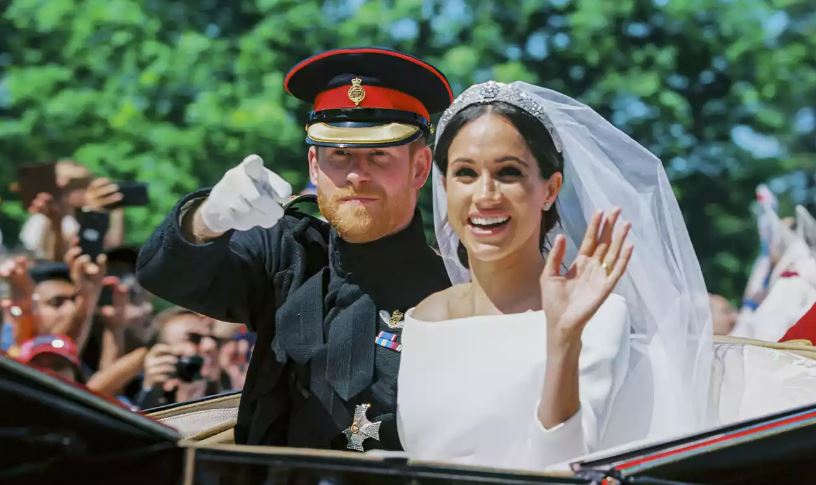 Meghan is so beautiful and Harry has a sick beard. Actual goals. Image courtesy of The Guardian.First of all, Harry and Meghan got married. Yay!
In not so good news, someone somewhere in east Asia might be making CFC – an internationally wide chemical that destroys the ozone layer. Which might delay the recovery of the ozone layer (which protects life on Earth from damaging UV radiation) for nearly a decade.
Things just keep happening and happening in the US:
The Senate confirmed Gina Haspel to be the first female CIA director. Some people are against this because of her stance on torture.

The Senate

voted

to keep Net Neutrality. That's the Obama-era rules that said Internet service providers can't discriminate or charge different rates based on the user, the website, the content, etc. The House is expected to vote on this next, and they're expected repeal the law. Last year, the FCC, or the Federal Communications Commission, voted to repeal net neutrality, sparking a large wave of protests.
There's been a "

Teachers' Spring

" across the US: the first statewide teacher walkouts since the 1990s. Teachers walk against low wages and inadequate school funding. This week, teachers from North Carolina marched. The movement has prompted lawmakers to allocate pay increases for teachers and more money for schools in West Virginia, Oklahoma and Colorado, while Arizona's legislature is still trying to hammer out a deal.

The Supreme Court

cleared

the way for states to legalize sports betting, which could help economies of places like New Jersey, but could

harm

sports leagues.

A new

study

reportedly shows that almost half of all of US families – 43%, or 51 million households – struggle to afford basics like food and rent, even though unemployment is at a

17-year-low

(3.9%).
Controversial
The US opened a new embassy in Jerusalem. Which spurred a heavy wave of protests across Gaza and the Israeli-Palestinian border, with roughly 35,000 protesters assembling. Violence promptly erupted. Israel says Hamas, the Islamist militant group that runs Gaza, is responsible for the "terrorist operation", in which protesters threw Molotov cocktails, burned tires, and stones at Israeli soldiers positioned along the fence. Palestinian officials say Israeli troops killed at least 58 people and injured more than 2,700 others in the past few days.
Background info: In short, Israel and Palestine contest over who Jerusalem, sacred to both the Jewish Israelis and Muslim Palestinians, belongs to. For years, the US has had its embassy in Tel Aviv, to avoid taking sides so it could help facilitate peace talks in the polarized region. Placing the American embassy in Jerusalem is the Trump administration's way to recognize Jerusalem as Israel's capital (a new element of US foreign policy that sparked a lottt of international debate).
Let's not forget that, in the background of this all, Israel and Iran are inching to an all-out war (described in last week's article).
Cold feet?
North Korea is threatening to cancel the summit between leader Kim Jong Un and President Trump scheduled for next month, on June 12. NK is blaming US-South Korean joint military exercises (which it didn't mind before now), and the country also feels like the talks about denuclearization will be "one-sided" unless the US also drops…gives up some nukes.
Some people are saying, "Called it", because NK has a history of disappointing last-minute.
Also, check out this BBC article, "How we will know if North Korea really 'denuclearises'", for more info on the issues concerning North Korea and its nuclear arsenal.