Toys "R" Us to close all US and UK Stores
Hang on for a minute...we're trying to find some more stories you might like.
We all grew up knowing the jingle, "I don't want to grow up, I'm a Toys 'R' Us kid," but poignantly, just as millennials' childhoods are ending, so is Toys "R" Us. The paradise we all begged to go to as children is now closing mainly because the retailing giant acquired too much debt as it scrambled to keep up with a changing industry where sales have been moving to cheaper and more efficient online retailers.
The closure is mostly instigated by two factors: its already existing debt and the emergence of Amazon. Toys "R" Us and its sister chain Babies "R" Us started to struggle in 2005 when it took on $7.5 billion of debt. As the internet became more frequently used, online shops such as Amazon became the quickest, easiest, and most desired shopping outlet compared to store-shopping. Walmart and Target, two of its biggest competitors, adapted to the electronic shopping experience more successfully than Toys "R" Us did, leaving it at a disadvantage. The company filed for bankruptcy in September 2017 in an attempt to let go of some of its debt, but failed. It didn't help that 2017 holiday season sales were $250 million below forecast, a 75% decrease from the previous year. Instead, it was forced to declare the demise of nearly 200 stores in January, only to completely bid farewell to all US and UK locations two months later.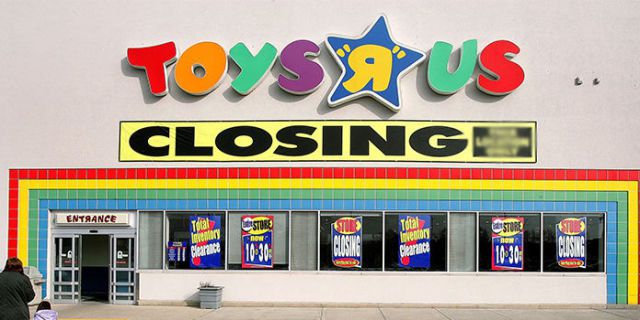 Coincidentally, Toys "R" Us founder Charles Lazarus died a week later the announcement, on March 22, at the age of ninety-four. At twenty-five years old, he predicted the baby boom that would follow the end of World War II and decided to create a store to supply baby and childhood entertainment and necessities. He started his company, initially called Children's Bargain Town, in 1948 in Washington D.C. The retailer at first specialized in baby's furniture but quickly expanded to toys in a supermarket-like display. Under the new name Toys "R" Us, distinguishable with the iconic backwards "R" such that a young child might make, the company became public in 1957, growing from $1 billion to $11 billion in less than fifteen years. Lazarus remained CEO until he retired in 1994 and became no longer involved.
As declared on March 14, all 735 stores in the US and UK will be sold or shut down, displacing 31,000 employees. The website shut down on March 30. The chain is still fighting to survive outside of the US and UK.
Toys "R" Us provides some foreshadowing of the potential doom for various other companies. Common mall stores such as Claire's and Aeropostale are filing for bankruptcy. Mattress Firm, Best Buy, and Footlocker are planning on closing hundreds of stores.
After three generations in a 70 year span, Toys "R" Us will no longer be the logical place to buy presents, video games, bikes, and baby supplies. The next generation may not know brick-and-mortar retailing at all as online shopping continues to increase. The closing of Toys "R" Us harbingers the loss of others like it and could signal the beginning of the end of an era.