Top 15 Holiday Songs to Listen to on Repeat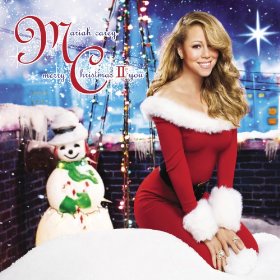 Having worked in retail for the past year and half, I've heard all kinds of weirdly absurd seasonal music. I celebrate and thoroughly enjoy Christmas and when I get the chance, I like to listen to songs that don't make me want to rip my eyes out. Or for those of you who work in retail, the two really good songs that will come on during your shift if you're lucky. Yeah, you know what I'm talking about. Anyway, with the help of my eclectic taste in holiday music as well as my childhood, I have compiled a list of fifteen catchy, foot-tapping, sing-a-long 'tis the season songs.
15. "Up On The House Top"—Jackson 5
Starting off our list at number fifteen is a catchy, fast song by the five kids that never fail to impress. The Jackson 5 has a distinct sound that creates a happy, upbeat atmosphere. Having never heard Santa's footsteps on my own roof, this song lets me believe that I have. I must be a pretty deep sleeper if he can slide down the chimney and throw presents under my Christmas tree every year. I'll listen closer this time.
Youtube
14. "Elf's Lament"—Barenaked Ladies
Having only heard this song for the first time this year, I'm disappointed that I have not heard it before. It's always nice to have a Christmas song that is not about love, or being cold or celebrating with toys. It's especially nice when the song happens to be sarcastic in nature and very amusing. You should think of the elves more, you miser. There's a deeper meaning to this song. Listen, they may be elves, but they have aspirations. Hang in there!
Youtube
13. "Dance of the Sugar Plum Fairy"-Tchaikovsky
This song may just be for the girls, but we don't judge here. Every time I listen to this song I pretend I'm a ballerina. It never fails to make me wish I took dance instead of playing softball. However, it does remind of Christmas music boxes and everything cute that has to do with the holidays. Anyone else thinking Barbie: The Nutcracker?  In other words, this song has a thumb's up on my Christmas Pandora Radio Station. Because I am not a sugar plum fairy though, it has landed spot thirteen on our list.
Youtube
12. "My Only Wish"—Britney Spears
Okay, I know what you're thinking. Britney Spears, really? However, having listened to this song every day at work, I grew to like it. The chorus is so catchy that I can't help but sing. Listen to it and tell me you don't feel the same way. Yeah, that's what I thought. I don't think Santa can hear me because I've wanted a MAC for three years. Maybe he only delivers handsome men to Britney Spears to be her true-love. All in all, this song makes me believe in Britney once again. 2007 was rough, but we will overcome.
Youtube
11. "The Most Wonderful Time of the Year"—Andy Williams
Finally we have reached a classic. While this song may annoy some, I find it to be an embodiment of the entire holiday season. It's the song that you play on the first day of December or when you decorate the tree or you decorate your house with your family. I get so sentimental when listening to this song. People are usually a little nicer during the holidays, right? Smile, it's the 'hap-happiest season of all!'
Youtube
10. "It Feels Like Christmas"—A Muppets Christmas Carol
                Besides the bias I have towards this movie, this song is definitely smile worthy. It could be the adorable fuzzy puppets singing it, or the inspiring lyrics that make you want to pick up the phone and call your parents. Either way, no one can listen to this song without singing along and replaying it. If you haven't seen the movie, what have you been doing with your life?!
Youtube
9. "Underneath the Tree" –Kelly Clarkson
Kelly Clarkson has a voice meant for Christmas songs. Am I right? This song is so ridiculously catchy that I play it at least once every couple of days. Clarkson won American Idol in 2002 and has made tons of top hit songs since. Wrapped in Red is her first holiday album which was released in 2013. Plus it's always nice to imagine Ryan Gosling lying underneath my Christmas tree.
Youtube
8. "Carol of the Bells"—Trans Siberian Orchestra
Okay, so you can't sing along to this one, unless you can speak Russian, but it's still pretty impressive. Originally composed back in 1904 by Mykola Leontovych in the Ukraine, it is still popular in today's society. Even though there are no lyrics, I like to let out various "da-dums" of different octaves. Since it's a classic that makes everyone reminisce about the holidays, it has landed number eight in our countdown.
Youtube
7. "Santa Claus is Coming to Town"—Frank Sinatra
Frank Sinatra places seventh on our list with this classic Christmas song. Sung in 1948 it still gives us goose bumps. Whether those goose bumps be from Sinatra's smooth voice or that the song makes Santa sound like a stalker, it's still a nostalgic feeling. Everyone knows this classic Christmas song and so therefore it deserves a good spot.
Youtube
6. "Please Come Home for Christmas"—The Eagles
The Eagles have always been one of my favorites so naturally this rendition is the best. This single came out in 1978 and peaked at number eighteen on the Billboard Top Hits. Joe Walsh's solo is nothing less than awesome. This is one of my favorites for the holiday season and is a great interpretation of a classic. Go ahead, you play that air guitar!
Youtube
5. "Christmas Wrapping"—The Waitresses
I have yet to learn all the lyrics to this song but nonetheless I still like it. This song highlights the busy lifestyle of a woman who just wants Christmas to herself because it's the only time she has to relax. Since we're headed towards our own Christmas break, I'm sure most of you feel the same way. It was released in 1981 and has been called "one of the best holiday pop songs ever recorded." Also, the clever pun of a title is sure to make you chuckle. Bah-Humbug is too strong! Good luck learning the lyrics!
Youtube
4. "Little Saint Nick"—Beach Boys
While the Beach Boys making a Christmas song is a bit ironic, it's still really good. That coastal, beach vibe combined with cute holiday lyrics is an instant recipe for an unforgettable seasonal song. It was released in 1963 and earned itself the number three spot on the Billboard's Christmas Singles Chart. It quickly became the song that would lift American spirits' as they entered the first Christmas after the JFK assassination. Oh Beach Boys, you never fail to please. Too bad surfing on the East Coast in winter is a synonym for suicide.
Youtube
3. "Sleigh Ride"—The Ronettes
This song has been done countless times but the one that always get me is this one. The Ronettes' music is always dance worthy. Who would know more about sleigh rides than these three women? Honestly though, this song has always been of my favorites. With timeless lyrics and a versatile chorus this song will be a regular for life. I'd love to go riding through lovely snow with you, thanks for asking! Those horse noises make me feel like I'm already there!
Youtube
2. "Christmas (Baby Please Come Home)"—Darlene Love
This song really pulls on the heart-strings. It might be because of the feeling that Darlene Love creates when she sings. I'm quick to grab the nearest hairbrush and sing my heart out to my non-existent husband who is away at war. All in all it makes you feel for the ones who don't have the one they love around for the holidays. If you haven't heard it, you're welcome.
Youtube
1. "All I Want For Christmas Is You"—Mariah Carey
Alright, I know that you all saw this coming, but I just couldn't help myself. This song is so undeniably good that I listen to it in the summer. Co-written and co-produced by Mariah Carey herself the song was released in 1994. It placed in the top two positions on the singles charts of Austrailia, Japan, the Netherlands and Norway. It is the most popular Christmas song played in the United Kingdom of the decade. The Rolling Stone calls it a "holiday standard." The song has sold over fourteen million copies and is Mariah Carey's biggest international hit. It has always been my favorite and I listen to it on repeat so much that my family gets angry.
Youtube
As I conclude my list of unforgettable, likeable songs that I know you're all dancing and singing to right now, I wish you all Happy Holidays. Cherish your friends and family and share these songs with them, as well as the dance moves.