Tasty Tuesdays with Gab: Coconut Cake
Hang on for a minute...we're trying to find some more stories you might like.
For Easter my mom and I made a delicious coconut cake, and it looked beautiful too! It was more of a cake for experienced bakers because a lot goes into it, but it's all worth it when you get to eat it!
To begin, we preheated the oven to 350°. We then got started on the batter to make three cakes! In a kitchen aid mixer, or any other mixer, start by creaming together two softened sticks of butter and two cups of sugar. It takes about 5-10 to get the butter nice and fluffy. Then beat in the eggs fully one at a time. Pour in the flour and coconut milk alternately, make sure to begin and end with flour. Lastly, mix in the two teaspoons of vanilla. Now you can separate the batter into three cake pans and bake for 25 minutes, or until golden brown!
While the cake is baking, get started on the filling. The filling is very simple all you have to do is mix together the milk, ¾ cup of sugar, sour cream and coconut flakes. Once the cakes are baked and cooked you can begin putting on the filling. Before spreading the filling on, poke small holes in the cake layers with a wooden skewer or the bottom of a spoon so that the cake can absorb it well.
For the frosting, beat together cream cheese and one stick of softened butter, then add in the powdered sugar in intervals, lastly beat in the coconut cream and 1 ½ teaspoons of vanilla.
Lastly you can frost the cake and cover it in coconut flakes, I added toasted coconut and Cadbury eggs as well to look like birds nests!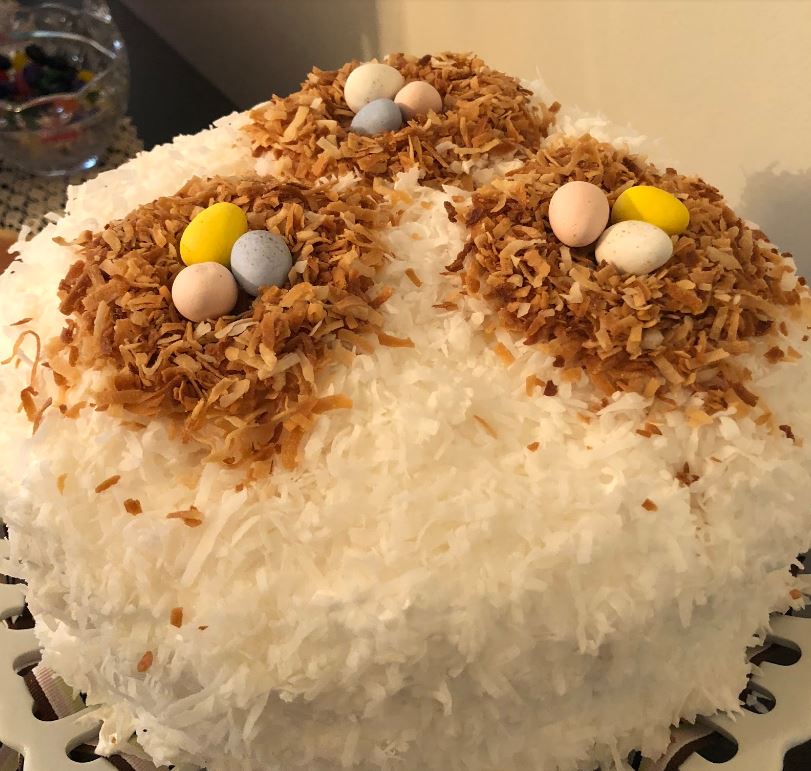 For the cake:
2 sticks of butter
2 cups of sugar
4 eggs
3 cups sifted self rising flour
1 cup unsweetened coconut milk
2 teaspoons vanilla
For the filling:
1 cup sour cream
¾ cup sugar
¼ cup milk
½ cup coconut flakes
For the frosting:
1 stick of butter
2 cups powdered sugar
2 8oz packages of cream cheese
½ cup sweetened cream of coconut
½ teaspoon vanilla