Nintendo's Rebound: Switching It Up
Hang on for a minute...we're trying to find some more stories you might like.
March 3rd of 2017 was a blood-curdling day for investors and the biggest corporate video game giant, Nintendo. The Nintendo Switch was the first true portable hybrid console. It was to mark a new generation of gaming after the ying-yang that was Nintendo's previous generation, The 3DS and the Wii U. Nintendo's two previous devices opened to record lows for the company. While the 3DS made a swift recovery and still continues to sell a substantial amount of units every month, the Wii U was declared a financial flop. The poorly advertised unaided system met it's eternal faith with a lack of third-party releases and sales. After the death of late Nintendo President Satoru Iwata and a questionable press conference that revealed the Switch's initial first-year plan, both fans and investors worried that Nintendo could be headed down the same disaster it just pulled itself out of. It was the incredible marketing strategies and a critically acclaimed lineup of games that skyrocketed the Japanese company back to the top during the last financial year; The Switch's launch can be considered as one of the most recent successful company rebounds in years. Its intricate architecture and the superb lineup of titles should have you running out to buy one this year.


On March 2nd of 2017, I stood out in line at a Walmart (one of the very few retailers that had extra systems in stock) during the night in order to grab myself a neon-colored system and The Legend of Zelda Breath of The Wild. Just weeks before I had told myself that the system was only worth getting after a year rather than at launch, but Nintendo's marketing and newest hotcake pulled me back into their pockets before I could even preorder, literally. Before March 3rd the Nintendo Switch was impossible to pre-purchase. Every single retailer across the United States was hit with heavy demand, but nowhere close to enough stock to fill it. Reviewers were beyond fortunate that the company provided review units, as the majority of media news outlets could not even get a hold of one. After seeing all the reviews and television advertisements, I absolutely could not resist getting one. The concept of the Switch was simple; it's a tablet that you can take on the go and play at home by simply sliding the tablet into the provided docking station. The commercials were clear on what the product was that the consumer was buying. It was a straightforward concept that anyone could be engaged by just by viewing at the very least one advertisement. Even after the two previous alarming system launches, I still had a large amount of confidence that the company would rise back up and recreate the magic it once emanated. I had the biggest itch to play the newest Zelda leading up to its launch; of course, when you have an itch you have the urge to scratch. The newest entry in the long-running Zelda series launched with the highest rated score ever for video game. The digital sandbox nearly scored perfect review scores and nabbed itself the top spot on Metacritic with a 99, making it the highest rated game at that current point in time, right up against 1998 classic The Legend Of Zelda Ocarina of Time, until a few days later when the score dropped by a mere two points. The Switch consumed all of my free time and left me struggling to ever want to turn my other gaming devices on even though plenty of new games were on the rise. While playing Breath Of The Wild all I could think of was "how can anything possibly top Zelda this year…" Just months later Super Mario Odyssey released to the public with a Metacritic score of 98, just beating its younger brother franchise by a single point and it overthrew Ocarina Of Time as the number one game of all time on OpenCritic.com. This was the first time ever that one company managed to hog two game of the year slots. With the amount of content that released during the first year, you would expect the momentum to slow down, but the ocean of incoming games was not even close to being over and the flood of games only got worse. The overwhelming amount of content has torn apart my wallet every other month. The greatest part of the Switch is the fact that it continues to outshine its competitors by living up to the Nintendo code. It's all about the experience and games, not the power of the system. In a time where the majority of the people playing games always take into account the specs of the hardware, it's ironic that the least powerful machine available to the public is what's currently leading the charts.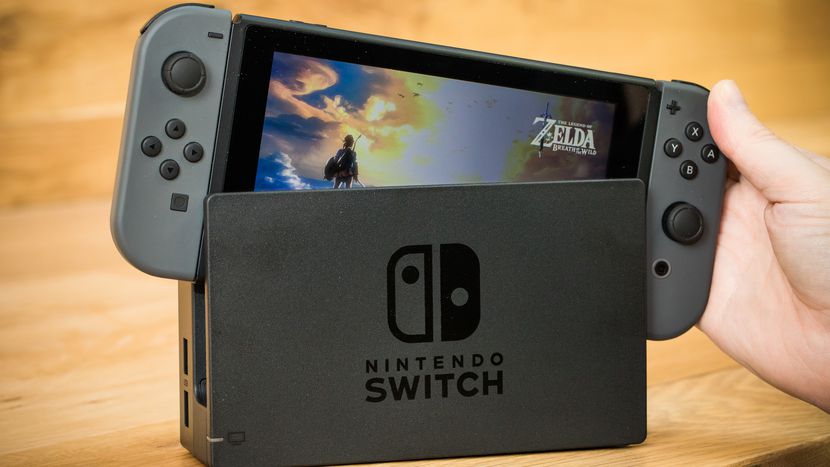 The Switch was designed to provide two different experiences; the traditional console route and the traditional handheld experience. The console experience is your plug and play option. By inserting the tablet into the provided docking station, the switch's screen will display in high definition on your television. The dock has a sleek modern look, but it does appear and feel cheap up close in order to reduce the cost of the already pricey system. The dock does its job; you can sit back and lay comfortably on your couch and play. It's the options that the current PlayStation and Xbox models do not have that make the Switch remarkably different and more valuable to consumers. The Switch's portability factor is a game changer that had both casual and hardcore gamers running out to buy the system at launch. The stock problems were initially atrocious for Nintendo; while the problem was solved here in the states it still haunts overseas customers, especially Japan, Nintendo's home. Japanese customers quite literally have to enter a raffle in order to purchase the system due to the lack of stock and overwhelming enormous lines. The system's ability to continue your games on the go is one of the most convenient blessings a gamer can ask for, no matter what area of the world you are located in. Japan's culture consists of an unprecedented amount of travel by train and bus compared to here in the United States, so it's not surprising in the slightest that such a popular system would be selling out faster than store doors can open. It's not only just the single player experiences that gamers are playing on their way to work, however. Multiplayer games are also factored into the portability of the system. Being able to continue your solo adventure is important, but playing matches with a friend on the go of your favorite multiplayer games is astonishing and heartwarming. It has turned lengthy car rides into full-scale tournaments and adventures. The systems controllers, the joy-cons, slide off the side rails of the tablet, allowing players easy access to two controls that are always present no matter where you take your system. The Joy-Cons in multiplayer mode resembles that of a Super Nintendo Controller and Nintendo had the courtesy to provide straps that attach to the controls making them slightly extra larger and giving more length to the shoulder buttons. The Switch also contains a kickstand that doubles down as a basic protector for the slot where you insert your microSD card; which is just one of the many examples showing how the system was so conservatively yet vigilantly crafted. You can access nearly everything the Switch is capable of whether you are playing in docked or handheld mode. The only drawback to playing in handheld mode is the systems three-hour battery limit. Luckily, rather than using special licensed Nintendo charging cables, the system can be recharged through standard USB-C cables so it is more than likely that you will have a compatible portable charger lying around the house that you can use with your system. One of my favorite experiences so far with the system in handheld mode was when one of my classes had an eight-player Mario Kart tournament during the last week of my sophomore year. Nintendo once again is able to bring friends and family together in some of the most unthinkable situations. I never thought that I would get the opportunity to decimate my teacher in a match of Mario Kart and Puyo Puyo Tetris on a 6.2-inch screen while up against six of my peers, all on separate systems until it finally happened. The most important factor that leads you to play with friends, however, is entertaining games.

Almost every month leading up to the one year anniversary of the Switch had a new first-party Nintendo game to look forward to. These are my impressions of the most notable months leading up from launch to current day. It's worthy to note that I did not get to play some of the most popular titles, due to the amount of content that released. If you see a particular game missing from the list, then its likely that I haven't played it yet or I just decided to leave it out due to a focus on other games. Some of these titles for example are Xenoblade Chronicles 2, Sonic Mania, Celeste, Skyrim, Mario + Rabbids Kingdom Battle, Pokken Tournament Deluxe, and ARMS.


March
The launch of the Switch lacked a vast immeasurable amount of games, but the content available proves once again that quality always comes before quantity. Launch month I picked up only three games; 1-2 Switch, Super Bomberman R, and of course The Legend Of Zelda Breath of the Wild. Digitally released at launch was Fast RMX, an F-Zero type racing game that will give you the greatest type of brain rush, Snipperclips, a quirky puzzle game, and the critically acclaimed Shovel Knight. I'm still yet to pick these three, but they are games certainly worth checking out. 1-2 Switch is what Wii Sports was for the Wii except it was not included with the system and was disgustingly overpriced. What should have been a pack-in title with the system itself, 1-2 Switch shows almost all of the Switch's capabilities. Its a title I had a lot of fun playing with friends, but only after a few hours, I already had buyers remorse shortly after release due to its hefty price tag. If you can get this game for a discounted price of fewer than twenty dollars then I highly recommend it and you will surely get a couple laughs out of it with your friends. Super Bomberman R was my multiplayer fix until Mario Kart 8 Deluxe would arrive on store shelves. At launch, Bomberman struggled from not only the Kojima-Konami debacle, but it also had an extremely rough development due to the engine it was created on. If you have played a Bomberman game before then you already know what you are getting into. Konami has shown constant support for the games with new updates releasing on a monthly basis. Super Bomberman R looks like a completely new game when comparing it to its initially release. This is another title I recommend getting, but only if you can get it at a low price as this title is certainly not worth its full retail price. Lastly came my second favorite game of last year, The Legend of Zelda Breath of the Wild. This game took the world like Ganon in Hyrule. The Legend of Zelda Breath of the Wild is not only one of the best games available on the Switch, but it's also one of the best games of all time. Its originality successfully creates a meditative yet invigorating experience. This needs to be on your gaming bucket list. If you are into adventure games like The Witcher, Skyrim, and the Zelda series then this will certainly be your cup of tea. There are hundreds of reviews online that will help you dictate the decision of your purchase (if you do happen to get a Switch, but not Breath of the Wild, then what is wrong with you?!).


April
The leading month was a massive success for Nintendo, but mostly because of the titles released in March and Nintendo's saving grace multiplayer franchise. Many refined third-party ports came to the system during April, but the golden goose Mario Kart 8 Deluxe, a port of the critically acclaimed game Mario Kart 8, with bonus downloadable and new content, came to the Switch during the last week of April and continued to skyrocket sales. While the newest entry in the series had been a port, its minor refinements made it feel almost like an entirely different game. This is the best Mario Kart game that has ever released in my opinion and it should be your top contender for couch multiplayer games with friends. The only other game I bought this month was Puyo Puyo Tetris, which is exactly what you think it is. It's a collaboration between Puyo Puyo and Tetris with some exotically different extra game modes besides your standard play-styles and oddly enough a single-player campaign which I'm yet to even pick at since the game has almost entirely been used for multiplayer.

June
The first original IP Nintendo has created since Splatoon released. ARMS received a playable demo just weeks before the launch of the game that pushed me to not buy it. Its slow paced gameplay completely threw me off and slowly derailed my excitement up to launch. The majority of Switch owners seemed to agree, as the game sold just over a million units even though Nintendo claimed that their online demo prior to launch was a massive hit, making this Nintendo's least selling in-house made game so far during the Switch's life. ARMS, however, was not the highlight of July for this list. The yearly E3 Nintendo conference took place and with that came a monsune of announcements such as of Metroid Prime 4, Kirby Star Allies, Yoshi, Rocket League, Breath Of The Wild DLC, and the official release date of Super Mario Odyssey. Nintendo cleaned house at E3 with its returning franchises, eating up the majority of the media's awards given out to games that month and scored higher viewership among social media than that of their competitors' press conferences. This was by far my favorite E3 conference of 2017 and it helped set a standard for the new system; a standard at which we knew it would be able to achieve after Breath of the Wild set the precedent.


July
During the summer of 2015, my friends and I were playing Splatoon on a nightly basis. The third person strategy shooter had breathed fresh air into a struggling genre. The entire concept of Splatoon is two teams of four players have to fight each other in a turf war. Rather focusing on getting kills, the game focuses on covering turf with ink. The team who covers the higher percentage of land with their teams' colored ink is the winner. While the original breathed new life into a generic inflated genre, Splatoon 2 on the other hand, suffers the same problems that spanned from an era of unoriginal third and first person shooters. Splatoon 2 is certainly a great game that I dumped hours into, but it lacks the magic spark that made me want to sit down and play all night online with friends, unlike its predecessor. It attempted to fix several unneeded revisions and enacted ridiculous time play walls that kept players from hopping on to the new game mode Salmon Run at any time. The game sadly does not create anything new that stands out more than the first entry in the franchise. Nintendo's lack of a complete online system also destroyed the player-bases excitement at launch, as many customers, such as myself, kept timing out of matches and at particular points could not even access the main online game modes. Now that Nintendo has begun implementing stable online servers, Splatoon 2's future continues to look brighter than before. This is an extremely addicting multiplayer game and it deserves the support it has been receiving from Nintendo. There are new content updates on practically a monthly basis, continually keeping the game from going stale. If you have not played the original then skip it and jump to this version immediately as it will give you the same childish excitement the original had given me and you will not be able to experience the major problems that veterans of the series had.


October
Nintendo's long-lasting brick bashing coin collecting plumber arrived home with the release of Super Mario Odyssey, along with a new slick red joy-con Switch bundle including the game and a customized case, releasing just in time for the holidays. Mario's newest adventure became the highest rated game of all time just hours after the embargo for reviews was finally lifted. Odyssey is the perfect word, to sum up, Mario's newest 3D adventure; it's an expedition, a journey that will have you constantly impressed by its overwhelming amount of content and variety. Odyssey feels like an adventure, just like how Super Mario Sunshine and Super Mario Galaxy felt like vacations and a journey through an endless cosmic galaxy. You can read my review of the game right here to see my full thoughts on the game. Fire Emblem Warriors flew under the radar for many Switch owners due to the massively generated hype around Odyssey. It was extremely unwise of Nintendo to not save Fire Emblem for November, as it quickly went unnoticed by the community and as a major fan of the franchise, I am actually yet to purchase Warriors even though it released four months ago. I think this title deserved a mention here to do its positive reviews, as no media outlets seem to ever mention the game. This is certainly a title I personally plan on picking up in the future, but I am in absolutely no rush to purchase it.

November
The third parties took the spotlight during the Black Friday month. The holiday craze was just beginning and third-party developers had been flocking to the system like birds. Rocket League, DOOM, Skyrim, Stardew Valley, L.A. Noire, and so much more came flooding down onto the Switch library. These are games that should be in your collection if you have not played them before. November helped complete the Switch's one-year genre of games. There is something here for absolutely everyone. Shooters, puzzles, hack and slash, sports, you name it and the Switch most likely has it!

What's to come?

During a Nintendo Direct Livestream, the company revealed many games, but the big afterward hype was centered around Super Smash Brothers. The famous multiplayer fighter is on its way to Switch and is set to launch later this year. YouTube's trending section was overthrown by dozens of reactions and speculation videos on what the newest roster could possibly have in store. Nintendo has started 2018 by setting what people believe is an unreachable high standard, but after last years success, it is more than likely that Nintendo will pull through and deliver on nearly every single promise. This year marks the release of Kirby Star Allies, Donkey Kong Country Tropical Freeze, Super Smash Brothers, Metroid Prime 4, Bayonetta 3, Mario Tennis Aces, Pokemon, and much more. With games like the Crash Bandicoot N. Sane Trilogy and Everspace making their way to the switch, it's practically guaranteed that we will be saying a vast variety of third-party games making their way to the system from both the largest and smallest developers. If you do not own a Nintendo Switch yet then you are truly missing out. The most recent Nintendo Direct will catch you up on the latest games below and for more information you can always check out Nintendo's official website at www.Nintendo.com/switch
The Latest Nintendo Direct