Spring Musical is a Crowd-Pleaser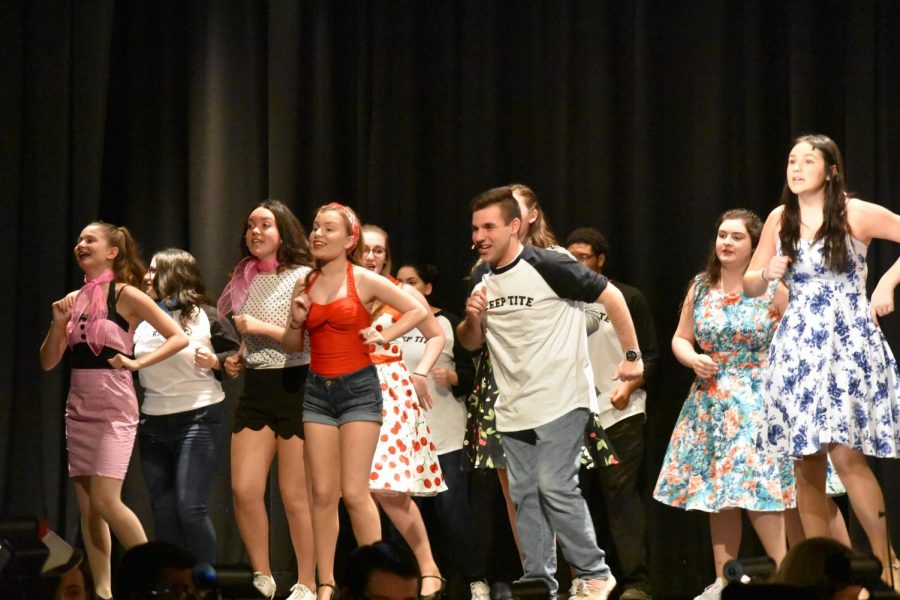 This year's excellent spring musical was The Pajama Game. This story takes place in 1950s and is about a pajama company whose workers demand a seven-and-a-half cent raise. One of the main committee members, Babe Williams, played by senior Anna Juliano, is the lead activist for this raise and won't stop until they are all paid fairly. Things, however, go awry when the new superintendent, Sid Sorokin, played by senior Danny Scerbo, comes along and Babe falls for him. He is all about the efficiency of the company rather than the pay of individuals, causing a divide in their relationship, leading to a problematic relationship between the two.
Overall, the musical was absolutely, fabulous this year. The casting for the production was perfect. Anna Juliano's real-life bold and sassy personality shone through as she stood her ground as Babe and did not take no for an answer. Danny Scerbo's passion was evident as he traded in his business personality for the girl he loved. The hilarious Hines, played by Joshua Eiger, stood out the most. With his one-liners and often comedic and over-the-top dance moves, that audiences' eyes were truly drawn to him.  Gladys, played by Riley Martin, was a cookie-cutter secretary reminiscent of the times, as was Prez, played by Jake Manna. They both portrayed the somewhat sleazy, but always entertaining, personas that are typically stereotyped for that time. The true underrated sweetheart of the film was Mabel, played by Alyssa Granito. She was often the voice of reason and steared the characters in the right direction.
The songs of this musical were extremely catchy. I found myself repeating the phrase, "hurry up" from the song "Racing with the Clock" as I left the auditorium. However, the song that really stole the show was "Hernando's Hideaway." With a jazz element and creative choreography that included Gladys and the entire ensemble, the song truly encapsulated the 1950s feel.
No musical is complete without a happy ending. The central issue, receiving a raise, was solved by none other than Sid Sorokin, and Sid and Babe ended up together. All in all, it was evident the time and effort each cast and crew member put in. A special shoutout to Lia Legregin and Camille Yu, the assistant choreographer and dance captain, respectively, the dances were great.
Thank you to Mrs. Richardson, Mr. Gattsek, Mrs. Conners, Mr. Grimes, and Ms. Cuigini for putting on an awesome production. Congrats to everyone!