Easy New Year's Resolutions that Will Guarantee a Better 2018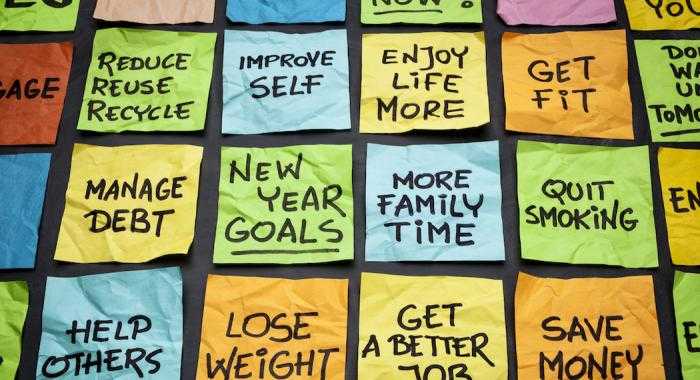 Goodbye 2017, hello 2018!
The new year hit most people very hard and very fast, however for some the new year could not come fast enough. 2017 was a rather hectic and chaotic time for more reasons than one, and some people may have come out of 2017 feeling as though they did not make the best out of the past year in terms of self-betterment, or perhaps living up to those pesky resolutions.
If you're feeling as though you could have done a lot better in 2017 and want to turn yourself around this year with a fresh start, then here are some resolutions that are easy to do, beneficial to you both mentally and physically, and are actually pretty fun.
1. Stay off of your phone more.
For a teenager may sound incredibly challenging, but the long-term effects staying off of your phone will provide for both you and others are bound to be incredibly beneficial. Sticking to this resolution doesn't mean completely locking your phone away and not going on it at all, rather it means that you should delete the social media or any other apps that take up a majority of your attention throughout the day.
Still keeping your account but deleting the physical app will make you feel much better because everything you built up still exists, you just won't be able to interact with it obsessively every day. Going on the same apps and doing the same things on your phone every day – Snapchatting, tweeting, FaceTiming, or even just simply texting – builds habits that aren't good to keep, so staying off of your phone will definitely wind up being beneficial if you stick to this resolution.
2. Pick up a hobby.
Swapping out the habits of going on social media every day for a de-stressing and relaxing hobby is the way to go this year. Perhaps you slipped out a hobby you enjoyed when you were younger because you simply didn't have enough time anymore to stick to it, or maybe you just think that there's no hobbies you would enjoy.
Put all of those thoughts behind you and pick something that interests you! It could be virtually anything: painting, drawing, sewing, knitting, dancing, singing, playing an instrument, coding, baking, cooking, taking up a sport… the possibilities are truly endless.
Taking up a hobby and making time to devote yourself to every day or perhaps every other day is a great way to have fun and make a habit out of something that isn't bad to your physical or mental health this year. It's also a way to make sure you provide time to just relax for a certain portion of time every day.
3. Learn or try something new every day.
Learning or trying something new is bound to benefit you in many different ways. Local bookstores or even online stores have calendars which can tell you something new every day, such as a fact, a new word, quote, or show you an interesting picture. The best part is that you can share anything you learn with friends or family every day, which is even better.
Trying something new doesn't necessarily mean do something crazy and exhilarating every day. Rather, maybe it means that you can talk to someone you've never spoken to before, try a new food, or give a friend a gift unexpectedly. Doing this will boost your confidence, make you feel great, and also encourage you to be more outgoing and try new things often.
4. Start keeping a journal.
Keeping a journal may sound like a dumb thing to do, but the effects of keeping a journal on your health and your life will begin to change you for the better this year. Whether they be good or bad, bottling your emotions inside and not having any way to release them can take an extremely negative toll on your mental health.
Journaling doesn't have to lend itself to just pouring out all of your emotions onto a series of pages, but it could possibly mean that you draw sketches which depict what happened to you that day or how you felt, or maybe organize the good and the bad things that you felt that day into columns.
Doing these things will help you determine what you can do to make your days better, and will also make you think about what you can do to deal with your emotions in a new and more positive way .
5. Focus on having better time management.
Procrastination is the biggest problem for teenagers, especially high school students. It can be extremely difficult to find to manage extracurricular activities, sports, massive amount of homework, having a job, and time to just escape from the chaos of everyday life. School work is often put to the side if it isn't something that is due to next day in order to allot time to do something else that is more important.
Often times, students will put off a project or other large assignment until a day or two before it's due, whether it's because they forgot or knew they were putting it off until the last minute in order to do other things.
Time management is an essential skill for high school students to learn, especially when they will be going into college soon and need to have that skill. Perhaps you can't work on something a certain day after school, but you could make time to go to the media center during your lunch period and work on it. You can also work on whatever is stressing you out for a half hour or an hour at a time on the days that you are busiest, and then completely devote yourself to tackling the assignment on the days when you are not as busy.
6. Work out.
Those who are unhappy with their weight, want to be healthier, or are even happy with their health but just want to maintain it will benefit from working out. The YMCA and other facilities similar all provide services that are much cheaper than buying your own workout equipment.
You can get a membership and go as many times as you want to start getting into shape or maintaining it, and there's virtually no downsides to working out, either. On top of possibly eating healthier and starting to lead a healthier life in general this year, working out always makes you feel good and makes it feel like you're doing a good thing for your body, as well.
7. Save your money.
Receiving a paycheck or even money as a gift is one of the best feelings, however it's important that you're wise with your money at this age. You already can or will soon be able to go out on your own and buy what you please, but responsibly and with thought.
If you don't already have one, opening up a savings account with your bank to keep your money is a great idea and is not only beneficial to you now, but will also come in handy down the line.
This resolution can teach you both how to manage and save your money the proper and responsible way. It will also give you an alternative to just having cash and checks sitting around, because when they do, you're bound to want to spend them more often. Having money away in the bank where you can't see it and where you know it is safe is a great alternative and a mature way to keep track of your money.
8. Have a positive attitude.
Having a better outlook on life, being nice to strangers or people who you don't talk to often, or even just smiling a little bit more – although it sounds cliché! – can truly brighten up your new year.
Thinking negatively about things never does any good, and what better way to start off the year than on a high note? Don't let the little things get you down, and always try your best to have a positive outlook on the world around you. In addition, notice who in your life might be causing you to have a negative attitude sometimes or just isn't there for you in the ways you want them to be. Any toxicity and negativity in your life should try to be taken out this year!
For some, this may be easier said than done, but all it takes is a little effort to have a much more positive and happy 2018. A new year is a fresh start; make it the best it can be!