FRHSD Students Examine Healthcare and Ethics at 2017 Team Challenge Event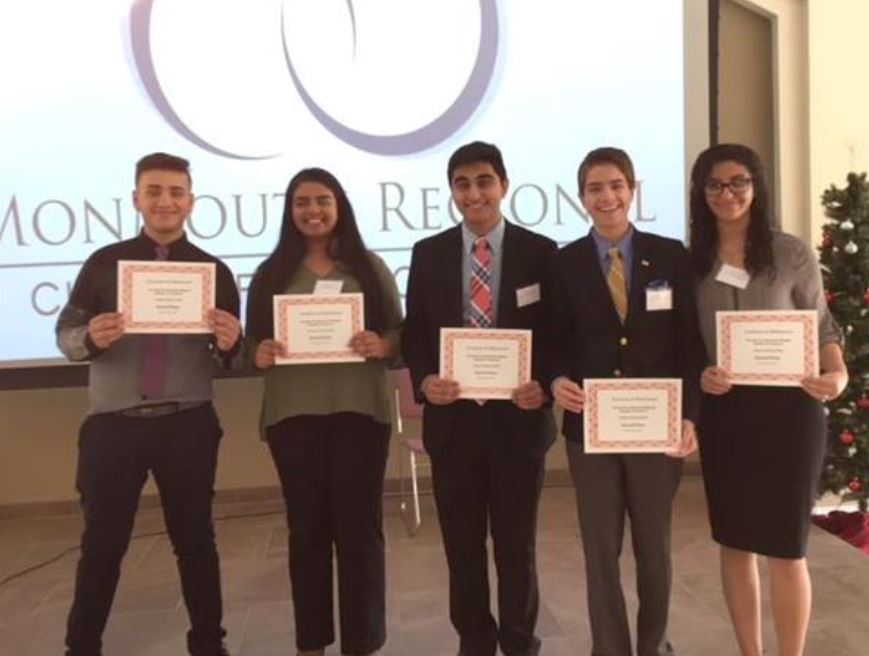 On December 8th, students from all schools of the Freehold Regional High School District, including Allentown High School, addressed bold implications of real world predicaments while presenting their findings regarding various ethical dilemmas surrounding the healthcare industry in the 2017 Team Challenge competition.
Hosted by the Greater Monmouth Chamber of Commerce and chaired by Mrs. Edie Legg of the Freehold Investor's Bank, the event aims to instill an understanding of the application of ethics in the professional world through a proactive experience centered around key 21st century skills such as public speaking, objective thinking, and efficient team collaboration, above all. Utilizing the Markkula framework from the Center of Applied Ethics at Santa Clara University, teams worked collaboratively through the course of several weeks to construct an elaborate case study or skit that analyzes the various intricacies surrounding numerous decisions made by the individuals present in the ethical dilemma (stakeholders), as well as the magnitude of their actions when providing an overview of potential solutions to those dilemmas.
Showcasing their research and assessments to a panel of judges consisting of prominent members in the Monmouth County business and medical community, each school was credited with much recognition for their illustrations of fine oratory skills and the ability to support their evaluations by comprehensive research.
The recipients of the first place prize in the 2017 competition was Marlboro High School, led by advisors Patrick Scinto and Biagio Lubrano, who has claimed its place for two consecutive years.
From Freehold Township High School, students were led by advisors Daniel Cooper and Linda Bonaly, and included Michael Galanaugh, Amit Bachani, Chris Galiano, Karim Lakhani, Dayana Khalil, Salma Pathan, and Paul Griesta, placing second following Marlboro High. Presenting the actions of pharmaceutical company Purdue Pharma and their contribution to the national opioid epidemic currently afflicting Monmouth County and the United States through the negligent marketing of their drug, OxyContin, students were able to shed light upon the sensitive issue and offer ways to deter its impact upon a national consensus by commencing in the legislative level of the state.  Howell High School, concluding the top three, was led by advisors James Buckner and Tim Hogan.
In addition to their sponsorship of the Team Challenge event, the Greater Monmouth Chamber of Commerce also offered a $500 merit based scholarship to two students who participated in the event, and will announce the recipients in early 2018. Such benefits, as well as a strong focus on traits such as productive communication and collaboration with others, fostered an experience that proved to be rewarding for students, allowing them to derive critical understandings of the fundamental role of ethics in our local community and in the professional world as we mature into the future leaders of tomorrow.