Current Events: Libya, Drinking Poison, Kim's Missiles, and Immigrant Acquittal
Hang on for a minute...we're trying to find some more stories you might like.
In Libya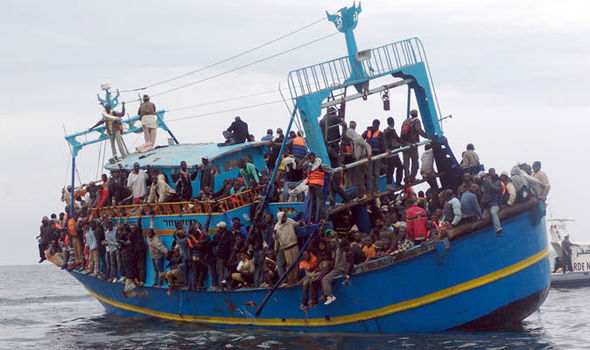 Thousands of African migrants have been found captive in Libya  – as slaves. A recent report by the CNN uncovered human slave auctions in the country, smugglers selling refugees who have tried to flee their home countries through Libya.
The migration crisis has strongly affected Libya, with at least 700,000 migrants currently in the country, according to the UN. Libyan immigration authority further told CNN on Tuesday an estimated 25,500 migrants, were now being held at the overcrowded detention centers, their home countries demonstrating little interest in retrieving citizens.
African countries such as Rwanda have offered to take in some of the refugees. Libyan authorities have promised to launch an investigation into the matter, while calling for more support from the global community.
A number of European and African countries agreed to try to free the enslaved migrants and increase their efforts in combating human trafficking.
When you didn't do your homework
Former Bosnian Croat general, Slobodan Praljak, died on Wednesday after drinking from a phial of poison during his tribunal at the UN's International Court of Justice in the Hague, Belgium.
The 72-year-old had just been sentenced for 20 years for war crimes committed in the Bosnian Genocide. After drinking from the vial, Praljak declared that he was not a criminal and that he rejected the ICJ's verdict.
The Bosnian genocide took place in 1995, when Bosnian Serbs and Croats carried out a series of attacks against Bosnian Muslims, killing more than 8,000 people.
When to build a nuclear bomb shelter
Last Wednesday, North Korea launched an intercontinental ballistic missile. It went higher and longer than any other missile tested before, and this one might be able to reach US mainland.
This takes place as President Trump continues to assert his willingness to use force against North Korea. Hello, WW3?
(The theory of mutually assured destruction has been keeping us safe from an atomic war so far, though, so everything will probably be fine unless some really unlikely accident happens!)
Not guilty
On Thursday, a San Francisco jury acquitted Jose Ines Garcia Zarate, an undocumented immigrant, of murdering US citizen Kate Steinle in 2015. The defendant had been deported to Mexico five times in the past. Before the shooting, officials in San Francisco had released Garcia Zarate from custody instead of turning him over to immigration authorities. Freya Horne, chief legal counsel to the San Francisco County Sheriff, said in a 2015 interview that Garcia Zarate was let go because there was no legal cause to detain the suspect.
During the court proceedings, Garcia Zarate's defense attorney said the shooting was accidental and the bullet ricocheted off the ground and traveled about 80 feet before hitting Steinle. The defendant admitted to aiming at a seal when he shot the gun.
The jury acquitted Garcia Zarate of murder, involuntary manslaughter charges, and assault with a deadly weapon. He was charged for felony possession of a firearm.
Now, the immigrant is facing deportation once again.
President Trump has previously used the case as an argument against illegal immigration and sanctuary cities. Now, he has called the verdict "disgraceful".