Student Profile: Brian Shushkovsky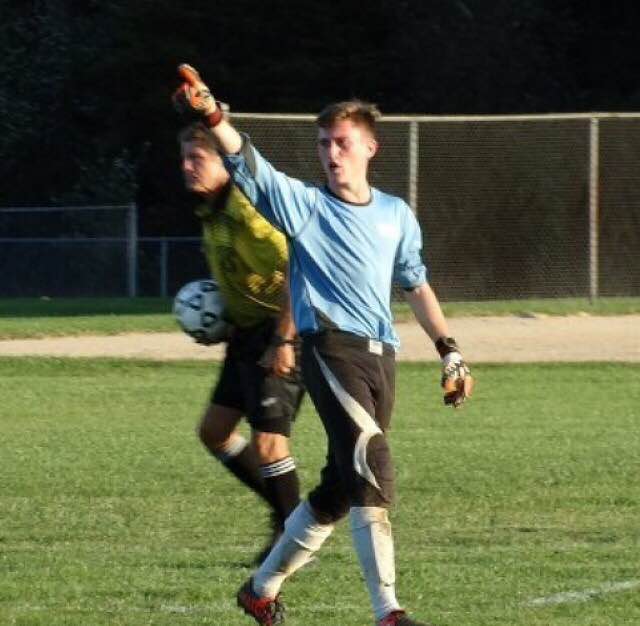 Brian Shushkovs
ky, Freehold Township's boy's soccer goal keeper, has had quite a successful year. Recently named the NJ.com Boys Soccer Athlete of the Week, Shushkovsky's season has been one to remember. 
Q: How old were you when you first started playing soccer?
A: I was five or six when I started playing soccer.
Q: Goalkeeper is a very unique position, what made you choose to play here?
A: Around the age of 10 I had played in goal a few times and found out that I was pretty good at it so when my team decided that we needed a permanent goalie I decided it was right for me.
Q: Have you ever been a field player?
A: In that 5-11 age group I swapped around positions quite a bit and definitely played some field but after 10 it was primarily goalie with little bits of field time here and there.
Q: Growing up, did you ever play any other sports?
A:After starting out playing soccer and enjoying it so much I never saw a reason, or really had the time, to play another sport.
Q: Who do you look up to as your role model in soccer?
A: As far as role models go, from a professional standpoint I was always a huge fan of the Italian national team goalie Gianluigi Buffon. In more recent years I have grown very fond of the young Spanish and Manchester United goalie David De Gea. From a non-professional standpoint the coaches I've had, primarily the goalie coaches, have been huge role models throughout my soccer career.
Q: In the first round of the shore conference game, you took the first penalty kick in the shootout. This is very rare for a goalkeeper, why did you and the coach decide to do this?
A: Going all the way back to my sophomore year, I would always joke around with Coach Briggs about letting me take penalties. Then once I came back to play high school soccer my senior year we talked about it for real and decided as a senior leader within the team it made sense to let me take one if I felt comfortable with that. Once the moment arose in the Colt's Neck game, he simply left it up to me and I decided to go through and take one.
Q: Have you always been a leader? Do you think that being a goalie has brought out some of these qualities in you?
A: I've always considered myself a leader, especially in the soccer sense. As a goalkeeper you have to be very mentally strong and show a great deal of confidence. As such, it always made sense to me that the goalkeeper should be one of, if not the leader of a team. We see the whole field and are able to organize much of the game in front of us. So to better answer the question, I feel that I have always possessed leadership qualities but playing in goal had certainly helped develop them.
Q: What emotions did you experience after committing to a Division I school?
A: Committing to Rutgers was an unbelievable feeling. The whole recruitment process was extremely stressful and long so the relief I felt when finally making that verbal commitment was incredible. Besides relief, I also felt and continue to feel a lot of excitement towards experiencing college soccer.
Q: How did it feel to win the Shore Conference Championship for the first time in six years?
A: Winning the Shore Conference Championship was a night and a run that I will never forget. The memory of being able to life that trophy after the incredible amount of hard work our team has put in is something that will stay me forever. Thinking back to my freshman year, we couldn't help but look to our senior year with hope that we could accomplish something incredible. Four years later and that's exactly what we did so that in itself is amazing.