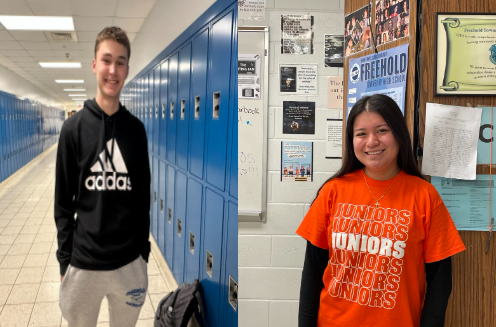 October/November Club Students of the Month
December 5, 2022
John Van Horn
Octagon Club's outstanding junior John Van Horn was selected as one of the FTHS October/November Club Students of the Month. Always upbeat, energetic, and kind, John's hard work and dedication to community service are certainly worthy of recognition. John sat down with the Patriot Press to discuss his work and reflect on his award.
---
Congrats, John! How does it feel to be recognized as Club Student of the Month?
– It feels good because I put a lot of work into community service, so I guess it's good that I got recognized.
Could you explain what Octagon Club is?
– Yes. Octagon basically just gets community-related service events, not just for getting kids hours since they need them for NHS. We try to stress helping the local communities. Most recently, we did Haunted High School, which went really well. I helped Mrs. LaPlaga with lollipop ghosts and we had all the kids write the names of their ghosts on the board. It went well.
I heard it was a success!
– It was a success. We actually got a lot of kids into it, they weren't just taking lollipops, which was good.
How did you first get into the club?
– My friend Landon told me about it. We were both looking for something else to do to get community service. So we talked to Mrs. LaPlaga, and she told us to stop by and do a couple of events. That's really how I got into it.
So what do you think doing so much community service has taught you?
– Hard work. Originally, I thought that I needed to get into NHS and needed to get 30 hours of work. You think of it as a chore – I have to get it done and never hear from it again. But, it's taught me that, there are people, it's crazy to think in 2022, in Freehold that don't have enough food or don't have anywhere to live that you can help. It taught me to sacrifice my time for other people.
I think that's a great lesson to learn! What leadership position do you hold within the club?
– Honestly, not anything now. I applied for president, so I might have gotten that, but Mrs. LaPlaga hasn't gotten back to me yet.
So Van Horn 2022 here we come?
– Mr. Ferrando actually calls me president. Freshman year he said that Van Horn sounds like the name of a president.
As you mentioned, a lot of people see community service as a box to check or feel that they have to add up hours. Do you have a message for those people?
– Yeah. I think a lot of people don't consider what they're actually doing in community service. They think I have to check this box off the list. You don't realize that in something as small as giving food or cleaning a beach, you're making the world better each time you complete a service event. That's a lesson to learn.
You talked about Haunted High School as a success. What's another event for the club you want to see happen?
– Definitely Haunted High School. I think one thing we could do, especially around Thanksgiving and the holiday season, is organize a mass food drive. I want to pitch that to Mrs. LaPlaga because there are so many people who need Open Door and are ashamed to do so because they can't afford food. Especially during the holidays, you don't want to keep anybody out. So, I'm going to see if we can organize one. I know DECA is also doing one. I want to see if we can put all the food together. Obviously, you can get community service hours for that. I know a lot of the time you can do it through the church, so I'm going to push that to Mrs. LaPlaga.
So for students coming into Township who want to get involved and want to give back, do you have any advice? 
– If you're looking to get involved, I would say put yourself out there. There are a ton of clubs, and I know there's a little bit of a stigma around them. But, clubs are something that not only help with colleges, but also build character, you get to meet new people, and you get to learn valuable lessons. I think the more that you do, the more you learn.
You mentioned building character. As someone who is very involved, how has Octagon helped you to build character for other things?
– One of the things it's taught me is that you don't know what's going on with a person looking right at them. A lot of the community service is in regard to the poor, or I worked at an animal shelter for a while. You always have to look at somebody with care first and set your judgment aside. You should always be looking to help them and I think that as a junior going into senior year, I have to help a lot of my fellow Patriots.
---
Here's what Mrs. LaPlaga, Octagon Club's advisor, had to say about John:
"John was a huge help on the night of Haunted High School. He came in, ready to go and organized the clean up before I even had to ask the volunteers to do so. He made every single kid who walked through the door feel awesome about themselves and their costume! He immediately noticed the "shy" kids and went up to them and did the activity with them – even some of the parents (upon leaving my classroom) told me how great he was with their kid/kids. In the beginning of the night, he noticed a couple of kids weren't 'excited' about making lollipop ghosts, so he decided to add another element to the activity and make it more 'fun' and interesting. After each kid made their lollipop, he walked them over to the board and had them name the lollipop ghost and write it on the board. He is an all-around kind & respectful young man!"
John's reasons for recognition were:
Leadership
Dedication
Initiative
Leave a Comment
Vanessa Pacheco
Vanessa Pacheco is a junior here at FTHS. She was awarded the title of October-November Student of the Month as recognition for all her hard work involving Patriot Press. Vanessa is the Head-Photographer for the newspaper.  Mr. Digiuseppe has awarded Vanessa for her Leadership, Dedication, and Initiative towards all her responsibilities of her roles within the commitment to this club. To see some of Vanessa's photography work, visit the Patriot Press website on the Patriot Press Website! Congratulations to our October-November Club Student of the Month!
---
 Good Morning! 
 – Good Morning
 Before we begin, congratulations on receiving club student of the month!
 – Thank you!
How would you describe your initial response to hearing your name on the announcements?
– It was very surreal because I just never expected to be Club Student of the month. I started Patriot Press back last year and it's just crazy to see how my hard work has paid off. 
Why do you believe that you were nominated and chosen for this award?-
– I believe it was because of the work I put in. A lot goes into putting these pictures together but it is so rewarding at the end of the day to see it all come together!
What are some of your personal responsibilities as a member of this club? Do you have a specific leadership role?-
– I am head photographer, so I'm responsible for communicating with my other photographers,  as well as covering big events of the school. For example, BOTC just took place so I had to go to take pictures as well with my other two photographers. 
Besides your commitment to the Patriot Press, what other activities are you involved in here at FTHS and beyond?
– Well taking pictures for Patriot Press is my main activity, but I also participate in Spring Track. I'm starting a Winter Track this week as well! I'm also involved in a few other clubs at the school.
It's so great to hear about your involvement in our school grounds! Continuing on, what would you say is the overall motive of this club?
–  I think the overall motivation is to just keep working harder than we already do and to try to boost our views by even more than what we have currently achieved.
Has being a part of Patriot Press  shaped you or given you new skills of any sort?
– I'm definitely more social because you know I have to reach out to my other photographers and ask people to take pictures of them, which can be kind of awkward but it's worth it at the end of the day when they get recognized for their attendance or participation in a school event!
What advice would you give to a new student entering the building next year?
– Just to enjoy high school and to get involved with the activities the school has to offer, while also just having fun and really taking in these new few years.
To conclude, is there anything you would like to add or say to your fellow students and staff?
– Thank you to Mr. Digiuseppe for nominating me for Club Student of the Month and yeah that's it!
 Thank you so much Vanessa for meeting with me and congratulations again!
 – Thank you!
---
Here's what Mr. DiGiuseppe, advisor for the Patriot Press, had to say about Vanessa:
"Vanessa is the Head Photographer, in charge of making sure the school events and sports are photographed, and she is the most organized and on-the-ball leader I could ask for. She communicates with the staff and manages all the visual elements of our website with efficiency and positivity. She works independently and collaboratively, excelling at both ends of the spectrum. In short, she is very deserving of this recognition."
Vanessa's reasons for recognition were:
Leadership

Dedication

Initiative
Leave a Comment