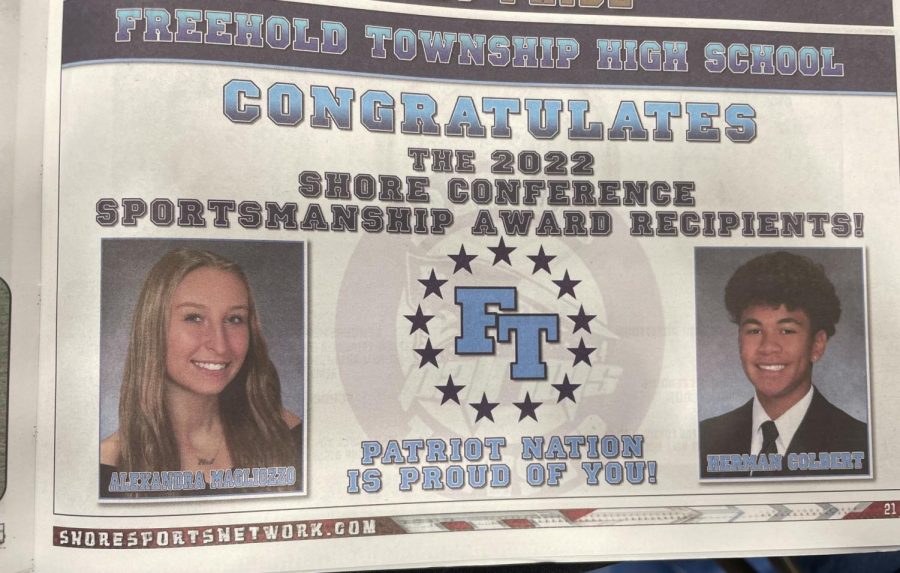 Shore Conference Sportsmanship Award Winners
May 31, 2022
In the month of May, two of Freehold Township's finest student-athletes received the 2022 Shore Conference Award for sportsmanship. Alex Magliozzo, a basketball player, and Herman Colbert, a soccer player, were awarded by a program created to celebrate the fantastic sportsmanship of high school students.
The Shore Conference of High Schools Sportsmanship Awards Program consists of 48 schools from Ocean County and Monmouth County, awarding 94 student-athletes every May. Those who receive the honor are not just awarded for their athletic abilities, but for their ideals of sportsmanship in their schools. Along with the award, recipients attend a breakfast where players come together with their respective families, coaches, and athletic directors. Though put on halt for the past 2 years due to the COVID-19 pandemic, recipients were able to gather together at the arena on Toms River High School North's campus. Further, the event was sponsored by ProCare Rehabilitation, which provided four $500 scholarships to random winners.
Alex Magliozzo
Alex Magliozzo is one of FTHS' star basketball players, occupying the center position. She received the award due to her leadership abilities on and off the court. Though impaired by a bad injury at the beginning of the season, Alex remained committed to the team as senior captain despite her inability to physically play. Further, she recognized that it was her responsibility to step up to the plate and take control of the way the team was run, as the team had a new coach. In correlation, she wanted to help her coach implement her new ideas and create her own, unique environment. I was given the honor of interviewing Alex about her successful career as a basketball player and a high school student, showing she is the perfect individual to have received the award.
_________________________________________________________________________________
What do you like best about basketball?
– Basketball is one of those sports where you MUST work as a team in order to succeed. Everyone needs to do their job and work together, and I like it best that way. It gives us the opportunity to talk things through and figure out a game plan and how we are going to execute it successfully. 
What is one of your most memorable moments playing basketball?
– One of my most memorable moments playing this sport was my senior day. It felt amazing knowing that the entire team had my back, and we all wanted to end the game with a win because of how special a day it was. Having my teammates cheering for me louder than ever and reflecting on my 4 years in the program felt rewarding.
What do you like to do in the off-season? 
– In the off-season, I enjoy going to the gym and always staying in shape. My little brother enjoys playing basketball as well, so going outside and teaching him certain skills is something we do together often.
What is something interesting that people don't know about you?
– Something interesting that people don't know about me is that I'm extremely hard on myself. When I have the desire to do something, I won't stop until it's done, which can either be a good or bad thing. In some ways, it's rewarding because it increases my determination skills, but a lot of people don't notice that there's always a goal in mind that I'm trying to check off. 
Leave a Comment
Herman Colbert
Herman Colbert was the star striker of the FTHS boy's soccer team that won Central Jersey Group 4 and the A-North Division Public Championship. They finished the season ranked 18th in the state, 8th in Group 4, 2nd in the Shore Conference, and were the first FTHS team to reach a group final in 39 years. Herman was the senior captain and showed extraordinary leadership skills in helping steer the ship during an incredible season for the Patriots. He scored a whopping 16 goals to go along with 15 assists and was a constant spark in the Patriot offense. Herman was named 2021 Monmouth County Public Player of the Year, 1st Team All-Shore Conference, a Monmouth County All-Star, 1st Team All A-North Division, and a Regional All-American. He was also named the September 2021 FTHS Athlete of the Month. Speaking in September, Coach Mehl said about Herman, "Herm is one of the best leaders I have ever had. He is the best striker in the Shore Conference and the motor that runs our ship." FTHS soccer will certainly miss Herman's leadership and scoring abilities this fall. He is certainly deserving of the Shore Conference Sportsmanship Award and embodies the respectfulness and honorability that the award strives to promote.
Leave a Comment