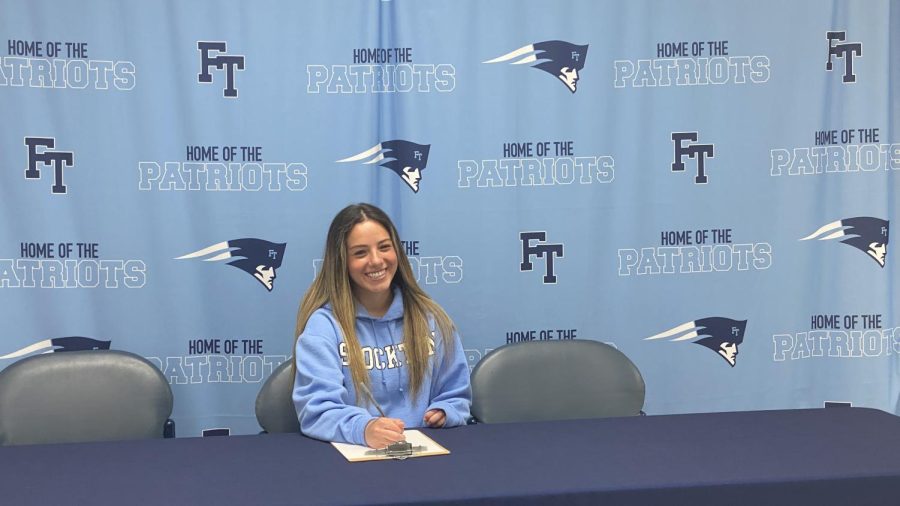 Alicia Klotz
After her accomplished career at Township, Alicia Klotz is committed to continuing her athletic endeavors at Stockton University.
________________________________________________________________________________
What are you signing for?
– I'm signing with Stockton to be a pole vaulter.
Why was Stockton the best choice for you?
– I originally tried to take sports out of the equation and only focus on my education. It's not like I'm going to continue with pole-vaulting after college. I'm really looking to better myself and hopefully become a future nurse and I felt their nursing program fit me best.
I couldn't help but notice your sister was wearing a Stockton shirt too. Does she run there?
– Unfortunately, no. But, she is also a D1 college athlete too.
Were there any major challenges in becoming a college athlete?
– I think the biggest challenge in becoming a college athlete was my mindset. It's really hard to be confident in your ability to continue competing in college. But, I've learned that you will continue to improve even if you have a small setback. It's how you rebound from those setbacks that make you stronger. 
What is your favorite Township track moment?
– Definitely the people. I've made many long-lasting friendships with some special people. This year, when I won the county, that was also pretty exciting because that made school history. It's awesome to have your name in the record books. 
Speaking of record books, what is your personal best height?
– This year it was 9 feet. By next spring I'm hoping to be able to vault 9.5 feet.
What advice do you have for someone looking to continue their athletic career in college?
– It's important you stay true to yourself and know that hard work will pay off in the end. Even if you feel like you are struggling and feel like you can't do it you have to push through the pain and prove to yourself, and others, that you are capable. 
What are your thoughts about being a college athlete? Has it sunk in yet?
– No, not at all! It doesn't feel real yet because I'm not done with this year yet, but I'm excited to be on campus and join the team!
Good luck at Stockton in the fall!
– Thank you so much!